2009 - Walking Holiday in Iceland
5th - 12th September 2009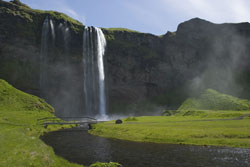 Iceland is one of nature's greatest showpieces, offering a great experience and great walks.
Nowhere on earth are the forces of nature so evident as in Iceland. This dynamic land of fire and ice and big panoramas of near-pristine wilderness is best appreciated on foot, but it is a country of few roads, few people and maps in an alien alphabet, so to discover this surreal landscape you need a local guide.
We've designed this holiday for the average weekend walker. Experienced British and Icelandic guides will lead each day's walk, which will be between 10 and 14 km (six and 9 miles). You'll discover gigantic waterfalls, deep river gorges, dramatic cliffs, black sand deserts, glaciers and icebergs and much more. Also, the unique Arctic flora is at its most colourful during autumn and it's a birders paradise.
After a direct flight to Reykjavik, you will drive along the southern scenic coast road to Skaftafell National Park, which is home to the great Vatnajökull icecap – the world's third largest icecap. This is one of the best and most beautiful walking areas in Iceland, with icecaps, glacial lakes and floating icebergs, mountain plateaux, rivers, massive waterfalls and basalt columns. You'll spend the next 7 days getting to know this area beautiful landscape in depth.
You will be staying for 7 nights in a relaxing, comfortable and friendly hotel at the entrance gate to Skaftafell National Park. Everything is included, so there are no hidden extras.
10 – 15 walkers.
£1,995 per person, fully inclusive.
Other Trips
Past Trips

What the experts & clients say
"I have had the good fortune to work with Liz Drake at Spencer Scott Travel taking small groups on safari to East Africa and India. All aspects of the journey are handled in a most personal, thorough and sensitive way, and all the arrangements are organised with admirable attention to detail. I have always boarded the plane from London knowing we were all going to have the holiday of a lifetime."
"I've done lots of trips tour guiding for Spencer Scott Travel (Cuba, Peru, South Africa, Botswana, Uganda) and they have all been of the highest order, well planned, great itineraries, excellent support and clients always totally satisfied. They are a total pleasure to work for and I have loads of great memories to treasure as a result. Check them out if you want something special."
"Thank you for all the organisation which gave us such wonderful and thrilling days in The Mara - a truly memorable experience.  We were so lucky all our sightings - the best view of leopard I have ever had.  The bonus was that beautiful black rhino - fighting fit and so close.  Of course, Simon's expert and enthusiastic guidance ensured the maximum benefit."