2009 - Walking Holiday in Yellowstone National Park
8th - 19th September 2009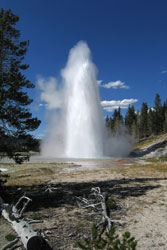 Yellowstone is one of the greatest National Parks in the USA, encompassing the Rocky Mountains of Wyoming, Montana and Idaho. It's awesome in almost every aspect – it was the world's first national park, it's the largest geothermal area in the world and its one of the most accessible wilderness areas on Earth.
Yellowstone is big and its landscape is varied with forested mountains, high-plateau meadows, deep gorges, wide rivers, tranquil lakes, wonderful waterfalls, gushing geysers and bubbling thermal pools. Its icons are Old Faithful, Mammoth Hot Springs, Yellowstone Lake, Grand Canyon and Lamar Valley. With such a diverse landscape there are equally rich ecosystems, which support healthy populations of bears, wolves, elk, moose, bison, otters and golden and bald eagles. The ever-changing landscape and its abundant wildlife make Yellowstone a walker's and photographer's paradise.
Most visitors come in July and August and do not venture far from their cars and the 300 miles of paved roads, but September (after Labor Day – 7 September) is one of the quietest and most beautiful times of the year to explore Yellowstone on foot. All the hiking trails are open, the weather is warm with clear skies, the Aspens are starting to turn golden and the wildlife is fattening up as they prepare for the winter months.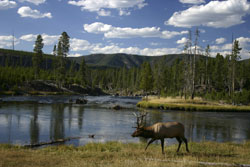 This is a tailor-made walking and photographic holiday structured so that you can explore Yellowstone's back country from three different bases within the park, without being overwhelmed by its enormity. Each day's walk will immerse you in to a different environment with fantastic photographic opportunities. Walks will be guided by our accompanying walking leader, who will select easy – moderate trails of 4 – 10 miles, with longer and more challenging options available on some days. You'll have our own transport to take you to and collect you from walks, providing maximum flexibility and minimum backtracking and tarmac bashing!
Accommodation is in very comfortable ensuite lodges and cabins within the park itself, so in the evenings you can continue to enjoy this beautiful wilderness and the big star-lit skies. Everything is included and an accompanying travel director will be taking care of all the arrangements for you.
10 – 15 walkers.
£3,595 per person, fully inclusive.
Other Trips

What the experts & clients say
""I wanted to say thank you so much for everything.  It was the most wonderful holiday and the memories of which will stay with me a lifetime.  It was clear to me that a lot of  work went on behind the scenes by both yourself [Liz Drake and Spencer Scott Travel], and Simon [King]  to make this holiday the very very best one could wish for and so very special so thank you both so very very much."  "
"Thank you for all the organisation which gave us such wonderful and thrilling days in The Mara - a truly memorable experience.  We were so lucky all our sightings - the best view of leopard I have ever had.  The bonus was that beautiful black rhino - fighting fit and so close.  Of course, Simon's expert and enthusiastic guidance ensured the maximum benefit."
""Our group is led by Professor Claudio Sillero....his decades of experience in this region and his hardy colleagues, guarantee sightings of wolves  They do not disappoint." "Next we climb up and across the Sanetti Plateau through unmatched beauty in every direction.  Small klipspringer, antelopes and hyrax, ( a pint-sized relative of the elephant), dot the hillsides.  our camp site is magnificent!  It is surrounded by towering basalt formations the locals call 'the soldiers.'  ....Can any place be more perfect?" "Our successful adventure is coming to a close, but we have been fortunate to site 30 wolves in 11 different packs, which equates to 10% of all the wolves living in the Bale Mountains National Park." "