2014 - African Wild Dog Safari with Steve Leonard & Dr Greg Rasmussen
7th - 18th June 2014

A rare opportunity to observe endangered African Wild Dogs and Painted Dog Conservation (PDC) projects in Mana Pools and Hwange National Park with Canid Specialists Steve Leonard, Greg Rasmussen & Peter Blinston. Experience Zimbabwe's amazing wildlife and the Victoria Falls. This safari financially supports the work of PDC and the survival of African Wild Dogs.

A similar trip will take place in 2016
with Painted Dog Conservation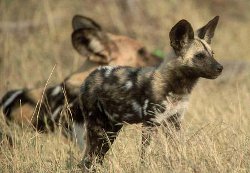 Join the first trip of its kind – a wildlife encounter of a different kind – one that is an intimate and informative safari to see African wild dogs in Zimbabwe with the PDC team including Patron Steve Leonard, founder Dr Greg Rasmussen and Managing Director Peter Blinston. This is a joint venture safari with PDC, and in participating you will be helping their work; gathering critical data on den locations in Mana Pools and financially supporting their projects in Hwange National Park.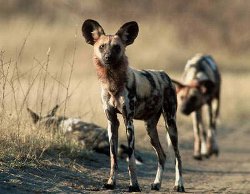 Your host for the whole safari is Steve Leonard; Patron of PDC and Wildlife Vets International.  Victoria Falls provides the spectacular start of your visit. and then it's on to Mana Pools to meet Dr Greg Rasmussen who spends almost all of his time researching African wild dogs here.  The safari is timed to
coincide when the dogs are more localised and there is a good chance of seeing pups.  Time will be spent locating dens, collating data and observing pack dynamics. From Mana you'll fly to Hwange National Park to meet Peter Blinston and the rest of the PDC field officers, spending time visiting the wide ranging projects they have here. You will also witness the start of the annual vaccination programme in Hwange National Park, led by your host Steve Leonard.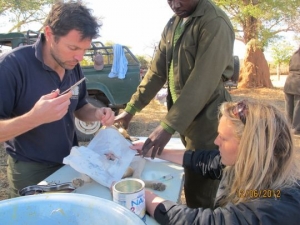 Steve Leonard working in the bush vet lab for PDC in Zimbabwe.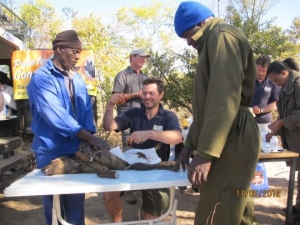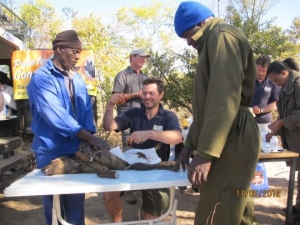 Steve Leonard is a veterinary surgeon and TV presenter. He comes from a family of vets and has his own practice in the UK and is Patron of Wildlife Vets International. He is a 'star' vet featuring in the BBC's series Vets School, Vets in Practice, Vets in the Wild, Vets in the Wild West, Steve Leonards Extreme Animals, Orangutan Diary and Safari Vet School. He is a charismatic and caring person and passionate about his work as Patron of Painted Dog Conservation and Wildlife Vets International. .Learn more about Steve Leonard and Wildlife Vets International.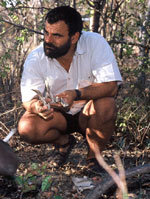 Dr Greg Rasmussen, is Director of Research and founder of Painted Dog Research (1992) now Painted Dog Conservation. He is a senior conservation biologist who spends almost all of his time researching African wild dogs in Zimbabwe and other African countries.
Greg had a horrific plane crash in the African bush in 2003, which was featured in the Channel 4's ' Alive' and Discovery Channel's 'I shouldn't be alive' series.
Learn more about Dr Greg Rasmussen and PDC:
http://www.painteddog.co.uk
http://wildlifeconservationnetwork.org/wildlife/africandog.html
http://www.canids.org/
http://www.canids.org/species/Lycaon_pictus.htm
This is a joint-venture conservation safari that actively supports and financially benefits the work PDC and WVI do in helping the survival of this endangered species.
Safari Summary:
7 June
Meet Steve Leonard and the rest of the party at London Heathrow.
Evening flight to Johannesburg and on to Victoria Falls.
8 June
Arrive Victoria Falls. Tour of The Falls. Overnight.
9 June
Fly to Mana Pools
10, 11 & 12 June
Wildlife viewing and locating dens and observing dogs with Dr Greg Rasmussen in Mana Pools National Park
13 June
Fly to Hwange National Park.
14 June
Meet PDC's field officers and Director Peter Blinston. Visit their HQ, rehabilitation and educational facilities. Wildlife viewing in Hwange.
15 June
Observe start of WVI vaccination programme led by Steve Leonard.  Wildlife viewing in Hwange.
16 June
Morning with the vaccination programme. Return to Victoria Falls.
17 June
Fly to Johannesburg  and on to London.
18 June
Early morning arrival back in London Heathrow
Price per person in a twin: £8,495
Number of participants : 6 – 8
Zimbabwe is safe to visit, the wildlife is fabulous, the safari lodges are  excellent and most importantly there are no travel restrictions or problems for tourists.