Wolf Watching with Prof Claudio Sillero
6th - 15th November 2013

Wolf Watching with Claudio Sillero, Director or the Ethiopian Wolf Conservation Programme

A unique expedition in to the world of Ethiopian wolves and rare opportunity to experience conservation biology in action.  Join Claudio Sillero and the Ethiopian Wolf Conservation Programme team watch wolves and collect vital research data. Participating in this expedition financially supports the research work of EWCP and the survival prospects of this endangered species.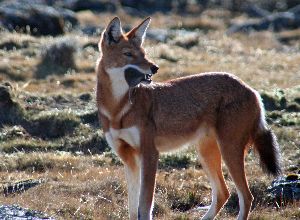 Ethiopian wolves are the rarest African carnivore, and the only wolf in Africa. Fewer than 400 wolves remain in a handful of mountain enclaves, and more than half are found in the Bale Mountains.  The Bale Mountains are the 'Roof of Africa' – with a 1,000km2 of Afroalpine meadows and Erica moorlands this is indeed the largest mountain plateau in the continent. The wolves are the guardians of these magic lands, visited only by a handful of hard-core lupine enthusiasts and African travellers every year.
Check out the personal diary of our successful Living with Wolves trip in February 2011 and also in  November 2012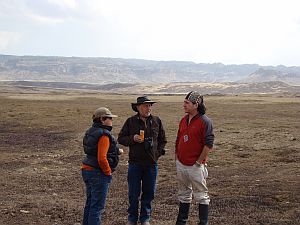 The Ethiopian Wolf Conservation Programme protects Ethiopian wolves and their Afroalpine habitats and was founded and is run by Prof. Claudio Sillero. It's the only genuine trip and is hosted by leading wolf expert Prof. Claudio Sillero. This is unique opportunity to live with wolves and unlike other rare carnivores the wolves are easily found and observed. We will be able to see wolf packs from close up, and observe their foraging and social behaviour at a time when many packs will be looking after their pups.
On this 8-day expedition to the hinterland of Bale, Prof. Claudio Sillero will share with you many of the secrets of these remote, wild mountains. Wolf watching is done on foot, horseback (no previous riding experience required) and in 4×4 vehicles. You'll travel through mountain valleys amid giant lobelias and get close and personal with the wolves. You will be camping at EWCP's research huts and in the wilderness (alternative 4×4 and hotel-based option is possible).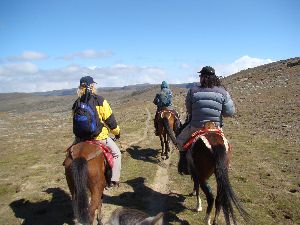 Whilst this is a fully catered and portered trek and the camping is made as comfortable as possible, it must be appreciated that living in the wolves habitat  requires a reasonable level of fitness and a spirit of adventure. You will be trekking on foot and horseback in remote mountainous areas up to 4,200m. Anyone unable or not wishing to traverse the Bale Mountains on horseback can do an alternative 4×4 and hotel-based option  for 2 nights.
 Prof. Claudio Sillero is the founder and Director of the Ethiopian Wolf Conservation Programme. His resolve and energy is the driving force behind the research and conservation of the Ethiopian wolf. He raises all the finance to sustain the project and actively spreads the awareness of the plight of the Ethiopian wolf. Claudio is also Head of Conservation at the Born Free Foundation and holds the post of Bill Travers Fellow for Wildlife Conservation at the University of Oxford. Claudio is the Chair of the IUCN Canid Specialist Group. He supervises other conservation projects worldwide, including the Satpura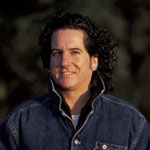 Landscape Tiger Programme in central India and the Transfrontier Conservation of Andean Cats project in South America. Claudio is a passionate conservation biologist actively committed to mitigating wildlife-human conflict through hands-on initiatives – the Ethiopian Wolf Conservation Programme is a prime example of this.
To learn more about Professor Claudio Sillero click here
For more info on The Ethiopian Wolf Conservation Programme:
www.ethiopianwolf.org
http://www.wildcru.org/research/research-detail/?project_id=41
http://wildlifeconservationnetwork.org/wildlife/ethiopianwolf.html
http://www.canids.org/wolfsg.htm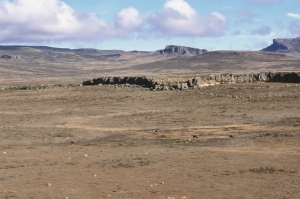 The Bale Mountains (2,500 – 4,377m)
The scenery is spectacular, wild and varied with lava flows, dramatic granite outcrops, Afroalpine moorlands, Afro-montane forests, escarpments and high alpine plateau. The Bale Mountains are the largest mountain plateau in Africa ("the roof of Africa") and home to the rarest African carnivore and the only wolf in Africa. Fewer than 400 wolves remain in a handful of mountain enclaves, and more than half are found in the Bale Mountains.
The Bale Mountains are a vast wilderness area with no tracks and a pristine but fragile environment. Only a few Oromo families can be found living in isolation up on the plateau. The Bale Mountains are best visited during the dry season from November – February when the days are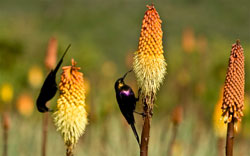 normally clear and warm and nights can be frosty. On the Sanetti Plateau sleet and snow is possible. Temperature will fall with increasing altitude and at night and could vary between +26C and –15C. At this time of year the Helichrysum, everlasting flowers of the Afroalpine area and the Hagenia and Hypericum trees are in flower, the wolves have their pups and so there will be lots of wolf social behaviour to observe around the dens.
List of Endemic Species in the Bale Mountains
Mammals species include:
Endemic birds include:
Mountain Nyala
Starck's Hare
Ethiopian wolf
Bale monkey
Giant Molerat
Lovat's mouse
Nikolaus'  mouse
Mahomet's mouse
White-footed rat
White-tailed rat
Grey-tailed rat
Blick's grass rat
Shrews
Bats
Wattled ibis
Blue-winged goose
Rouget's Rail
Spot-breasted plover
White-collared pigeon
Yellow-fronted parrot
Black-winged lovebirds
Banded barbet
Golden-backed woodpecker
Abyssinian longclaw
White-winged cliff-chat
Abyssinian catbird
White-backed black tit
Black-headed forest oriole
Thick-billed raven
Black-headed siskin
Number of expedition guests :       4 – 7
Guideline price per person :           £7, 0000 / US$11,000
Price includes: 
4×4 vehicles (3 persons per vehicle)
2 nights Intercontinental Hotel, Addis Ababa
5 or 7 nights camping in individual expedition-grade tents
All meals except dinners on 6 November and lunch on 15 November
Fully catered & serviced camp, with camp manager
Individual sleeping tents, mess tent, shared WC's
Individual trekking horses, packhorses and grooms
National Park fees
Sustainable firewood
EWCP Director and senior wolf monitors
Spencer Scott Travel Director
Donation to the Ethiopian Wolf Conservation Programme
International flights
International flights can be arranged to suit individual preferences. If flying from London we recommend the Lufthansa flight via Frankfurt or direct on Ethiopian Airlines.
Flying from USA
We recommend departing the USA flying direct from Washington DC to Addis Ababa on Ethiopian Airlines.
Extension suggestions
Ethiopia is a fascinating and beautiful country waiting to be discovered. Extend your trip and visit the unique Omo tribes of the South, the bird-rich lake district and the wonderful rock-hewn churches at Lalibela.
All images courtesy of A L Harrington, Nancy Gibson & Prof. Claudio Sillero.

What the experts & clients say
"I have had the good fortune to work with Liz Drake at Spencer Scott Travel taking small groups on safari to East Africa and India. All aspects of the journey are handled in a most personal, thorough and sensitive way, and all the arrangements are organised with admirable attention to detail. I have always boarded the plane from London knowing we were all going to have the holiday of a lifetime."
""Just wanted to drop you a quick line to say how very much I enjoyed painting with Pete in Havana.  I loved it all, the City, the painting, the company, the Mojito's and the food, and it was great to have Jacqueline there organising us all. Many thanks and I hope to take part again next year.""
"I've done lots of trips tour guiding for Spencer Scott Travel (Cuba, Peru, South Africa, Botswana, Uganda) and they have all been of the highest order, well planned, great itineraries, excellent support and clients always totally satisfied. They are a total pleasure to work for and I have loads of great memories to treasure as a result. Check them out if you want something special."