Born Free Safari
21st October - 1st November 2009


SAMBURU, SHABA & MERU NATIONAL PARKS, KENYA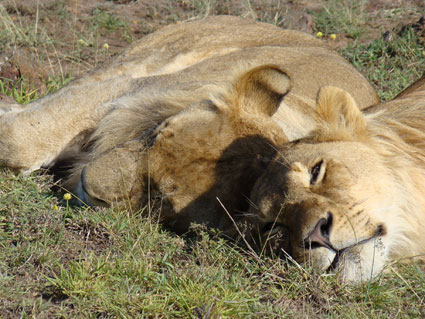 21 October
1915 hours depart London Heathrow.
22 October
0605 hours arrive Nairobi. Transfer directly to your private plane and fly to Samburu National Reserve.  You will be met and driven to Larsens Camp, a luxury tented camp, on the banks of the Ewaso Ng'iro River and in the heart of Samburu National Reserve.  Larsens Camp is a very elegant colonial style camp with 20 luxurious tents.  Settle in to your tents and relax in the camp.  Enjoy a gentle afternoon's wildlife viewing in Samburu.  Lunch and dinner in the camp. Meals may be taken al fresco on the river bank or under a canopy of fig trees or on the river or tree decks or in the dining tent.
23-24 October
Early morning and late afternoon wildlife viewing.  Samburu is one of the best wildlife viewing areas in northern Kenya.  It is a very beautiful reserve, the heart of which is its river.  Samburu is home to Grevy's zebra, reticulated giraffe and Beisa Oryx – species generally only found north of the Equator that have adapted to the hotter climate.  Samburu is famous for it elephants as portrayed in the recent TV series 'The secret lives of elephants'. We hope to see some of the elephants featured in this film, as well as seeing leopard, cheetah, vervet monkey, hippo, crocodile and long-necked gerenuk.  We may also see the Samburu warriors who bring their cattle down to the river each day and sing to them as they drink water at the 'Sarara Singing Wells'.  All meals at the camp.
25 October
Early morning wildlife viewing.  Return to the camp for breakfast.  Drive to Shaba National Reserve (30km / 2 hours).  Shaba is a very special park for the Born Free Foundation because it is where Joy Adamson worked and released her leopard 'Penny' into the wild.   Joy's Camp is a stylish luxury tented camp located close to Joy's original camp, which was at Turkana Hill in the central plains.  The ten tents have breathtaking views of the surrounding hills and the camp overlooks a large natural spring where elephant, giraffe, zebra, lion, cheetah and Oryx may be seen.    Afternoon wildlife viewing in Shaba, when we hope to see lion, leopard, cheetah, zebra, giraffe, oryx, gazelle gerenuk and the martial eagle. Lunch and dinner in the camp.
26 October
Morning and afternoon wildlife viewing in Shaba. Visits will be made to the 40ft waterfall christened 'Penny's Drop' and to Joy's memorial stone.  All meals at Joy's Camp.
27 October
Early morning wildlife viewing. Breakfast at Joy's Camp. Fly by private plane to Meru National Park, which is one of the least visited and unspoiled parks in Kenya.  Meru is also a very special park for the Born Free Foundation because it is where both Joy and George Adamson had camps and released Elsa back in to the wild.  Elsa's Kopje is a luxury award-winning lodge that was opened by Virginia in 1999.  It is in a magnificent setting perched on top of Mughwango Hill above the site of George's first camp. There are 8 stone and thatched cottages, a two-roomed guesthouse, a honeymoon suite and the ultimate infinity 'pool with a view'.   Afternoon wildlife viewing in Meru, when we may see lion, cheetah, leopard, elephant, buffalo, reticulated giraffe, Grevy's zebra, leopard, gerenuk, lesser kudu, Somali ostrich, hippo and rhino.  Lunch and dinner at the lodge.
28-29 October
Early morning and late afternoon wildlife viewing in Meru.  The rest of the day can be spent enjoying the spectacular views from Elsa's Kopje.  All meals at the lodge.  There will be a special 25th Anniversary dinner on your last evening.
30 October
After breakfast fly by private plane to Nairobi.  Transfer to the House of Waine – a boutique hotel in the Karen suburb of Nairobi.  This elegant colonial-style home has just 11 rooms and a peaceful and relaxing garden with a swimming pool.  Lunch in the gardens or conservatory.  Afternoon visit to Daphne Sheldrick's Elephant Orphanage.  Dinner in the hotel.
31 October
Breakfast in the hotel.  Morning visit to the home of Karen Blixen, whose life in Africa is lovingly portrayed in the book and film 'Out of Africa' and Giraffe Centre.  Return to the hotel for lunch. Afternoon visit to the Born Free office followed by free time to relax around the pool and in the gardens of the hotel or for shopping.    Dinner in the hotel.
1 November
Tea & coffee before departing to the airport. 0950 hours depart Nairobi.
1605 hours arrive London Heathrow.
Other Trips
What the experts & clients say
""Thank you Lucy for giving us such a wonderful time. I so appreciated your expertise and your personality. I learned so much and very much appreciated my time painting with you. Eileen's support was wonderful and made everything go so smoothly from the moment we left Heathrow until our return.  I enjoyed meeting everyone and sharing such special times together, both arty and spiritual. This was a trip of a lifetime and I'll never forget it."  "
""Our group is led by Professor Claudio Sillero....his decades of experience in this region and his hardy colleagues, guarantee sightings of wolves  They do not disappoint." "Next we climb up and across the Sanetti Plateau through unmatched beauty in every direction.  Small klipspringer, antelopes and hyrax, ( a pint-sized relative of the elephant), dot the hillsides.  our camp site is magnificent!  It is surrounded by towering basalt formations the locals call 'the soldiers.'  ....Can any place be more perfect?" "Our successful adventure is coming to a close, but we have been fortunate to site 30 wolves in 11 different packs, which equates to 10% of all the wolves living in the Bale Mountains National Park." "
"I've done lots of trips tour guiding for Spencer Scott Travel (Cuba, Peru, South Africa, Botswana, Uganda) and they have all been of the highest order, well planned, great itineraries, excellent support and clients always totally satisfied. They are a total pleasure to work for and I have loads of great memories to treasure as a result. Check them out if you want something special."