Village trails & cultural walks in Darjeeling & Sikkim

Discover the natural beauty and snow-capped peaks of the Himalayas in Sikkim and one of India's most famous hill stations - Darjeeling.

Darjeeling is famous for tea, its steam train and as a hill station of the British Raj. Spread over rolling hillsides it has retained all its colonial charming and is stunningly beautiful. Sikkim a former independent Buddhist Kingdom until 1975, lies in the very heart of the Himalayas and under Kanchenjunga; the world's 3rd highest mountain. It nestles between Nepal, Tibet Bhutan and Darjeeling.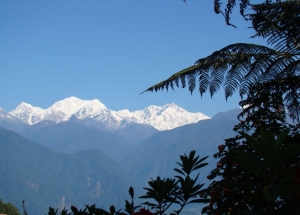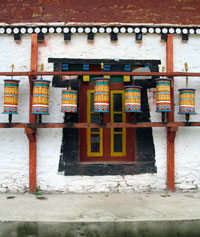 There are a good variety of trails offering interesting day walks amongst rolling hills of tea plantations, on pilgrimage paths to Gompas (Buddhist monasteries) and shrines and tracks to remote tribal villages. Every day the views are spectacular – whether it's swirling mists in the valleys, forested hillsides, snow-capped mountains peaks or lush green rice terraces. In Darjeeling visit the Everest and Mountaineering Museums and Tenzing Samadhi statue and zoo where you can see Red Panda and Snow leopard.
Walks are on average 5 – 12kms and with our own transport on hand we are able to offer shorter and easier options most days.  All walks are below 2500m. Pete Hawkins is a professional Mountain Leader who has led many of our walking holidays around the globe since 1991. He also teaches navigation courses in the UK.  He sets a leisurely pace so you can fully absorb the natural environment you are in.  Distances covered are not great but with picnic lunches and tea stops and time to embrace the local culture you are out for a full day.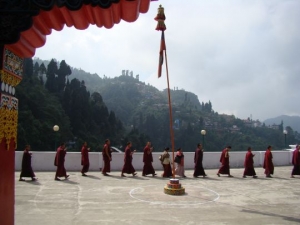 This is a walking holiday where you are immersed into another world – one of monumental natural beauty, inhabited by a gentle race of mountain people that live by their ancient customs. There is something about Himalayan Buddhist peoples that sets them apart from others; they exude calmness and tranquillity and their beautiful mountain monasteries compliment the stunning mountain scenery. We know from experience that this holiday has the makings of being a life-changing trip.

What the experts & clients say
"I've done lots of trips tour guiding for Spencer Scott Travel (Cuba, Peru, South Africa, Botswana, Uganda) and they have all been of the highest order, well planned, great itineraries, excellent support and clients always totally satisfied. They are a total pleasure to work for and I have loads of great memories to treasure as a result. Check them out if you want something special."
"" Thank you for organising the extra flights and accommodation etc... The trip was a success for me. Eileen was the most thoughtful and hard working attendant/guide - she tended to our every needs - nothing was too much bother to her. Lachlan Goudie was such a gentleman. He was enthusiastic, kind and so very generous of advice and inspiration. He cheered us up and gave us hope when we were struggling with our work. We all loved him and are in awe of his beautiful water colours and gouache paintings.  Thank you for everything.""
"Thank you for all the organisation which gave us such wonderful and thrilling days in The Mara - a truly memorable experience.  We were so lucky all our sightings - the best view of leopard I have ever had.  The bonus was that beautiful black rhino - fighting fit and so close.  Of course, Simon's expert and enthusiastic guidance ensured the maximum benefit."