Wildlife & photographic hosts
Mountain instructors & leaders
Alan Hinkes OBE
Steve Elliott
Dave Green
John Whittle
Frag Last
Our partners & clients:
BBC Wildlife
Born Free Foundation
RSPB
Royal Photographic Society
Royal Institute of Watercolours
The Scout Association
Rotary Clubs of GB
Birmingham University
NFU
George Corderoy & Co
Les Routiers
Booker Wholesale Foods
Burlington Art Fair
Channel 4
The Artist Publishing Company
EMAP Active
Geographical
The Great Outdoors
Financial Times
Daily Telegraph
Bird Watching
Sir John Soane Museum
Ethiopian Wolf Conservation Programme
Painted Dog Conservation
Tusk
Nepal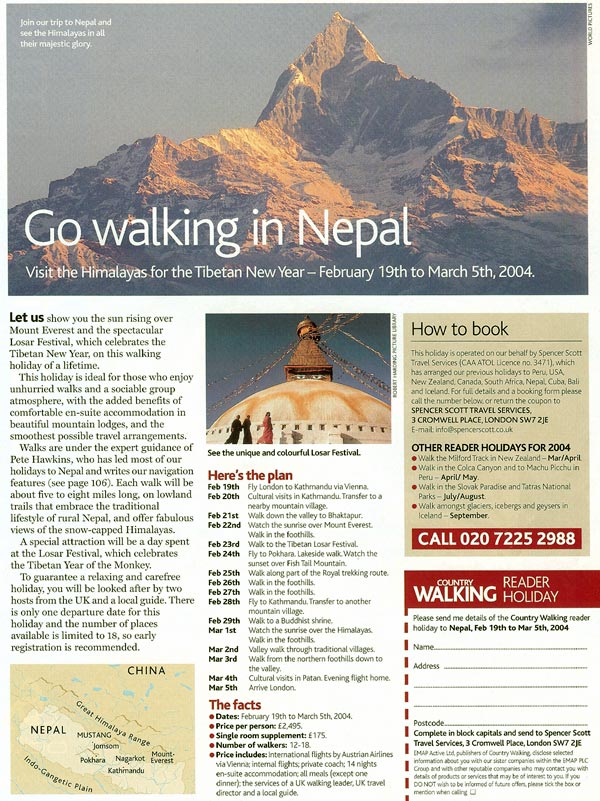 Past Trips


What the experts & clients say
""Our group is led by Professor Claudio Sillero....his decades of experience in this region and his hardy colleagues, guarantee sightings of wolves  They do not disappoint." "Next we climb up and across the Sanetti Plateau through unmatched beauty in every direction.  Small klipspringer, antelopes and hyrax, ( a pint-sized relative of the elephant), dot the hillsides.  our camp site is magnificent!  It is surrounded by towering basalt formations the locals call 'the soldiers.'  ....Can any place be more perfect?" "Our successful adventure is coming to a close, but we have been fortunate to site 30 wolves in 11 different packs, which equates to 10% of all the wolves living in the Bale Mountains National Park." "
""We had so many different experiences, the accommodation was all excellent and very varied.  Our viewing of the wildlife was exceptional, and we all managed to complete several paintings and sketches of animals, birds and landscapes.  As always, Hazel was an inspiring teacher." "
"I've done lots of trips tour guiding for Spencer Scott Travel (Cuba, Peru, South Africa, Botswana, Uganda) and they have all been of the highest order, well planned, great itineraries, excellent support and clients always totally satisfied. They are a total pleasure to work for and I have loads of great memories to treasure as a result. Check them out if you want something special."