Salzburg Music Festival
---
          Exclusive Festival Weekend
             Includes best seats to 
3 operas & 1 concert
♦ World-class music festival every year in August
♦ Hosted Patron's trip to the Salzburg Festival for 4-6 guests                    (individuals or a private party)
♦ 3 night programme with 4 première performances
♦ Top priced stall seats for all 4 performances
♦ Hosted drinks receptions each evening
♦ Access to the Patron's Lounge
♦ Excellent hotel accommodation in Old Salzburg

Every summer some of the biggest stars and orchestras in classical world flock to Austria for the prestigious Salzburg Music Festival.  The town is transformed in to a live stage. Aspiring musicians play in the streets, opera singers can be heard practicing pre-performances, champagne flows in the streets, tuxedos and ball gowns impress the paparazzi and the only talk is about yesterday's performances.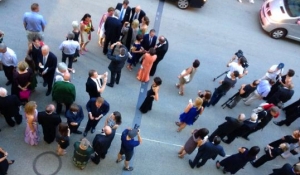 We host a very special trip to the festival for 4 – 6 opera enthusiasts, which includes tickets to 4 première performances, 3 nights central hotel and pre-performance drinks. As patrons we can exclusively guarantee tickets in the best seats for each opera on 3 consecutive evenings and one morning concert, as well as access to the Patron's lounge, where we can mingle with the great and the good. Attending one top performance after another for three consecutive nights makes you heady without any champagne. The festival becomes highly addictive.  How could anyone who loves opera resist this unique opportunity?
Please contact us if you'd like to join our next trip.
 
Other Trips
Past Trips

What the experts & clients say
""I want to let you know that the workshop with Ken Howard in Santorini was simply the best workshop I have ever attended.  I was deeply inspired and impressed by Ken.  The group was a pleasure.  I hope this workshop will be repeated again."  "
"I have had the good fortune to work with Liz Drake at Spencer Scott Travel taking small groups on safari to East Africa and India. All aspects of the journey are handled in a most personal, thorough and sensitive way, and all the arrangements are organised with admirable attention to detail. I have always boarded the plane from London knowing we were all going to have the holiday of a lifetime."
"Thank you for all the organisation which gave us such wonderful and thrilling days in The Mara - a truly memorable experience.  We were so lucky all our sightings - the best view of leopard I have ever had.  The bonus was that beautiful black rhino - fighting fit and so close.  Of course, Simon's expert and enthusiastic guidance ensured the maximum benefit."