2015 - The Salzburg Music Festival
12th - 15th August 2015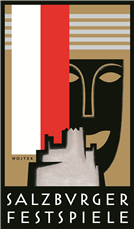 As a Patron of the festival we are able to offer you best seats to three top operas and one premiere classical concert over a 4 day programme. 
Our hosted trip is perfect for individuals and couples who want to share performances from the world's greatest opera singers and conductors with an intimate party of like-minded persons.
 

Day One: 12 August – Le nozze di Figaro
Dan Ettinger, Conductor
Sven-Eric Bechtolf, Director
Performers: Luca Pisaroni, Genia Kühmeier, Martina Janková, Adam Plachetka, Margarita Gritskova, Ann Murray, Carlos Chausson, Paul Schweinester, Franz Supper, Christina Gansch*, Erik Anstine
Concert Association of the Vienna State Opera Chorus
Vienna Philharmonic
Day Two: 13 August – Fidelio
Franz Welser-Möst, Conductor
Claus Guth, Director
Performers: Jonas Kaufmann, Adrianne Pieczonka, Tomasz Konieczny, Hans-Peter König, Olga Bezsmertna, Norbert Ernst, Ludovic Tézier, Nadia Kichler, Paul Lorenger
Concert Association of the Vienna State Opera Chorus
Vienna Philharmonic
Day Three: 14 August –  Wiener Philharmoniker (am)
Riccardo Muti, Anne-Sophie Mutter, Vienna Philharmonic
Pyotr I. Tchaikovsky – concert for Violin and orchestra in D,Op.35
Johannes Brahms – Symphny No. 2 in D, Op.73
Day Three: 14 August  –  Il trovatore (pm)
Gianandrea Noseda, Conductor
Alvis Hermanis, Director and Sets
Performers: Francesco Meli, Anna Netrebko, Plácido Domingo, Ekaterina Semenchuk, Adrian Sâmpetrean, Diana Haller
Members of the Angelika Prokopp Sommerakademie of the Vienna Philharmonic
Concert Association of the Vienna State Opera Chorus
Vienna Philharmonic
Accommodation is in the heart of Salzburg and a hosted drinks reception and dinners will enhance your experience, whether you are travelling alone, with a friend or as a couple.
Number of guests: 6 – 7
Price per person:  £3,295.00
Single room occupancy: £100.00
Price includes:  airport transfers, 3 nights Hotel Gablerbräu , 4 tickets (3 operas and 1 concert) in best category stalls seats, welcome drinks reception, festival host
(Direct flights price guideline – £350.00)
See the full programme for the Salzburg Music Festival 18 July – 30 August 2015 
The Salzburg Music Festival is one of the most exclusive music festivals in the world and the première festival in Europe, renown for the excellence of its music.  Herbert von Karajan set a precedence for the highest standards in singers and orchestras that has not diminished. Performing with the full Vienna Philharmonic Orchestra and super acoustics it is no wonder that operas in the Grosses Festspielhaus attract the very best international opera singers. Unsurpassed world class opera is what Salzburg is all about.  Salzburg is the pinnacle for orchestras, soloists and conductors. The line up for 2015 is impressive – Plácido Domingo, Jonas Kaufmann, Cecilia Bartoli, Ann Murray, Ann-Sophie Mutter, Riccardo Muti and many more world class performers.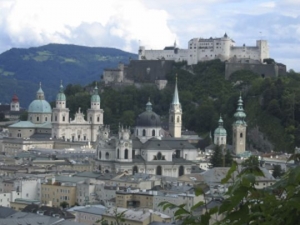 Whilst Salzburg hosts the best and the biggest it also has up and coming artists in fringe-style performances in a variety of smaller halls and auditoriums.
Mingling with the great and small is also very much a part of Salzburg and there are numerous small private recitals to attend. The days are normally gloriously warm and sunny in August and the clear mountain air is invigorating. Walking through the squares you will hear music wafting from open windows and opera singers practising their scales.
The piazzas and streets around the festival halls are transformed in to an elegant open air stage a few hours before each performance with champagne flowing and people drifting by in glamorous evening dresses and tuxedos. Salzburg is like a fairy tale film set. After the performances everyone spills in to restaurants for dinner with lively conversations and debates about performances –  opera stars and conductors included.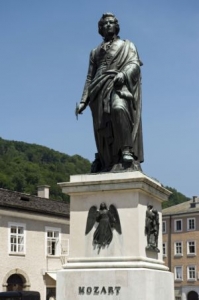 The Salzburg Festival is addictive – you simply can't get enough of it. Everyday is spent in eager anticipation of the thrills of the next performance.
Read more about the history and journey of the Salzburg Music Festival  since its beginnings in 1920. Early beginnings
What the experts & clients say
""Ken was so kind, helpful and enormously interesting to be with. I know I have gained a great deal from the experience of some of his incredible wisdom and insight and having the privilege of working alongside such a great artist""
""Thank you Lucy for giving us such a wonderful time. I so appreciated your expertise and your personality. I learned so much and very much appreciated my time painting with you. Eileen's support was wonderful and made everything go so smoothly from the moment we left Heathrow until our return.  I enjoyed meeting everyone and sharing such special times together, both arty and spiritual. This was a trip of a lifetime and I'll never forget it."  "
"Thank you for all the organisation which gave us such wonderful and thrilling days in The Mara - a truly memorable experience.  We were so lucky all our sightings - the best view of leopard I have ever had.  The bonus was that beautiful black rhino - fighting fit and so close.  Of course, Simon's expert and enthusiastic guidance ensured the maximum benefit."