2015 - A Walk on the Roof of The World
11th - 29th May 2015

If you regularly walk 7 – 10 miles then this wild and adventurous hike in the remote Upper Mustang area of the Himalayas is very achievable and the most remarkable walk you'll ever undertake.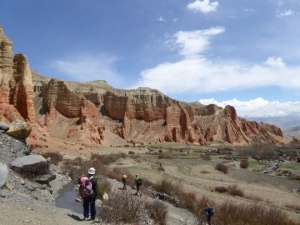 Remote in the most extreme but non-technical, it is a walk along an ancient trade route that is still used and which follows the Kali Gandaki Valley in Upper Mustang. Its appeal is not just hiking on the Tibetan Plateau but also the destination itself; the walled city of Lo Manthang (3840m) – a former independent Kingdom, whose 900 inhabitants remain relatively untouched by the outside world. The 5-day hike from Kagbeni 281Om to Lo Manthang 3840m is through stunningly impressive Tundra landscape (4170m highest pass), resting each night in mountain villages and absorbing the rich Tibetan culture along the way.
Special permits and organised hikes are still the only way to gain access to this part of the Roof of the World.
—
Trek summary
11 May        Depart Manchester or London Heathrow
12 May       Arrive Kathmandu. Overnight
13 May       Full day in Kathmandu to process special Mustang and Lo Manthang permits
14 May       Fly to Pokhara. Overnight
15 May       Fly to Jomsom. Travel by jeep to Kagbeni 2810m. Hike to Chhusang 2980m / 5 hours
16 May       Chhusang to Samar 3660m / 5 hours
17 May       Samar to Syangboche 3880m / 6 hours
18 May       Syangboche to Charang 3560m / 7 hours
19 May      Charang to Lo Manthang 3810m / 4 hours
20 May      Explore Lo Manthang
21 May      Lo Manthang to Charang 3560m / 4 hours
22 May      Charang to Ghar Gumpa 3920m to Ghami 3510m / 7 hours
23 May      Ghami to Syangboche 3880m / 5 hours
24 May      Syangboche to Chele 3050m . 6 hours
25 May      Chele to Kagbeni 2810m / 5 hours. Continue by jeep to Jomsom
26 May      Fly to Pohkara
27 May      Contingency day – Pokhara
28 May      Fly to Kathmandu. Overnight
29 May      Fly to London or Manchester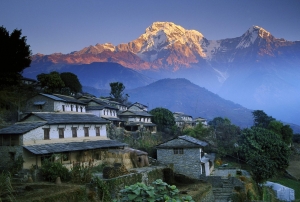 This is a personalised itinerary that has been tried and tested and we know is achievable by any fit hillwalker from Europe and the US. The exact route is subject to local conditions and the walking time depends on individuals' pace. This is an expedition that requires appropriate acclimatisation and extra days for processing permits and contingency days. It is not a trek that you can shave days to save costs. All your personal gear is carried by porters.
Shared accommodation is in simple tea houses along the route. All meals are provided on the trek. They are simple but wholesome. You will be staying in very comfortable hotels pre and post the trek.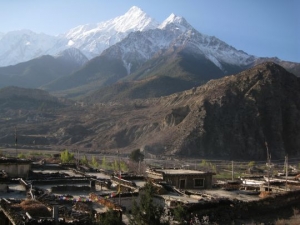 With the best mountain scenery in the world and a culture as far removed from our own as is conceivable, this fully portered, teahouse hike has to be done, to be believed.
Join veteran hill walker and navigation expert Pete Hawkins on his next expedition to Lo Manthang.
Fully inclusive trek for 4-8 walkers:  £5,995.00 per person
Images courtesy of Amanda O'Donnell, Pete Hawkins & Bijay Amatya
Mountain instructors & leaders
Alan Hinkes OBE

Pete Hawkins
Steve Elliott
Dave Green
John Whittle
Frag Last
Other Trips
Past Trips

What the experts & clients say
"Thank you for all the organisation which gave us such wonderful and thrilling days in The Mara - a truly memorable experience.  We were so lucky all our sightings - the best view of leopard I have ever had.  The bonus was that beautiful black rhino - fighting fit and so close.  Of course, Simon's expert and enthusiastic guidance ensured the maximum benefit."
"" Thank you for organising the extra flights and accommodation etc... The trip was a success for me. Eileen was the most thoughtful and hard working attendant/guide - she tended to our every needs - nothing was too much bother to her. Lachlan Goudie was such a gentleman. He was enthusiastic, kind and so very generous of advice and inspiration. He cheered us up and gave us hope when we were struggling with our work. We all loved him and are in awe of his beautiful water colours and gouache paintings.  Thank you for everything.""
""Ken was so kind, helpful and enormously interesting to be with. I know I have gained a great deal from the experience of some of his incredible wisdom and insight and having the privilege of working alongside such a great artist""