Lion Conservation Fund-Raising Trip with Ewaso Lions, Kenya
1st - 5th December 2020

Tailor-made fund-raising trip supporting Ewaso Lions and helping conserve lions in Kenya with Dr Shivani Bhalla


Ewaso Lions is an award-winning conservation organisation putting local people at the centre of lion conservation. They are partners of Wildlife Conservation Network and winner of the Whitley Award 2014.
♦ ♦ ♦ 
Exclusive opportunity to visit an award-winning lion conservation programme in the field
Experience lion conservation first-hand with Dr Shivani Bhalla and the Ewaso Lions team in Samburu & Westgate
Engage with community-based conservation
Meet Samburu Warriors and Mama Simbas who actively work protecting lions in their habitat
A tailor-made programme that includes a donation to Ewaso Lions and helps the long term survival of lions in Kenya
Contact us with dates that you would like to visit Ewaso Lions or combine a visit to them with our Masai Mara safari next January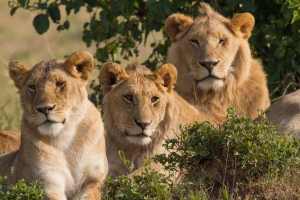 Ewaso Lions Fund-Raising Trip
Suggested itinerary as an indication of what can be arranged any time to suit you.

Day 1

Dinner and overnight in Nairobi.
Day 2

Morning flight from Nairobi to Samburu. Drive to a luxury tented camp close to Ewaso Lions HQ. Shivani Bhalla the founder and Executive Director of Ewaso Lions will join you for lunch in the camp.
This afternoon visit Ewaso Lions HQ. This is a simple base camp where Shivani and her small team of dedicated lion conservators live. Ewaso Lions has a comprehensive approach to protecting lions and Shivani and Jeneria will explain how they conduct their field research, monitor lions and work with the local Samburu people, including the Kids Camps.  Later enjoy game drive looking for wildlife in the vicinity. Although outside the protected area of the Samburu Reserve, Westgate has the same ecosystem and so you will be looking for 'northern' specialities including Grevy's zebra, reticulated giraffe, Beisa oryx and Somali ostrich, as well as lion, leopard and elephant. If you are lucky you might catch a glimpse of aardwolf.
Day 3 & 4

Two days understanding and experiencing the core of Ewaso Lions work – putting people at the heart of lion conservation, this will include visiting a local Samburu village, and attending the Mama Simba school, a bush walk with some of the Samburu Warriors and a game drive in Samburu National Park.
The Samburu, like the Maasai, are nomadic herders and live in traditional dung and mud huts within a boma-enclosure. Their lives have changed little and each village has a chief and their wealth depends on the number of cattle, camels, sheep and goats they have. Hopefully you'll see the younger herder girls returning from a day out in the bush with their goats, sheep and cattle.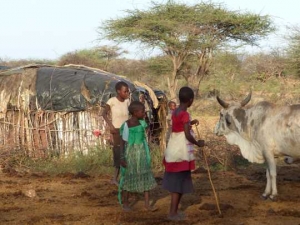 Visiting a local village will help you to understand the way they live and how Ewaso Lions works with the different members of these communities.
Ewaso Lions initiated Mama Simba school and Warriors schools utilising local community schools at weekends. The ladies have now set up their own school.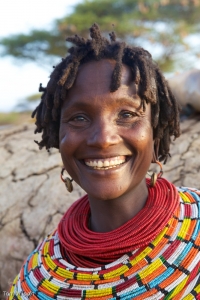 The women in the local communities are often overlooked and marginalised, so the school provides a valuable programme that educates and empowers Samburu women. You'll see first-hand the Mama Simbas being taught new skills and crafts that can help them earn a living.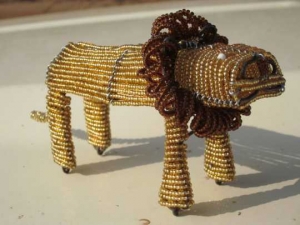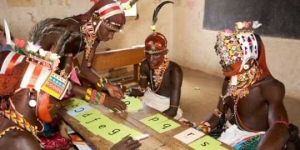 After circumcision young Samburu men become 'Warriors' and leave their villages to become men. They graze their cattle further afield and protect their cattle by killing lions. Ewaso Lions has changed this and has successfully created a peer-to-peer network of Samburu Warriors who now serve as wildlife ambassadors and first responders to lion conflict.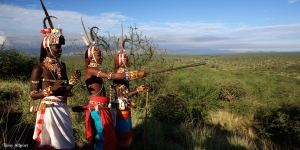 Enjoy a bush walk with some of the Warriors. Dinner with Shivani and Jeneria.
Day 5

Midday flight  back to Nairobi. Free time for shopping and overnight in Nairobi ready to start the Masai Mara safari with Jackson Looseyia or before connecting with you flight home.
Price on application.
Ewaso Lion's donors include:

Wildlife & photographic hosts
Other Trips
Past Trips

What the experts & clients say
""Thank you Lucy for giving us such a wonderful time. I so appreciated your expertise and your personality. I learned so much and very much appreciated my time painting with you. Eileen's support was wonderful and made everything go so smoothly from the moment we left Heathrow until our return.  I enjoyed meeting everyone and sharing such special times together, both arty and spiritual. This was a trip of a lifetime and I'll never forget it."  "
"I have had the good fortune to work with Liz Drake at Spencer Scott Travel taking small groups on safari to East Africa and India. All aspects of the journey are handled in a most personal, thorough and sensitive way, and all the arrangements are organised with admirable attention to detail. I have always boarded the plane from London knowing we were all going to have the holiday of a lifetime."
""I wanted to say thank you so much for everything.  It was the most wonderful holiday and the memories of which will stay with me a lifetime.  It was clear to me that a lot of  work went on behind the scenes by both yourself [Liz Drake and Spencer Scott Travel], and Simon [King]  to make this holiday the very very best one could wish for and so very special so thank you both so very very much."  "