Whales, Rails and Quails…. in Sri Lanka with David Lindo
3rd - 15th March 2019

Join David Lindo aka 'The Urban Birder' on a Sri Lankan adventure to discover the islands rich and diverse bird life, wildlife and culture.

Explore Colombo's urban spaces as well as the forests, National Parks and coasts of Sri Lanka.
Birding in Singharaja Rain Forest, Tissa Wetland, Bundala Wetland Sanctuary & Talangama Wetlands.
Whale watching off the coast near Mirissa
Wildlife viewing in Yala National Park for  elephant, leopard, sloth bear, sambar and spotted deer, and possibly sloth bear, buffalo, wild boar, crocodiles, jackals, monkey, civet cat and giant squirrels.
Visit the interesting fort town of Galle & perhaps catch a cricket match
Attend the morning's religious puja at the sacred city of Kataragama
Expected species:
Spot-billed Pelican, Greater Flamingo, Painted Stork, White-bellied Sea Eagle, Grey-headed Fish Eagle, Rufous-bellied Eagle, Mountain Hawk Eagle, Crested Serpent Eagle, Crested Hawk Eagle, Crested Goshawk, Besra, Watercock, Barred Buttonquial, Sri Lanka Junglefowl, Indian Peafowl, Great Thick-knee, Yellow-wattled Lapwing, Greater Painted Snipe, Lesser Sandplover, Greater Sandplover, Marsh Sandpiper, Broad-billed Sandpiper, Red-necked Phalarope, Little Pratincole, Brown-headed Gull, White-winged Black Tern, Gull-billed Tern, Caspian Tern, Lesser Crested Tern, Greater Crested Tern, Sri Lanka Green Pigeon, Sri Lanka Hanging Parrot, Layard's Parakeet, Serendib Scops Owl, Chestnut-backed Owlet, Red-faced Malkoha, Green-billed Coucal, Sri Lanka Frogmouth, Dollarbird, Oriental Dwarf Kingfisher, Malabar Trogon, Yellow-fronted Barbet, Crimson-fronted Barbet, Sri Lanka Grey Hornbill, Crimson-backed Goldenback, Indian Pitta, Black-naped Monarch, Sri Lanka Blue Magpie, Sri Lanka Swallow, Black-capped Bulbul, Black Bulbul, Green Warbler, Large-billed Leaf Warbler, Brown-capped Babbler, Sri Lanka Scimitar Babbler, Dark-fronted Babbler, Orange-billed Babbler, Velvet-fronted Nuthatch, Sri Lanka Myna, Spot-winged Thrush, Indian Blue Robin, Asian Brown Flycatcher, Brown-breasted Flycatcher, Tickell's Blue Flycatcher, Legge's Flowerpecker and many more.
Other Wildlife:
Blue Whale, Sperm Whale, Asian Elephant, Leopard, Sloth Bear, Purple-faced Langur, Indian Pangolin and many more.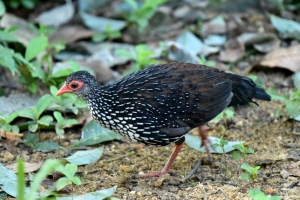 Per person sharing price £2,995.00
Single supplement:            £  830.00
Party size:                                  4- 6
Includes flights, transport, accommodation, all meals (except lunches in Colombo & Galle), park fees, local guide and host.  
Summary Itinerary:
3 March  Depart London
4 March Arrive Colombo. Early evening birding in Viharamahadevi Park. Dinner in the hotel.
5 March Birding in Colombo – Fort, Galle Face, Beira Lake & Talanga Wetlands. Dinner in the hotel.
6, 7 & 8  March  Singharaja Forest. Dinner in the hotel. Packed lunches.
9 March  Tissa Wetlands. Dinner in the hotel. Packed lunch. 
10 March  Yala National Park.  Dinner in the hotel. Packed lunch. 
11 March Bundala National Park. Dinner in the hotel. Packed lunch.
12 March Puja ceremony at Kataragama. Drive Mirissa. See stilt fishermen. Dinner in the hotel.  Packed lunch.  
13 March  Whale watching cruise. Afternoon visit to Galle. Watch a cricket match if one is being played. Dinner in the hotel.   
14 March Return to Colombo. Afternoon visit to Talangama Wetlants.  Dinner in the hotel.
15 March Fly back to London. 
Wildlife & photographic hosts
Other Trips
Past Trips

What the experts & clients say
"I love working with Spencer Scott because I can be confident that, wherever we go, the Company will have secured the best available accommodation, services and back-up. This frees me to concentrate on what I enjoy most, which is finding really special wildlife experiences to share with our clients"
"Thank you for all the organisation which gave us such wonderful and thrilling days in The Mara - a truly memorable experience.  We were so lucky all our sightings - the best view of leopard I have ever had.  The bonus was that beautiful black rhino - fighting fit and so close.  Of course, Simon's expert and enthusiastic guidance ensured the maximum benefit."
"I have had the good fortune to work with Liz Drake at Spencer Scott Travel taking small groups on safari to East Africa and India. All aspects of the journey are handled in a most personal, thorough and sensitive way, and all the arrangements are organised with admirable attention to detail. I have always boarded the plane from London knowing we were all going to have the holiday of a lifetime."