Wild India with TV presenter & film-maker Simon King OBE
24th March - 5th April 2014

A hand-picked elegant safari & an immersive, thrilling and engaging wildlife experience ......

"I have at last deci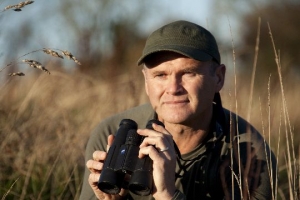 ded to host a wildlife watching trip to India.  Until now, there have been reasons why I have felt that such a trip would fall short of the sort of experience I wish to provide. But, I am delighted to say, conditions in the regions and reserves I know and love best are now suitable for me to feel confident I can provide guests with the sort of adventure, comfort and contact with the wild world that will set this trip apart from other safaris.
               I intend to visit two of my favourite National Parks, Bandhavgarh and Kanha.  Each of these wilderness areas bears its unique flavour and style.  Bandhavgarh is one of the most aesthetically beautiful regions of the country with undulating hills, forest, open grassland, bamboo, swamp and open water.  At its centre is an ancient fort and close to its boundaries, some of the very best 5 star accommodation one can find in the country. It is also where I filmed 'Tiger Kill', which was shown on the Natural World strand for the BBC.  I hope to include elephant back access into the forest as part of the adventure – an unforgettable experience in itself – and plenty of (nice) surprises along the way.  It perhaps goes without saying that we will be keeping an eye and an ear out for tigers and, whilst there can be no guarantee of a sighting of these magnificent but enigmatic cats, this reserve offers some of the best chances in the country.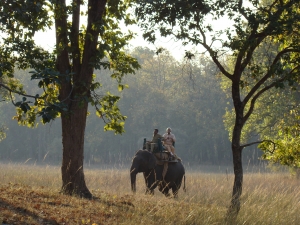 Kanha is, by contrast, rather more flat than Bandhavgarh, but is graced with mature sal forest, swamps and bamboo thickets that host an astonishing array of wildlife.  I have seen wild dog, gaur, sambar, barasingha, chital, leopards and, yes, tiger here along with a vast array of birds and other creatures.            
           If you have travelled with me before, you will know I do not like to give away too many details of a trip itinerary, since I prefer to let the adventure unfold day by day, but I hope you will trust me to create an immersive, thrilling, elegant and engaging experience.
           I do hope you will be able to join me, and look forward to sharing my love of India and its spectacular wildlife with you."  Simon King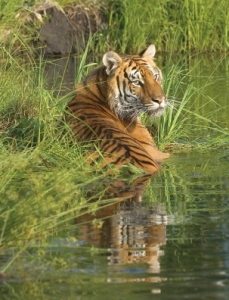 This is an intimate luxury safari staying at the very best lodges, with the best safari vehicles and special arrangements in Bandhavgarh to enhance your wildlife experience.
March and early April temperatures are starting to build and tigers can more easily be found in or near water. In addition to looking for tigers, there is gaur, nilgai, chausingha, wild boar, jackal, chital, muntjac and sambar deer, rhesus macaque, black-faced langur, jungle cat and hyena in Bandhavgarh, as well as 300 bird species including white-bellied drongos and black and white Malabar hornbills.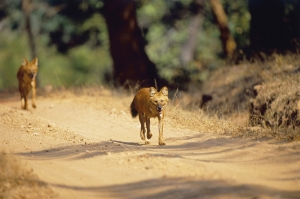 Kanha is good  for wild dog, gaur, sambar, barasingha, chital, leopard and also tiger. There is even the chance of seeing sloth bear.  The bird life is diverse with over 300 species, including Indian roller, racket-tailed drongo, red and  yellow wattled lapwing, black-headed oriole, black ibis, pied kingfisher and crested serpent eagle.
Safari Synopsis
24 March              Evening departure from London Heathrow.
25 March              Midday arrival in Delhi. Imperial Hotel.
26 – 31 March      Bandhavgarh National Park. Mahua Kothi Lodge.
1 – 3 April             Kanha National Park. Banjaar Tola Lodge.
4 April                   Delhi. Imperial Hotel.
5 April                   Afternoon flight to London Heathrow.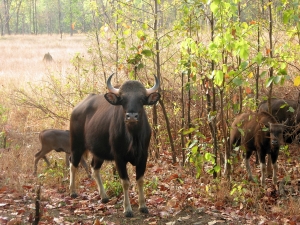 Price per person :                             £12,975.00 / US$20,200
Single room supplement :              £1,000 / US$1600
Number of guests :                                      6 – 8
Price includes premium economy international flights, luxury accommodation, all meals, all safari activities, special wildlife host, Spencer Scott co-host and safari organiser.
Wildlife & photographic hosts
Other Trips
Past Trips

What the experts & clients say
"Thank you for all the organisation which gave us such wonderful and thrilling days in The Mara - a truly memorable experience.  We were so lucky all our sightings - the best view of leopard I have ever had.  The bonus was that beautiful black rhino - fighting fit and so close.  Of course, Simon's expert and enthusiastic guidance ensured the maximum benefit."
"I love working with Spencer Scott because I can be confident that, wherever we go, the Company will have secured the best available accommodation, services and back-up. This frees me to concentrate on what I enjoy most, which is finding really special wildlife experiences to share with our clients"
"I've done lots of trips tour guiding for Spencer Scott Travel (Cuba, Peru, South Africa, Botswana, Uganda) and they have all been of the highest order, well planned, great itineraries, excellent support and clients always totally satisfied. They are a total pleasure to work for and I have loads of great memories to treasure as a result. Check them out if you want something special."