Indian Tiger Exclusive with Stephen Mills
17th - 27th March 2018

With excellent tiger sightings and flexible safari options Ranthambhore is a must. You can track tigers all day long without hoards of other jeeps and with your own tiger specialist on hand this is probably the best ever opportunity you'll have for seeing tigers in the wild.

Fly London -Jaipur – London (no overnights in Delhi).

Comfortable 3 hour drive to Ranthambhore

Five full day (0600 – 1830 hours) and one half day (0600 – 1200 hours) safaris with exclusive permits with no zone restrictions for up to 5 vehicles per day

Plus 4 regular safaris

Tiger tracking with guest naturalist and tiger specialist, Stephen Mills

Number of guest – 6.

3 guests in each safari jeep (we aim to have two jeeps)

Accommodation in a charming property set in 30 acres of wilderness with nature trails and a resident naturalist

Everything is taken care of and you are personally looked after by an accompanying safari escort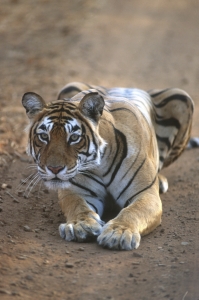 Ranthambhore's new window of opportunity
There is an exceptional window of opportunity that provides you with the very best chances of you seeing tigers by way of a special jeep permit that has no restrictions across the five premium zones in Ranthambhore National Park. Once the regular zone-controlled vehicles have departed at 0930 hours you will be in the park with no more than a total of 5 jeeps (at the discretion of the park) until 1500 hours when the regular safari jeeps return.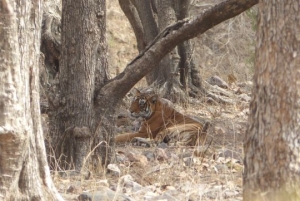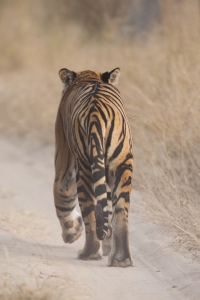 Ranthambhore's tiger sightings
After numerous reports of excellent tiger sightings we visited Ranthambhore in April 2017 to see for ourselves just how good it had become. In just one day and in an allocated zone we had a full hat trick seeing 2 tigers, 3 leopards and a sloth bear. There are currently estimated to be 60 tigers (3 tigresses with cubs) and 100 leopards within the park.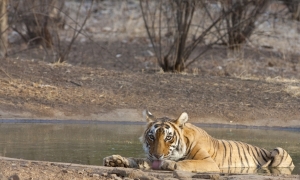 Ranthambhore is a dreamy, romantic park with its abandoned fort and Maharajah's lodges, its tree-lined tracks and lakes.
Guest Naturalist & Tiger Specialist
Stephen Mills MA (Oxon) MFA IAWF is a professional naturalist, wildlife researcher, acclaimed wildlife film-maker and author.  He is particularly known for his field work on tigers in India and Nepal and has been the BBC's 'tiger expert' for many years.  Stephen has been filming, observing and studying tigers in India for almost 30 years and knows the parks intimately. He wrote the BBC film Tiger Crisis, which helped to bring to international attention the rise in poaching for trade in tiger parts and is author of the BBC book 'Tiger', which documents some of the tigers of Kanha & Bandhavgarh National Parks. As a writer, producer and cameraman, Stephen has made 35 films for TV, including Land of The Tiger, Man-Eater: To Be or Not To Be.  He will share with you all his knowledge and experience of tigers.  He is former chairman of the International Association of Wildlife Film-makers. As well as tigers, wild dogs, leopards and sloth bears are always high on his agenda and he is a very competent birder.
Stephen feels with this special new flexible arrangement and the fact that Ranthambhore is currently providing excellent sightings, it is an opportunity not be missed.
March is normally dry and hot (30°C), which increases your chances of seeing tigers at waterholes. Stephen is an excellent safari host – friendly, knowledgeable and very funny. He has been hosting tiger safaris to India and Nepal for us for almost 25 years and every guest has seen a tiger with him.
Accommodation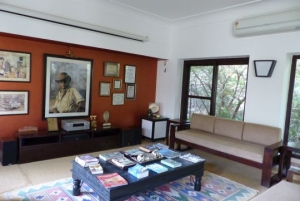 Our lodge is a charming environmentally sensitive property located on a large plot of land developed by Goverdhan who is the son of India's famous tiger conservator; Fateh Singh Rathore. The whole property (13 tents, 8 cottages and 4 rooms)  is designed to provide peace and tranquility around its 30 acre site of water holes, natural grasslands and thick forest. There are 6kms of walking tracks through the wilderness and it is the only camp/lodge with a resident naturalist.  It is not uncommon to see jackals, jungle cats, hyenas, desert fox, and crocodiles, within the grasslands and around the property.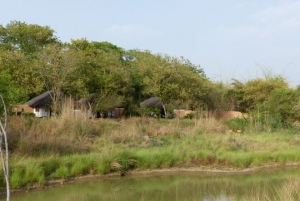 It is also a bird watcher's paradise. Dining is vegetarian only but with a wide choice of Indian, Western and Oriental cuisine. There is a very comfortable library, bar, campfire area and spa.  This is one of the original lodges and is definitely the most in tune with nature and full of interesting history. It is just a 15-minute drive to the main gate. Two further gates are a 30-minute and 1 hour's drive away.
Flights
Depart London in the evening and arrive in Jaipur just after lunchtime the following day.
Evening departure from Jaipur and back in London early the following morning.
Fully Inclusive Price:     
Price per person :                                                                                    £8,395.00
Single room supplement :                                                                       £   500.00
Other Trips
Past Trips