Wild Dorset with Simon King
16th - 24th June 2012

A wonderful opportunity to spend a week with Simon King and his hand-picked team of local naturalists studying the wildlife in 7 different habitat types during early summer in Dorset. Simon will be with you for the whole week and staying in the same hotel so you will have lots of time to enjoy his company and share in his enthusiasm.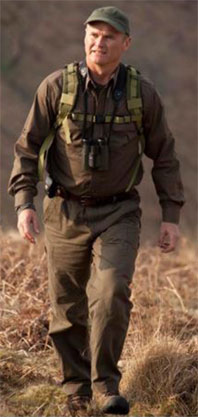 The heaths, moors, marshes and woodland of the Isle of Purbeck and Jurassic Coast provide part of the stage for the 2012 Wildlife Whisperer holiday, with Simon King.
Simon and his colleagues will take you on a journey of discovery into the secret wild corners of the county of Dorset, hoping to reveal some of the most charismatic and compelling of wild creatures in the nation.
The rare and elusive Dartford warbler, the dashing and mercurial hobby, nightjar, sika and roe deer, smooth snakes, sand lizards and badgers, all are creatures of these southern wild places and we will hope to see most of them during our adventure and a great deal more besides.
We will be staying in the Springfield Country Hotel (complete with Spa and swimming pool) near Wareham Forest.  The hotel's location is ideal for access to many of the natural gems of Dorset, including the RSPB reserve at Arne, the rich marine and shore-life of Kimmeridge Bay plus the heaths, forests and acid bog.  From the hotel we will explore the area each day with groups of ten people per guide.  Every group will spend at least one full day, and several all-group excursions with Simon.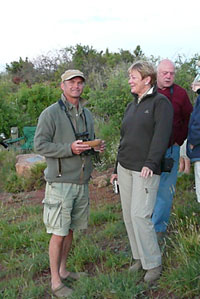 A visit to Brownsea Island which is home to one of the last populations of red squirrels in England, and an evening vigil to watch wild badgers coming out to feed will be part of the experience.  We will offer trips at dusk and after dark to listen for nightjars and bats and Simon and guides will share some of their unparalleled field craft skills and offer hints and tips to photographers who wish to improve their technique.
This, together with surprise visits to locations rich in largely unseen wild creatures will ensure this is a trip not to be missed.
This holiday is in association with Wildlife Whisperer
To learn more about Wildlife Whisperer click here
Itinerary
16 JuneSpringfield Country Hotel
You are welcome to arrive at the Springfield Country Hotel near Wareham at any time during the day and your rooms will be ready for you from 15.00. Simon and his team of guides will meet you in our private bar area from 18.00 for a welcome speech, introductions, drinks and canapés. We will sit down to dinner in our private dining area at 19.30.
17 June 

Radipole Lake

After a substantial breakfast in the hotel, served from 07.00 we will head out at 08.30, and drive to Weymouth, (about 45 minutes away) and the RSPB reserve at Radipole.  This oasis in an urban surround is a real jewel for birdwatchers and general naturalists alike.  We will park the vans and walk in the reserve which offers a mix of open fresh water and reedbeds.  Star species on the reserve include Cetti's warbler, Marsh Harrier, bearded tit, bittern and even otters.
Lodmoor Reserve
After a comfort break at the car park we will then make our way to RSPB reserve at Lodmoor; another wetland reserve with associated species. We will visit the main hide where we will be able to watch the Common Tern colony, one of the largest in the country, as well as keeping an eye out for the elusive bearded tits and other reed bed residents.  We will have our packed lunch whilst at Lodmoor.
Portland
We will round of the day with a visit to Portland Bill, the southernmost land mass in Dorset and a great place for a spot of sea watching. We may see gannet, fulmar and other seabirds whilst at the same time keeping an eye out for other bird species on The Bill itself. Anything could turn up!We will then drive back to the hotel for a well- deserved drink and dinner.

18 JuneArne
After an early breakfast we will drive the short distance to the RSPB reserve at Arne where we will spend the rest of the day. The mix of open heath, pine forest and coastal waters makes Arne one of the most beautiful and wildlife rich areas of the county. Here we will meet reserve warden Rob Farrington who will introduce us to the reptiles of the area, including the rare smooth snake and sand lizard.We will then walk around the heathland, forest and coast keeping an eye out for Dartford Warblers, Hobbies and Sika Deer. Other wild stars that inhabit the reserve include, woodlark, and coastal species such as egrets and wading birds. We will take a break together to eat our packed lunch and then continue with our exploration.

There are toilet facilities on site.

19 JuneMorden Bog
One of the rarest habitats in Britain, Morden Bog is a wonderful example of a valley bog, bordered by dry heath. The mix is seductive to a wide range of creatures from reptiles such as smooth snake and lizards to a wonderful variety of dragonflies. This is the location where Simon filmed hobbies hunting, for Springwatch and is likely to be doing the same for a new BBC series this year. Woodlark, warblers and the unexpected all pop up in this land of big sky.
Badger Watch
We will return to the hotel for an early supper before heading out once again on a 45 minute drive to a location near Dorchester where we will have exclusive use of hides that overlook a badger set. We will wait until last light in hope of catching a glimpse of these charming denizens of the night
20 JuneBrownsea Island
After breakfast today we drive twenty minutes to Poole Harbour and board the ferry for the short cruise across the harbour to Brownsea Island. The island famously hosts one of the last remaining populations of red squirrel in southern England, and we will be keeping an eye out for these charming inhabitants of the mixed woodland. Sika deer are common here too, and we will also be keeping an eye out for water vole in the marshy ground. A view across the lagoon from the hides should offer great sightings of a number of bird species, including common and sandwich terns and perhaps even a spoonbill. There are toilet facilities at the visitor centre on the island.
21 JuneKingcombe

Nightjar

Kingcombe is a rare and magical reminder of what our native woodland and low intensity farmland can look like. Wild flowers, birdsong and the chance of an encounter with roe or fallow deer all add to the charm of the place.
To get the best of the birdsong, we will leave the hotel with a packed breakfast and lunch, departing at first light in order to reach the reserve an hour later whilst natural activity is still high.There is a visitor centre with café on the reserve which we will visit before heading back to the hotel to take a break with time for a nap for anyone so inclined.

Later in the afternoon, we will have an early supper, then reconvene and drive to a nearby location where we hope to hear and perhaps even see nightjars. These enigmatic birds fill the evening air with their woody churring song and hawk for moths in the night air. Once light has faded altogether we will return to the hotel for a nightcap and well-earned rest.

22 JuneA day at the seaside
After breakfast we will drive half an hour to Durslestone Cliffs where we will walk along the cliff path. Here we may encounter seabirds such as guillimots and gannets as well as peregrine falcons cruising the cliffs in search of prey. The rolling farmland that borders the coast has a rich butterfly and bird life.Late morning, we will return to the vehicles and drive to Kimmeridge Bay, where we will have our packed lunch before heading down to the shore. A low spring tide between 14.00 and 17.20 will reveal the rich marine life that can be found along Dorset's shoreline. We will meet warden Mark Smith who will show us some of the coastal marvels of the area and also have a chance to look for fossils along this stretch of the Jurassic coast.
23 June 

Wareham Forest

Dawn and Dusk

A dawn walk in the forest. We will leave the hotel at 03.30 and drive the short distance into Wareham Forest. The mixed woodland and Heathland offers a varied habitat and a wealth of wildlife. As the dawn light creeps into the sky, we will listen to the rising chorus of birds, from blackbirds and song thrushes to summer warblers. Simon and guides will help pick out the voices and identify each species as it joins the symphony. As the light lifts further we may see and hear Dartford Warbler, Sika and roe deer, crossbills and more.We will return to the Springfield Country Hotel for breakfast at 09.00.

We will take a break now to allow everyone to freshen up and take a nap if required. The middle of the day is your own to allow you to explore nearby Wareham, Corfe Castle or other places of note.

Nightjar
We will have an early supper at 18.00 at the hotel before reconvening at 19.00. We will then head out once more and await the dusk arriving in the forest. Now the denizens of the night will lend their voice, including nightjars, and we may be lucky enough to glimpse one.By 22.00 we will be heading back to the hotel for a nightcap and to relive some of the wild moments that have we have shared through the week.

24 JuneBreakfast / Home
This morning we will take breakfast together in the hotel before saying our farewells and leaving to our separate adventures.
Price :   
£1995 per person in a twin fully inclusive
£120 single supplement
Price Includes :
8 nights Springfield Country Hotel
All meals from dinner on 16 June to breakfast on 24 June.
Welcome reception
All transport
Entrance fees to reserves and Brownsea Island
Access to specialist hides
Local guides and wardens
Wildlife Whisperer hosts
This is a Wildlife Whisperer Holiday organised in conjunction with Spencer Scott Travel.
Wildlife & photographic hosts
Other Trips
Past Trips