Creative wildlife writing course with Dominic Couzens
23rd - 30th March 2011


Join leading wildlife writer Dominic Couzens on a creative writing course drawing inspiration from the unique Provencal light, the windswept landscapes and wildlife in The Camargue.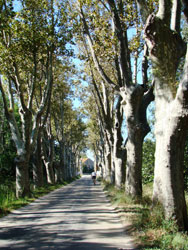 The Camargue is one of the most original and romantic regions of Provence.  The flat lagoons and the salt marshes provide a natural habitat for wild horses, bulls and flamingos and evoke sultry, mysterious and dramatic moods perfect for creative writing.  Traditions die hard here and the cowboy of the Camargue still wear the large felt hat, carry the long three-pronged stick and watch over their herds of bulls on horseback. The Camargue lies between two forks of the River Rhone where you'll see swans gracefully gliding by, fisherman lining the banks, fresh water reed beds and lush meadows with roaming solitary bulls and packs of playful wild horses. There are hides from which to observe the birdlife and glistening pink saltpans. Knarled plane trees and semi derelict Mas (farmhouses) can be found along the country lanes and May is springtime when the area is bursting with new life and hope.  The almond and peach trees should be in blossom and many more flamingos will be arriving for the start of the breeding season so there will be plenty of activity on the ground and in the skies.  The Camargue is also famous for rice and the fields will be flooded in May, salt production, equestrian centres and bull breeding.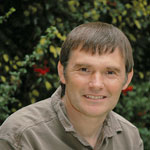 Dominic Couzens is based in Britain and has been a freelance writer for over 20 years.  He is a prolific writer of books on birds and natural history and is a regular contributor to BBC Wildlife and Bird Watching magazines. He is author to 15 titles to date including Wild About Britain and Extreme Birds.  Dominic is fortunate in combining his two passions of writing and ornithology and regularly appears on TV as well as hosting special bird watching days and overseas trips.  He is an excellent communicator and his calm, patient and caring nature makes him an ideal tutor for this creative writing holiday.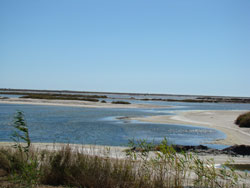 Course structure
Every morning will be spent observing the natural world in The Camargue- on the marches, lagoons, along the banks of the Rhone and coast.  Private transport will be provided for you to access the different areas in The Camargue.
Every afternoon will be spent quietly writing under the guidance of Dominic Couzens, who will provide individual instruction as well as group teaching and discussion sessions.  Writing can continue in to the evenings.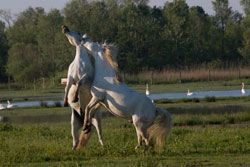 Breakfast, lunch and dinner at the hotel. Hotel Les Arnelles is a perfect writers retreat. It has an isolated and quiet location in the heart of The Camargue and backing on to a lagoon.  There are 16 ensuite rooms, a restaurant, bar and lounge.  We'll be more or less taking over the property so there are several options for writing areas – the lounge, a meeting room, the restaurant, the terrace or if you prefer solitude each room has a private terrace. Les Arnelles also has its own riding stables.
| | |
| --- | --- |
| 23 March | Meet Dominic Couzens and the rest of the party at London Gatwick.  1320 hours depart London.  1610 hours arrive Marseilles. Transfer to the Hotel Les Arnelles, in the heart of the Camargue. Introductory talk by Dominic Couzens followed by dinner in the hotel. |
| 24 – 29 March | After breakfast head out in to the Camargue to draw inspiration from this uniquely wild and natural environment, its wildlife and rural lifestyle and immerse your self in thoughts. Return to the hotel for lunch. The afternoons will be for workshops sessions or creative writing time in the hotel. Dinner in the hotel followed by informal discussions and readings of  favourite works. |
| 30 March | Breakfast in the hotel.  In the morning there will be a concluding workshop of everyone's creative writing pieces. After lunch transfer to Marseilles airport. 1650 hours depart Marseilles. 1740 hours arrive London Gatwick. |
Participants
This course is open to any one wishing to develop and improve their writing skills and is particularly appropriate for those inspired by nature and wishing to enter short story competitions.
Number of writers : 8 – 12 persons
Price per person: £2,495.00
Price includes: scheduled flights on British Airways to Marseilles, airport transfers in France and private coach every morning, 7 nights ensuite single occupancy rooms, all meals, professional guest author, Spencer Scott Travel escort.
You might be interested to visit the Birds Words website
Wildlife & photographic hosts
Other Trips
Past Trips