Birds of Paradise in Papua New Guinea
25th July - 10th August 2010

Join celebrated TV wildlife presenter Chris Packham on an expedition to PAPAU NEW GUINEA in search of the maddest collection of avian species on the planet!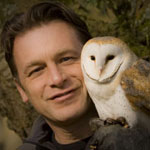 Chris Packham is a leading TV wildlife presenter and film-maker, a respected ornithologist, and an award-winning photographer. His enthusiasm, breadth of knowledge and sense of humour makes Chris Packham an exceptional and talented host. He has led previous BBC Wildlife reader safaris observing Mountain Gorillas in Uganda, big game in Botswana, whales and sharks off the coast of South Africa, Cock of the Rock, Giant otters and tapirs in the Amazon Rainforest, and Cuba's endemic birds. Observing Birds of Paradise perform their extravagant courtship dance or as Chris Packham describes it 'Damien Hirst meets Darwin' is on his 100 'top' list. It is also a 'top' favourite of Sir David Attenborough, who brought some of the first images of this extraordinary spectacle to our screens.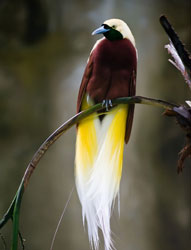 Papua New Guinea is as much about seeing as many of its 36 Birds of Paradise species as embracing a sublime adventure that will be above and beyond anything you have ever experienced. The quest is to see 10 – 15 Birds of Paradise (lowland and highland) species including King, Twelve-wired, Raggiana, King of Saxony, Magnificent, Blue, Superb, Greater, Lori's, Lawes & Carolla's Parotias, Brown & Black Sicklebills, Princess Stephanie's Astrapia, Glossy-mantled & Crinkle-collared Manucodes, Magnificent Riflebird and Short-tailed Paradigalla. July and August is the best time to see the birds displaying, so a performance of a lifetime can be expected. Birding in Papua New Guinea is not easy and requires a certain level of fitness. You'll be hiking through jungles and rainforests (often in the rain!) where you can expect to encounter a whole array of exceptional and wonderful species including Barred-owlet nightjar, Pygmy Drongo, Papuan Harpy Eagle, Sooty Owl, Black Sittella, Torrent Lark, Yellow-capped Pygmy Parrot, Blyth's Hornbill, Metallic Starling, Flame Bowerbird, Hooded Pitta, Monarchs, Honeyeaters, Bee-eaters, Kingfishers and Berrypeckers. It is also the lost world of fanged frogs, giant rats, Hanemo grunter fish, giant monitor lizards and Bosavi silky cuscus.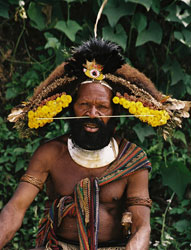 On this expedition you'll connect with both the environment and the indigenous culture encountering Foi-speaking natives, Huli tribes people and 'Wigmen'. Accommodation will be 'native-style' longhouses as well as luxury lodges and hotels. We'll be managing services and facilities to a standard unknown in Papua New Guinea (taking our own food and chef some of the time) and utilising private planes to minimise the amount of travelling. There'll be a team looking after you and supporting Chris Packham that includes an experienced expedition co-ordinator from the UK, a local escort and Melanesian bird guides. This is a birding extravaganza not to be missed.
Expedition details
Price per person: £10,525
Single room supplement : £785 (exludes 3 nights in Kiunga)
8 – 12 adventurous birders will accompany Chris Packham.
Price includes : scheduled flights via Singapore, scheduled and private charter flights in Papua New Guinea, 12 nights ensuite accommodation, 1 night shared facilities, all meals, all birding activities including local guides, transport and associated costs, Melanesian escort, local bird guides, safari co-ordinator from the UK, BBC Wildlife host.
Wildlife & photographic hosts
Other Trips
Past Trips

What the experts & clients say
""I wanted to say thank you so much for everything.  It was the most wonderful holiday and the memories of which will stay with me a lifetime.  It was clear to me that a lot of  work went on behind the scenes by both yourself [Liz Drake and Spencer Scott Travel], and Simon [King]  to make this holiday the very very best one could wish for and so very special so thank you both so very very much."  "
"Thank you for all the organisation which gave us such wonderful and thrilling days in The Mara - a truly memorable experience.  We were so lucky all our sightings - the best view of leopard I have ever had.  The bonus was that beautiful black rhino - fighting fit and so close.  Of course, Simon's expert and enthusiastic guidance ensured the maximum benefit."
"I love working with Spencer Scott because I can be confident that, wherever we go, the Company will have secured the best available accommodation, services and back-up. This frees me to concentrate on what I enjoy most, which is finding really special wildlife experiences to share with our clients"