Tiger Safari in India and Nepal with Stephen Mills
7th - 21st November 2009


Join tiger specialist Stephen Mills on this tailor-made luxury safari to India & Nepal in search of Bengal tigers in the wild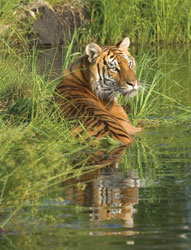 On this special tiger safari you will be accompanying Stephen Mills to Bandhavgarh and Royal Bardia National Parks, which are considered the best places to see tigers in India and Nepal. Together, you will track tigers riding elephants and in jeeps and dugout canoes. Tracking tigers immerses you in to the heart of the jungle and provides the opportunity to enjoy many other species. Seeing a herd of sambar emerging into a sunlit glade or discovering elephants playing in water as the sun sets and bathes them in gold, the haunting cry of the peacock, the rustling of wild boar, and finally the alarm call of the muntjac deer.. then a moment of fear and excitement as you see the most extraordinarily beautiful and exotic big cat of the jungle. Despite their elusive nature everyone who has joined Stephen on all twelve of our BBC Wildlife reader holidays to India has seen tigers – testimony that joining a leading tiger specialist greatly enhances your safari experience.
Bandhavgarh National Park – a key Project Tiger reserve that is currently considered the best place in India for seeing tigers. In addition leopards, sloth bear, gaur, nilgar, chausingha, wild boar, jackal, chital, muntjac and sambar deer, rhesus macaque, black-faced langur, jungle cat and hyenas, as well as 300 bird species and many butterfly species. The Tiger's Tale was filmed in Bandhavgarh.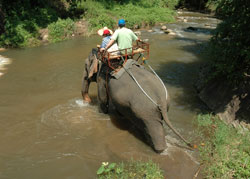 Royal Bardia National Park – an isolated and tranquil park of unspoilt wilderness in western Terai and the best place to see tigers in Nepal. Other species include elephants, leopard, rhino, barking, hog, sambar, spotted and swamp deer, nilgai, blackbuck, monkeys, wild boar, wild dog, striped hyena, mongoose, gharial and marsh mugger crocodiles, Gangetic dolphin and 400 exotic bird species.
For this tailor-made safari we have secured the best available accommodation, services and back-up and structured it to provide quality time observing tigers and other species in the wild. You'll be staying in safari lodges, tented camps and luxury hotels. We have 20 years unrivalled experience in tailor-making safaris in association with BBC Wildlife and working with the best experts in the field.
Just 10-12 wildlife enthusiasts and photographers will be joining Stephen Mills.
Price per person: £5,795 fully inclusive | Single room supplement: £450
Your BBC Wildlife host is Stephen Mills – a producer, cameraman and writer who has made 35 wildlife films for TV including Land of The Tiger, Man-Eater: To Be or Not To Be. He wrote the BBC film Tiger Crisis and is the author of the BBC book Tiger. Stephen has been studying tigers in Bandhavgarh and Bardia National Parks since the 1980's.
Wildlife & photographic hosts
Other Trips
Past Trips

What the experts & clients say
""I want to let you know that the workshop with Ken Howard in Santorini was simply the best workshop I have ever attended.  I was deeply inspired and impressed by Ken.  The group was a pleasure.  I hope this workshop will be repeated again."  "
""Just wanted to drop you a quick line to say how very much I enjoyed painting with Pete in Havana.  I loved it all, the City, the painting, the company, the Mojito's and the food, and it was great to have Jacqueline there organising us all. Many thanks and I hope to take part again next year.""
""Thank you Lucy for giving us such a wonderful time. I so appreciated your expertise and your personality. I learned so much and very much appreciated my time painting with you. Eileen's support was wonderful and made everything go so smoothly from the moment we left Heathrow until our return.  I enjoyed meeting everyone and sharing such special times together, both arty and spiritual. This was a trip of a lifetime and I'll never forget it."  "