African Cats in The Mara
22nd - 31st October 2011


Suddenly Simon's calendar allows him time to lead a discreet and private safari. Now is your chance to travel with Simon King to one of his favourite places on earth – The Masai Mara in Kenya.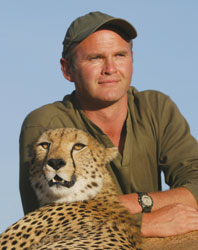 The Masai Mara is undoubtedly one of the finest reserves in Kenya and probably East Africa, due to the phenomenal diversity of species that can be seen in large numbers, providing an unrivalled wildlife spectacle and truly rewarding experience. Lion and cheetah sightings are almost guaranteed and even the elusive leopard can be found more frequently than elsewhere.
Simon knows The Mara intimately and wildlife viewing with him is a very special experience. He is a true professional, an expert on animal behaviour and wildlife photography and his boundless enthusiasm is infectious. He is very generous in helping you capture the best pictures and getting the most out of your camera. Time stands still lost when you are out on the plains with Simon and observing wildlife definitely takes precedence over heading back to camp! The savannah is rich in all life with elephant, buffalo, wildebeest, zebra, gazelles, hyenas, and hippo and, sometimes even the now rare black rhino. Bird life is varied and exotic, as well as the myriad of other creatures that complete the web of life here. There will be times of great activity as well as periods when you simply sit and wait to see what natural drama might happen next.
The Mara is 'Big Cat Diary' country and this is where Simon recently filmed sequences of the new Disneynature film 'African Cats'. He hopes to introduce you to some of the 'Big Cat Diary' characters; Notch (Khali in the movie), Sita (some of you may know her as Shakira), the 3 brothers (cheetah males), Marsh Pride and the Jackson Five (leopards). Simon is a captivating raconteur and back at camp with sounds from the bush, the endless African sky, the warmth of the campfire and a little sustenance he's in his element! There will be lots of fun and special times to share with Simon. He is a perfect gentleman and the very best host you could have in The Mara – he is 'King' of The Mara!
Safari Programme
22 October
Join Simon King and Liz Drake for lunch at the Sofitel Hotel, London Heathrow Airport Terminal 5 followed by a private screening in their widescreen cinema of the new Disneynature movie 'African Cats', whichSimon helped to film. It will be a taster of your real experiences over the next 10 days spent with Simon in the some of the same locations and observing some of the same animals! Later transfer to Terminal 3 and check in to the Virgin Club Lounge. Depart London 2100 hours.
23 October
Arrive Nairobi 0750 hours. Fly directly by private aircraft to the Masai Mara. Safari vehicles will be waiting for you at the airstrip in the bush and to take you on to Governors Private Camp – a secluded traditional bush camp located on the banks of the Mara River close to the Musiara Marsh, which is one of the hottest spots for main game action in The Mara and was a prime location for the filming of 'African Cats' and 'Big Cat Diary'.Private Camp is a discreet and extremely comfortable exclusive tented camp (www.governorscamp.com). The 8 Meru tents have wooden floors, double or twin beds with attached safari showers and a flush WC. Tents have gas and paraffin lighting. There is a simple mess tent with safari chairs and tables, but the best dining is always under the stars.

Enjoy your first al fresco lunch and a couple of hours rest in camp before heading out on to the plains for your first game drive. After the heat of the afternoon the animals start to stir and the plains become a hive of activity. As dusk approaches The Mara takes on a different mood and finally you do have to head back to camp. After a hot shower join Simon for drinks around the campfire and a delicious dinner served with excellent wines. When you finally retire to your tent you will find it hard to believe all that you have seen and experienced on your first day.

24 – 26 October
Three full days observing African cats and other wildlife in The Mara. Just before dawn breaks tea and biscuits are brought to your tent, then it's straight out on to the plains to see what activity took place during the night. Watching the sunrise over The Mara is a magical moment in itself and hours of rewarding wildlife viewing await you. The plains are teeming with wildlife after a night of activity and there's a good chance of finding a successful kill. There's no timetable other than nature's own but at some stage you'll be heading back to camp for breakfast. Then as the heat builds up it's time to rest in camp and another sociable lunch. Afternoon tea is served before heading back out on to the plains to see some more action. The world back home will cease to exist as you immerse yourself in to the rhythm of life in camp and on the plains.
27 – 30 October
After an early morning game drive you will move on to the exclusive and luxurious Richard's Camp in The Mara Conservancy – a large private game reserve adjacent to the Masai Mara National Reserve. Still located within The Mara ecosystem you can expect to see similar wildlife, but with the added advantage of having much more freedom and being able to go on walking safaris and night game drives. Four full days observing African cats and other wildlife in The Mara. Richard's Camp is authentic camping in style! The 8 tents have double or twin beds, a dressing area and attached safari shower and a flush WC. Solar power provides lighting. There is a comfortable sitting room with a roaring log fire. An indulgent luxury and special treat is the Victorian bath tucked away in the bush and open to the African sky! This fully hosted camp is owned by close friends of Simons.
31 October
After breakfast you will return to Nairobi by private plane to connect with your international flight departing at 1250 hours. Arrive London Heathrow 1905 hours.
Exclusive safari components
Simon King is your special safari host and he wishes to make this safari as personal and as exceptional as possible. He will be with you every day and everyone will spend some of the time with him on game drives.
Liz Drake is your safari co-ordinator and she will also be accompanying you, quietly working in the background to ensure everything operates efficiently and taking care of your general welfare at all times. Liz and Simon have previously worked together in The Mara.
Travel and accommodation arrangements are as exclusive as possible without being spectacularly expensive. Direct international flights are in Upper Class with flat beds. Private aircraft will be used to and from The Mara maximising your time wildlife viewing and minimizing the amount of time spent travelling as well as avoiding a change in terminals in Nairobi. Both tented camps, their safari vehicles and safari guides will be private and exclusive to us providing maximum privacy and intimacy.
Price: £9,995.00 per person (twin or single occupancy)
Number of guests: 10 guests
Price includes:
Private lunch & screening of the Disneynature film 'African Cats'
Upper Class flights on Virgin Atlantic (flat beds)
Private flights to and from The Mara
Governors Private Camp, Masai Mara National Reserve x 4 nights
Richard's Camp, The Mara Conservancy x 4 nights
All meals and drinks except champagne and premium drinks
Private safari vehicles and safari guides
National Reserve & Conservancy fees
Flying Dr's air ambulance service in Kenya
Safari co-ordinator – Liz Drake
Special safari host – Simon King
Not included:
Visas
Travel and cancellation insurance
Champagne and premium spirits
Wildlife & photographic hosts
Other Trips
Past Trips