Shetland Safari with Simon King OBE
28th June - 6th July 2013

Due to popular demand, Simon King is hosting another exclusive Shetland Diary Safari. Experience the wild wonders of the Shetland Isles and close encounters with otters, Storm Petrels, puffins, killer whales and much more….  Discover how infectious Simon's enthusiasm and knowledge about all creatures great and small is and he can make nature blow your mind!  He is a wildlife pro like no other.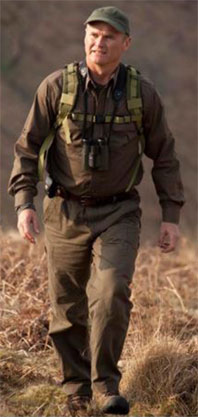 The holiday will be based on Mainland Shetland with excursions to some of the most iconic wildlife hot spots the islands have to offer.

These will include:
A chance to watch wild otters.
A midnight trip to the island of Moussa, to see and hear the enigmatic Storm Petrels, which breed in the ancient Broch.
A journey on to the island of Noss, which hosts one of the most spectacular seabird colonies in the world.  You will get up close and personal with gannets, puffins and great skuas to name a few.
A boat ride around Noss that will bring you even closer to the seabirds in their ocean element and a virtual dip beneath the waves with a roving submarine camera.
The chance of an encounter with the wolves of the sea – killer whales.  And much, much more!!!  The holiday is based from the charming country house hotel, Busta House near Brae, with cosy rooms and fine food.
£2795 pp (Single Supplement £160)
Included in the price of the holiday are all meals (not including lunch on the 28th and 6th) and 8 nights accommodation, transport around the Islands, expert guides, and a few surprises.
Not included: Transport to and from Shetland, travel insurance, single supplement and alcoholic drinks.
This holiday is in association with Wildlife Whisperer
To learn more about Simon King and Wildlife Whisperer click here

What the experts & clients say
""Thank you Lucy for giving us such a wonderful time. I so appreciated your expertise and your personality. I learned so much and very much appreciated my time painting with you. Eileen's support was wonderful and made everything go so smoothly from the moment we left Heathrow until our return.  I enjoyed meeting everyone and sharing such special times together, both arty and spiritual. This was a trip of a lifetime and I'll never forget it."  "
""Just wanted to drop you a quick line to say how very much I enjoyed painting with Pete in Havana.  I loved it all, the City, the painting, the company, the Mojito's and the food, and it was great to have Jacqueline there organising us all. Many thanks and I hope to take part again next year.""
"Thank you for all the organisation which gave us such wonderful and thrilling days in The Mara - a truly memorable experience.  We were so lucky all our sightings - the best view of leopard I have ever had.  The bonus was that beautiful black rhino - fighting fit and so close.  Of course, Simon's expert and enthusiastic guidance ensured the maximum benefit."