On Safari with Simon King
1st - 9th February 2010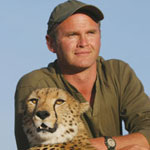 We were privileged to spend 8-quality days wildlife viewing with Simon King and fellow Big Cat Diary presenter and Maasai guide Jackson Looseyia and The Mara performed above and beyond our wildest dreams. Each day we shared the lives of all of the big cats that The Mara is so famous for and have our own personal big cat diary to tell.
We witnessed spectacular activity on the plains every day; cheetah, leopard and lion kills, an Impala birth, 7 cheetahs in eye-range proximity, lion pride rivalry, the harmony of a newly emerging pride of lions, mating lions, elephants bathing, cheetah, leopard, lion and hyena cubs, fighting bustards, a large troop of baboons on the move and the Talek river in flood, as well as hippos, crocs, porcupine, bat-eared foxes, serval, caracal and Honey's boys, Queen leopard Binti and the King of the Mara himself – Notch!
Most of our time we spent quietly sitting, observing and understanding the behaviour and interaction between all the animals of The Mara's ecosystem.
One day we spent 13 hours following the trials and tribulations of Honey's boys. We lived and breathed the hopes and losses of these 3 young male cheetahs as they searched for food and watched several abortive kills in exasperation. As dusk fell we had to retire to camp feeling their hunger and hoping that we may see fat bellies in the morning. Spending such intimate quality time with these animals and having time to understand their behaviour and that of those they hunted made us appreciate the added benefits of observing wildlife with exceptional experts in the field and travelling with professional organisers who facilitate exceptional experiences.
Over the course of the 4 days we watched a pride of lions with their kill – a massive adult hippo and the hierarchy in pride as they were all brought in to feast on this extraordinary kill. On one morning there were 13 lions and cubs feeding on the carcass! There were squabbles within the pride but throughout they defended their kill against a relentless assault by jackals, hyenas, vultures and other lions. Finally the King of the Mara and of this pride, and probably the mastermind behind this kill showed himself; Notch. He is an impressive and cool lion!
A magnificent cheetah and her lone cub kept us entertained most days as she hunted, nurtured and played with it. The bond between a cheetah mother and her cubs is strong and very beautiful. The cub mirrored everything her Mother did and barely wandered more than a few feet from her and when the mother lost sight of her cub during an attempted kill she relinquished the chance of a meal in preference to finding and protecting her cub.
We were also very fortunate to spend time with the Queen of the Mara; Binti and her two male leopard cubs, which enabled us to appreciate how differently each of the big cats brings up their young. Binti is as beautiful as a fine piece of jewellery.
As if the wildlife spectacular was not enough, there was never a dull moment and much fun to be had with the constant stream of surprises that awaited us; sun-downers, sun-uppers, bush breakfasts, picnic lunches and dinners under the stars, champagne reception and dawa parties, a birds-eye view of The Mara from a balloon and even when we retired to our beds the excitement was maintained with lions, elephants, hyenas and hippos trampling and munching their way through our camp!
Every day was riveting and fulfilling and Simon would assist us with our camera equipment and in translating these experiences in to memorable photographs. Simon was extremely generous in sharing his knowledge and enthusiasm with us, he entertained us with wonderful anecdotes as we relaxed around the campfire and dined, and he is such a perfect gentleman it was truly a great honour be on safari with him.
Jackson also knows the Mara's big cat characters intimately and could eerily predict their behaviour enabling us to get great photo opportunities and as a Maasai child of the plains could tell us many fascinating tales and enlightened us about local customs.
Sadly and emotionally we watched our last sun set and final sun rise, and bid farewell to Binti, Honey's boys, Notch and the beautiful cheetah and her cub, and all the other magnificent creatures great or small that had touched our hearts. This was definitely a safari above and beyond in more ways than one and we all hoped to return to share a few more days in the lives of these amazing animals with Simon and Jackson.
For more information on Simon King please visit these websites:
www.simonkingwildlife.com & www.wildlifewhisperer.tv
Wildlife & photographic hosts
Other Trips
Past Trips