Wild Africa, Zambia with naturalist Stephen Mills MA (Oxon) MFA IAWF
5th - 14th October 2016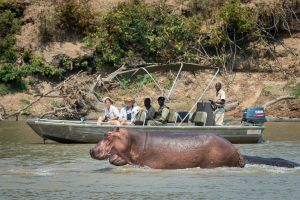 Safari Summary 
5 October    2000 hours depart London Heathrow.  The flight is via Nairobi.
 6 October   1225 hours arrive Lusaka. Fly to Mfuwe airstrip just south of Luangwa National Park. Game drive to Nsefu Bush Camp. This was Luangwa's first camp and where walking safaris were instigated. It retains much of its 1950's atmosphere and is now a historic monument. It is superbly located on an open plain awash with wildlife and with hot springs nearby. There are 6 rondavels huts, stylishly furnished over-looking the river. Depending on the final number of guests we hope to have the camp on an exclusive basis
7, 8, 9, 10, 11 & 12 October    Early morning and later afternoon game drives, boat trips and bush walks in this private sector of the park established by Norman Carr in 1950. This area offers an intimate and uncrowded safari experience. During the heat of the day you'll adjourn to the camp.
13 October   Final morning's game drive or bush walk. Fly back to Lusaka. 1640 hours depart Lusaka. The flight is via Nairobi.
14 October   0545 hours arrive London Heathrow.
Price per person in a twin :                                                                                             £7,495.00
Single occupancy supplement :                                                                                      £   500.00
Number of guests :                                                                                                                 4 – 8
Wild Africa, Zambia with naturalist Stephen Mills MA (Oxon) MFA IAWF
To make an enquiry please call
or
complete our enquiry form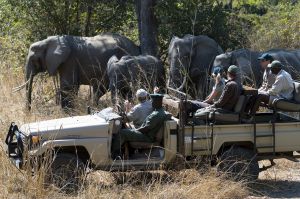 South Luangwa's wildlife–filled plains offer outstanding wildlife watching, particularly just before the rains commence in November. Its remoteness, species diversity, scenery and bush walking makes South Luangwa one of the most worthwhile wildlife experiences to discover in Africa. Away from the main gate there are only a small number of camps located along the Luangwa River and most have just 4 – 6 tents. The quality of the park is also reflected in the quality of its guides.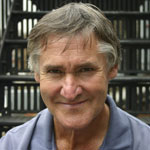 Stephen Mills is a highly respected naturalist, wildlife researcher, conservationist, wildlife film-maker and specialist safari host. He will open up Pandora's box on the animal behaviour as it unfolds before you and on it's role within the Luangwa ecosystem, as well as draw the best out of the local guides whilst retaining utmost respect of the natural world. Stephen Mills will greatly enhance your safari experience with informative discussions on wildlife conservation and topical research projects as well as recounting his numerous adventures as a natural history camera man.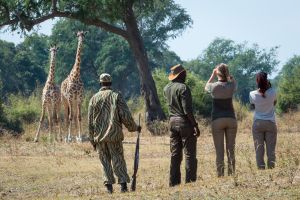 South Luangwa is Zambia's best protected area in terms of the diversity and density of species it supports. The Luangwa River is its lifeblood. Along its course you will see pods of hippos and plenty of crocodiles. It flows all year but in the dry season it is the numerous ox-bow lakes where wildlife viewing is at its best.  On the wide open plains impala, puku, bushbuck, kudu, Roan antelope, hartebeest, reedbuck, Cookson's wildebeest, waterbuck, Thornicroft's giraffe, Crawshay's zebra and buffalo graze,  and prides of  lions and packs of wild dogs hunt. Leopards, of which there are many, mainly hunt in the dense woodland and herds of elephants wade through the marshes. The birdlife is also tremendous with over 400 species to look for.
Wild Africa, Zambia with naturalist Stephen Mills MA (Oxon) MFA IAWF
To make an enquiry please call
or
complete our contact form
Wildlife & photographic hosts
Other Trips
Past Trips

What the experts & clients say
""Our group is led by Professor Claudio Sillero....his decades of experience in this region and his hardy colleagues, guarantee sightings of wolves  They do not disappoint." "Next we climb up and across the Sanetti Plateau through unmatched beauty in every direction.  Small klipspringer, antelopes and hyrax, ( a pint-sized relative of the elephant), dot the hillsides.  our camp site is magnificent!  It is surrounded by towering basalt formations the locals call 'the soldiers.'  ....Can any place be more perfect?" "Our successful adventure is coming to a close, but we have been fortunate to site 30 wolves in 11 different packs, which equates to 10% of all the wolves living in the Bale Mountains National Park." "
"Thank you for all the organisation which gave us such wonderful and thrilling days in The Mara - a truly memorable experience.  We were so lucky all our sightings - the best view of leopard I have ever had.  The bonus was that beautiful black rhino - fighting fit and so close.  Of course, Simon's expert and enthusiastic guidance ensured the maximum benefit."
"I love working with Spencer Scott because I can be confident that, wherever we go, the Company will have secured the best available accommodation, services and back-up. This frees me to concentrate on what I enjoy most, which is finding really special wildlife experiences to share with our clients"