Tigers in Satpura, Bandhavgarh & Kanha, India with Stephen Mills
28th March - 9th April 2017

Join leading tiger wildlife researcher and naturalist Stephen Mills, who has been studying tigers in India for 30 years

Special tiger safari for  4 – 8 guests
Best chances of seeing tigers in India
Satpura, Bandhavgarh & Kanha National Parks
Uniquely includes Phen Sanctuary
Small intimate private lodges & the luxurious Imperial Hotel, Delhi
Fully inclusive except for drinks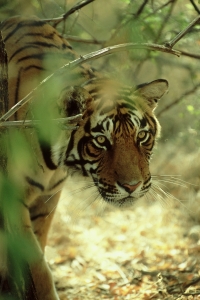 Tracking tigers requires behavioural knowledge, patience and some good luck. Tigers are elusive and solitary, which makes tracking them exciting. The routes and zones are allocated by the park authorities. Elephants are currently not available in Bandhavgarh and Kanha. Wildlife viewing is best early mornings and late afternoons, when temperatures are coolest, animals are on the move, and sightings are much more likely. The parks are closed on Wednesday afternoons (5 April), but wildlife viewing can be done in the buffer zones and around the lodge.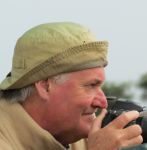 Stephen Mills is a professional naturalist, wildlife researcher, acclaimed wildlife film-maker and author.  He is particularly known for his field work on tigers in India and Nepal and is the BBC's 'tiger expert'.  Stephen has been filming, observing and studying tigers in Kanha & Bandhavgarh National Parks for almost 30 years and knows the parks intimately. He wrote the BBC film Tiger Crisis, which helped to bring to international attention the rise in poaching for trade in tiger parts and is author of the BBC book 'Tiger', which documents some of the tigers of Kanha & Bandhavgarh National Parks. As a writer, producer and cameraman, Stephen has made 35 films for TV, including Land of The Tiger, Man-Eater: To Be or Not To Be.  He will share with you all his knowledge and experience of tigers.  He is former chairman of the International Association of Wildlife Film-makers. As well as tigers, wild dogs, leopards and sloth bears are always high on his agenda and he is a very competent birder.
Stephen has hand-picked this safari and he feels it represents the best chances for you of seeing tigers in the wild in India today. April is normally dry and hot (30°C), which increases your chances of seeing tigers at waterholes. Stephen is an excellent safari host – friendly, knowledgeable and very funny. He has been hosting tiger safaris to India and Nepal for us for almost 25 years and every guest has seen a tiger with him.
Three excellent tiger reserves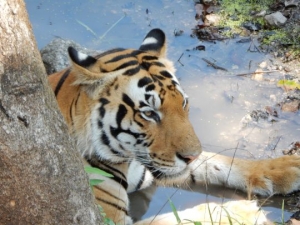 Satpura is a very special place, because it is quiet, almost completely undisturbed and offers an old-fashioned wildlife experience that you don't find anywhere else in India. The park is entered firstly by boat and then wildlife viewing is in jeeps and on elephants.  It has a rugged and hilly terrain interspersed with meadows, rivers and teak and sal forests. There is a very high chance of seeing sloth bears and leopards.  The park is also good for Indian giant squirrels and wild dog (2 packs) as well as gaur, chital, sambar, nilgai, blackbuck and crocodiles, and has a diverse birdlife. There are estimated to be around 40 tigers in the park, so there is a chance of seeing tigers here. Night drives and walking safaris are permitted from the lodge. All meals at the lodge.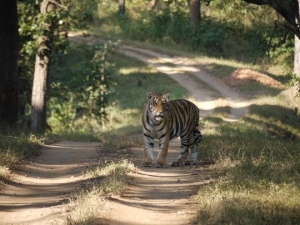 Bandhavgarh is currently one of the best places to see tigers and has the largest population in India. The park has a beautiful and romantic landscape – a mixture of rugged and hilly terrain with grassy meadows, rivers and forests. It was the location chosen for the filming of The Tiger's Tale. In addition to looking for tigers, there is always a chance sighting of a leopard or sloth bear. Gaur, nilgar, chausingha, wild boar, jackal, chital, muntjac and sambar deer, rhesus macaque, black-faced langur, jungle cat and hyenas, as well as 300 bird species including white-bellied drongos and black and white Malabar hornbills and many butterfly species may be seen.
Kanha is one of the loveliest parks in India and it has a very healthy tiger population. It was immortalised in Kipling's Jungle Book and more recently as the location for the films Land of the Tiger and The Tigress; Lakshmi. The park consists mainly of sal forests interspersed with meadows and meandering streams. As well as tiger, Kanha is famous for herds of barasingha and there is also a good chance of seeing gaur, sambar, chousingha, langur, chital, barking deer, wild boar and even leopard and sloth bear. The bird life is diverse with over 300 species, including Indian roller, racket-tailed drongo, red and yellow wattled lapwing, black-headed oriole, black ibis, pied kingfisher and crested serpent eagle.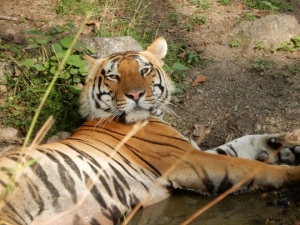 Phen Sanctuary is a satellite core area of Kanha Tiger Reserve that very few people have visited. We can almost guarantee you'll be the only people in the sanctuary.  It is very good for bird watching and for seeing hyena, fox, sloth bear, Blue bull. In addition there is always the chance of seeing a tiger.
Flights are from London Heathrow to Delhi.  Accommodation is in small privately owned lodges close to the park gates. We have been using the same lodges in Bandhavgarh and Kanha for many years because they provide a 'home from home' atmosphere and are traditional well established lodges in-keeping with the 'jungle' experience. An accompanying travel escort will take care of all the practical arrangements and be looking after everyone.
Number of guests:                                                                                       4 – 8
Price per person in a twin room:                                                          £5,595.00
Single room supplement:                                                                      £   600.00
Images – Martin Beach & Liz Scott
Wildlife & photographic hosts
Other Trips
Past Trips