Big Cat Diary Week with Simon King OBE
13th - 21st October 2012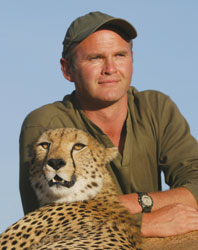 The Masai Mara is undoubtedly one of the finest reserves in Kenya and probably East Africa, due to the phenomenal diversity of species that can be seen in large numbers, providing an unrivalled wildlife spectacle and truly rewarding experience. The savannah is rich in all life with elephant, buffalo, wildebeest, zebra, gazelles, hyenas, and hippo and, sometimes even the now rare black rhino. Bird life is varied and exotic, as well as the myriad of other creatures that complete the web of life here. Lion and cheetah sightings are almost guaranteed and even the elusive leopard can be found more frequently than elsewhere.
Simon has spent many years filming big cats in the Masai Mara for 'Big Cat Diary' and more recently for the Disneynature film 'African Cats'. Simon hopes to find and follow some of the familiar characters with you on this exclusive Big Cat Diary week – characters such as Notch (Khali in the movie), Sita (some of you may know her as Shakira), the Three Brothers (cheetah males), as well as members of the Marsh Pride and Olive, Ayah and Binti of the Jackson Five group (leopards).
Simon will be with you throughout on an exclusive basis and there will be lots of fun and special moments shared with him. Private safari vehicles and the intimate bush camp will enhance the privacy of your time together.  This will be a highly rewarding, very personal and extraordinarily special safari.
Provisional Itinerary
13 October
1900 hours champagne reception with Simon King in the Virgin Atlantic Clubhouse at London Heathrow. 21.00 hours depart London
14 October
0750 hours arrive Nairobi. Fly directly by private aircraft to the Masai Mara. Our safari vehicles will be waiting for us at the airfield, and will take us to Naibor Camp (www.naibor.com). This is a secluded luxury bush camp hidden in a grove of riverine woodland on the banks of the Talek River. It is located in within the reserve itself and in a hot spot area for main game action in The Mara and in particular for leopards.  The 7 large pale canvas tents overlook the river and are extremely comfortable with king sized beds, sofas and wool rugs. The campfire area and dining tent also overlook the Talek River and a resident pod of hippos. There is a spa tent for enjoying a massage, reflexology, manicures and pedicures. Power is solar generated. After settling in to our tents, we meet for lunch under the shade of the trees. Relax, enjoy and absorb the magnificence of the African bush.  Later we will head out on to the plains for our first game drive.  As the sun sets it is time to return to camp.  Join Simon for pre-dinner drinks and wildlife tales around the campfire. Dinner will be served at one large table in the mess tent. Meals at Naibor are relaxing and sociable occasions with fine food and excellent wines.
15 – 20 October
Six full days following the lives of African cats and other wildlife in the Masai Mara. There's no set timetable other than nature's own – our days will begin shortly before dawn and end as the sun sets. Time stands still when you are out on the plains with Simon – his enthusiasm is infectious and observing wildlife definitely takes precedence over heading back to camp! There will be times of great activity as well as periods when you simply sit and wait to see what natural drama might unfold next. Simon will anticipate and explain the animal behaviour we witness and will help you capture the best pictures and get the most out of your cameras.  During the heat of the day the activity on the plains slows down, so at some stage we will head back to relax in camp.  The world back home will cease to exist as you immerse yourself in to the rhythm of nature and living in the bush. It's riveting and addictive.
21 October
Early breakfast in camp before returning to Nairobi by private plane to connect with the international flight back to London departing at 0950 hours.  Arrive London Heathrow 1640 hours.
 
 
Nairobi extension
 
 
21 October
Early breakfast in camp before returning to Nairobi by private plane.  Visit the Karen Blixen Museum and enjoy an early lunch in the Karen Blixen Coffee Garden before checking in to the nearby House of Waine, an 11-roomed colonial boutique hotel www.houseofwaine.com  Afternoon visit a local cultural heritage centre for shopping followed by a private visit to Daphne Sheldrick's elephant orphanage. Dinner at the Talisman Restaurant.
22 October
Breakfast in the hotel. Transfer to Nairobi airport for the flight home 0950/1640 hours.
 
 
Simon King will be with you exclusively – on safari every day and hosting your stay in the bush camp (excludes the Nairobi extn). Observing and photographing wildlife will be intermingled with lots of fun and special experiences.
| | |
| --- | --- |
| Number of guests :   | 8 – 10 guests |
| Price per person :        | £10,500.00 / US$16,800 |
| Single occupancy supplement | £400.00 / US$ 640 |
| Nairobi Extension : | £550.00 / US$880                              |
Price includes: 
Upper Class flights on Virgin Atlantic (flat beds)
Private flights to and from The Mara
Naibor Tented Camp, Masai Mara National Reserve x 7 nights
All meals and drinks except champagne and premium drinks
Canvas-topped Toyota Land cruisers equipped with built in fridges
National Reserve fees
Flying Dr's air ambulance service in Kenya
Spencer Scott safari co-ordinator – Liz Drake
Big Cat Diary host – Simon King OBE
Nairobi extension includes:
All transfers & tours
House of Waine x 1 night
All meals
Karen Blixen Museum
Private visit to Daphne Sheldrick's Elephant Orphanage
Not included:
Visas
Travel and cancellation insurance
Champagne and premium spirits
Wildlife & photographic hosts
Other Trips
Past Trips
What the experts & clients say
""I want to let you know that the workshop with Ken Howard in Santorini was simply the best workshop I have ever attended.  I was deeply inspired and impressed by Ken.  The group was a pleasure.  I hope this workshop will be repeated again."  "
"" Thank you for organising the extra flights and accommodation etc... The trip was a success for me. Eileen was the most thoughtful and hard working attendant/guide - she tended to our every needs - nothing was too much bother to her. Lachlan Goudie was such a gentleman. He was enthusiastic, kind and so very generous of advice and inspiration. He cheered us up and gave us hope when we were struggling with our work. We all loved him and are in awe of his beautiful water colours and gouache paintings.  Thank you for everything.""
""Ken was so kind, helpful and enormously interesting to be with. I know I have gained a great deal from the experience of some of his incredible wisdom and insight and having the privilege of working alongside such a great artist""