Polar Bears and Arctic Wildlife with Stephen Mills MA (Oxon)
12th - 21st June 2017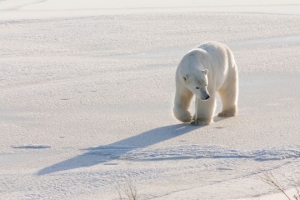 Spectacular 'King of The Arctic' cruise with your own private naturalist
Polar bear watching at its best off Northern Svalbard
Closest place in Europe to see polar bears in the wild  
Near-pristine wilderness far from human habitation
Spectacular midnight sun enables you to observe polar bears 24/7
Observe Arctic wildlife, dog sledding, on foot and in zodiacs
Ensuite twin cabins onboard a 53-cabin class 1A icebreaker
Private party of 5 – 8 guests with you own naturalist
Itinerary
12 June        
Afternoon flight London Heathrow to Oslo.  Welcome drink and dinner in the hotel. Overnight.
13 June         
Morning flight Oslo to Longyearbyen on Svalbard.   Afternoon walk through the small town of Longyearbyen (1400 inhabitants) and visit the Polar Museum.  Introductory talk on Arctic wildlife by your private naturalist. Dinner in the hotel.
14 June        
Dog-sledding safari. When the snow has melted in the valley it is possible to drive a dog sled up into the mountains above mine 7.  The views are spectacular and adventure exhilarating. (Clothing and boots provided). Return to Longyearbyen for a light lunch before boarding the ship. The ship is a class 1A icebreaker and one of the smallest to cruise the Arctic with 53 cabins. Late afternoon set sail from Isfjorden heading north along the west coast.  Dinner on board.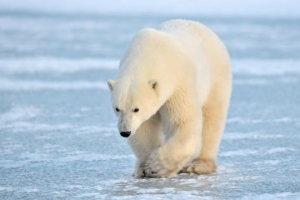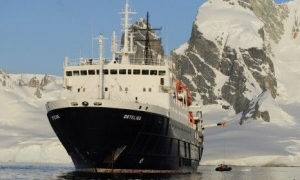 15 – 20 June
North Svalbard cruise in search of polar bears and other Arctic wildlife. Wildlife viewing will be done from 12-person zodiacs, on foot (with and without snowshoes) and from viewing decks on board the ship. You will get close to glaciers, walk on the tundra and navigate the ice floes in zodiacs. It is hoped to reach Phippsøya, which is located 81 degrees north and just 540 miles from the geographic North Pole. All activities and meals included.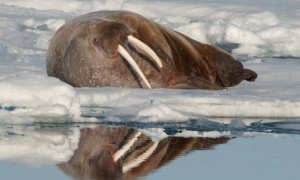 21 June
Disembark in Longyearbyen.  Afternoon flight back to London via Oslo.
Price per person: £6,795.00           Single supplement: £2,200.00  
Fully inclusive in an ensuite cabin with porthole. Upgraded cabins subject to availability. 
Number of guests: 5 – 8
Private Naturalist Stephen Mills MA (Oxon) MFA IAWF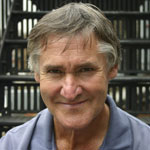 This is a special expedition for just 4 – 6 guests with your own private naturalist.  Stephen Mills is a professional naturalist, wildlife researcher, writer, producer and cameraman.  He has studied polar bears and the fragile Arctic habitat around Svalbard over a number of years, and has made over 35 wildlife films for TV.  He is also a respected bird watcher. Stephen will talk about the Arctic, the challenges facing it's wildlife and the life of polar bears. His love of the natural world is infectious and he's great company too.
'My own unforgettable sightings have all been amongst the ice-floes around Svalbard.  This is the best place in the world to see them. More remote and romantic and less commercial than Churchill, the region still supports a strong population of several thousand individuals.' Guest naturalist Stephen Mills
Svalbard / Spitsbergen
Svalbard is land of the King of Arctic and definitely the best place to view these magnificent creatures in the wild. To see a polar bear striding far out across a wilderness of Arctic ice is one of the most moving experiences nature can offer.  Polar bears have a special attraction – because of their size and strength, the loneliness of their lives and the peculiar, unpredictable fragility of the beautiful landscape they inhabit.
Svalbard (Norwegian) is also known as Spitsbergen. It is one of the last remaining virtually unspoilt wilderness areas in the world.  It is located inside the Arctic Circle and is barely 500 miles from the North Pole. It has surprisingly diverse scenery including tundra, glaciers, fjords and mountains (2,000m). Almost everywhere the subsoil is permanently frozen from 80cm to 400m.  In summer the topsoil thaws and becomes boggy, and the warming effects of the Gulf Stream enable an amazing variety of flora to flourish. The sun remains above the horizon for 3 months of the year in May, June & July.  24 hours daylight is a unique experience in itself. Several thousand Polar bears inhabit this remote archipelago and can be observed on wildlife cruises from mid June – early September. the best of year is in June.
Arctic wildlife
The only entirely terrestrial mammal is the Spitsbergen Reindeer.  Other mammals found here rely in part or entirely on the sea.  – Arctic fox, Polar bear, walrus, bearded, harp and ringed seals.  Several whale species are found in the waters and huge colonies of seabirds nest on the islands and sea cliffs –  Minke whale, Greenland whale, Blue whale, Fin whale, Common and King eider, Pink-footed goose, Kittiwake, Ivory gull, Brünnich's Guillemot.
                                                                                                                                                                                      Special class 1A  icebreaker
This is one of the smaller icebreaker vessels in The Arctic. It has just 53 cabins. Our party will be accommodated in the spacious ensuite twin cabins with a choice of either portholes or windows.  The ship has a restaurant, bar, lecture room and lots of open deck space. It has 9 zodiacs for shore and ice floe excursions, with a further two as back-up. The ships language is English and there are 20 nautical crew, 19 'hotel' crew, 1 expedition leader, 7 guides and a Doctor.
General  Considerations
You should be in good general health. You will be expected to access zodiacs via a stepped gangway and able to walk on tough terrain. You will need non-slips soled shoes, wind and waterproof outer clothing and layers and fleeces. Snow shoes and rubber boots are provided. Temperatures are normally 5 – 10 degrees C. As there will be 24 hours daylight some excursions may take place during the night.
Images – Oceanwide Expeditions & Sally Bruce
Wildlife & photographic hosts
Other Trips
Past Trips

What the experts & clients say
""Just wanted to drop you a quick line to say how very much I enjoyed painting with Pete in Havana.  I loved it all, the City, the painting, the company, the Mojito's and the food, and it was great to have Jacqueline there organising us all. Many thanks and I hope to take part again next year.""
"I've done lots of trips tour guiding for Spencer Scott Travel (Cuba, Peru, South Africa, Botswana, Uganda) and they have all been of the highest order, well planned, great itineraries, excellent support and clients always totally satisfied. They are a total pleasure to work for and I have loads of great memories to treasure as a result. Check them out if you want something special."
"I have had the good fortune to work with Liz Drake at Spencer Scott Travel taking small groups on safari to East Africa and India. All aspects of the journey are handled in a most personal, thorough and sensitive way, and all the arrangements are organised with admirable attention to detail. I have always boarded the plane from London knowing we were all going to have the holiday of a lifetime."