Urban birding in Istanbul with David Lindo
3rd - 11th May 2011


A new dynamic trip in search of Istanbul's urban wild side to coincide with the legendary raptor migration over the Bosphorus and the impressive passage of the entire eastern European White Stork population, as well as other migrant passerines and  egrets.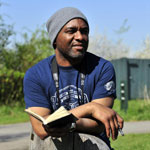 'It's funny, but when I think of Istanbul, images of thousands of raptors and storks drifting over the Bosphorus spring to mind – not perhaps the obvious image for many people but ornithologically that is indeed what the city is famous for.
These mass migrations are an urban birding spectacular and I would like to show you this magical sight and watch your faces as hopefully wave upon wave of these majestic birds pass overhead. But there is much more to discover and see of Istanbul's wilder side. I want to take you to some of the city's lesser-known but equally impressive birding sites for you to enjoy more ornithological splendours and to show you the Istanbul I discovered and loved – a city rammed full of atmosphere, great food and fantastic people.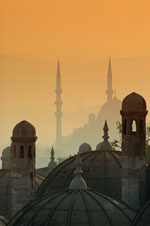 I've teamed up with my friend and leading Turkish birding expert; Murat Bodzogan to ensure that you get a top birding experience. We have worked on organising and offering you a ground-breaking urban birding trip to Istanbul that will be rewarding, interesting and fun. I am certain that the incredible blend of birding, culture and fabulous dining will leave us feeling as though we have experienced this amazing city in all of it's Asian meets European glory.
I really hope you are able to join me on this urban birding break of a lifetime!
David Lindo
For more information please visit The Urban Birder
Itinerary
3 May

11.15 hours depart London Heathrow.

1715 hrs arrive Istanbul. Transfer to Peak Hotel – a 'design' hotel in the heart of contemporary Istanbul amidst the best restaurants, shops, bars and nightclubs in the city. Walk to a local restaurant for dinner with chance of seeing Alpine Swift and Laughing Dove.   Adjourn to a local teahouse

4 May

0530 hours departure for birding in the Belgrad Forest and later at the famous Sariyer Migration Spot.  Picnic breakfast. We'll continue birding whilst on our private Bosphorus cruise back to Istanbul.  The birds we can expect to see today include: Middle Spotted woodpecker, Grey-headed Woodpecker, Semi-collared Flycatcher and Short-toed Treecreeper, Lesser Spotted Eagle, White Stork, Black Stork, Short-toed Snake Eagle, Booted Eagle, Black Kite, Egyptian Vulture and Alpine Swift.
Lunch in Istanbul followed by a visittothe Topkapi Palace and a 'nargileh coffee house'. Dinner in a local restaurant.

 
5 May
0500 hours depart from the hotel for birding in the Terkos Lake area (1.5 hours drive) where we hope to see Pygmy Cormorant, Little Bittern, Whiskered Tern, White-winged Tern, Great Reed Warbler, Olivaceous Warbler, Purple Heron, Syrian Woodpecker. Picnic breakfast. Return to Istanbul for lunch and visits to the Blue Mosque and Grand Bazaar. Dinner in a local restaurant and afterwards at the Nardis Jazz Club. 
 
6 May

Depart Istanbul for the smaller city of Bursa which is located across the Sea of Marmara. We'll do some birding en-route at Hersek Lagoon before continuing on to the and at the 'boutique' Authentic Club Hotel in Bursa, with its lovely botanical garden and swimming pool. Lunch in Bursa. This afternoon we'll head up Uludag Mountain to see some different bird species. Today we can expect to see Yelkouan Shearwater, Yellow-legged Gull, Black-winged Stilt, Squacco Heron, Gull-billed tern,  Krüper's Nuthatch, Black Woodpecker, Sombre Tit, Crested Lark.  Dinner in Bursa.

7 May

Full day birding in the Bursa area – on Lake Ulubat, around the Kocacay Delta and at Manyas Bird Sanctuary where we hope to see Glossy Ibis, Eurasian Spoonbill, Cattle Egret, Black-crowned Night Heron, White Pelican, Dalmatian Pelican, Ferruginous Duck, Moustached Warbler, Red-rumped Swallow. Picnic breakfast and lunch. Return to the hotel. Dinner in Bursa.

8 May
Early morning birding on Uludag Mountain before driving to Mudanya and the Armutlu Peninsular.  Picnic lunch.  Today we can expect to see Red-fronted Serin, European Serin, Horned Lark, Rock Bunting, Orphean Warbler, Tawny Pipit, Woodchat Shrike, Rufous Bush Robin, European Roller.   Continue on to Istanbul. Return to the Peak Hotel. Dinner in a local restaurant.    
 
9 May
0530 hrs depart the hotel for birding at Buyukcekmece and Kucukcekmece Lakes where we hope to find Black-headed Bunting, Spanish Sparrow, Eurasian Penduline, Long-legged Buzzard, Collared Pratincole, Lesser Grey Shrike, Mediterranean Gull, Pallid Swift, Laughing Dove, Eurasian Hoopoe.  Picnic breakfast.  Lunch and afternoon in Istanbul with a visit to a traditional hamman and to the most famous Turkish Delight confectioners. Dinner in a local restaurant. Drinks at one of the coolest night spots in Istanbul.
10 May

Early morning ferry to the Sariyer Migration spot at Rumeli Feneri for our last chance to see Sardinian Warbler, Honey Buzzard, Levant Sparrowhawk, Steppe Buzzard, European Bee-eater, Ortolan Bunting.  Picnic breakfast. Late lunch in Rumeli. Return to hotel before transferring to the airport. Depart Istanbul 1900hrs. 2100 hours arrive London Heathrow. 
| | |
| --- | --- |
| Number of participants :          | 12 – 16 |
| Price per person :        | £2,695.00 |
| Single room supplement: | £280.00 |
Price includes :
Scheduled flights
5 nights Hotel Peak, Istanbul
2 nights Autentique Club Hotel, Bursa
All meals excluding drinks
All transport in Turkey
Entrance fees
Local guides in Istanbul for afternoon tours
Turkish bird guide
UK programme co-ordinator
The Urban Birder
Basic gratuities
Wildlife & photographic hosts
Other Trips
Past Trips

What the experts & clients say
"" Thank you for organising the extra flights and accommodation etc... The trip was a success for me. Eileen was the most thoughtful and hard working attendant/guide - she tended to our every needs - nothing was too much bother to her. Lachlan Goudie was such a gentleman. He was enthusiastic, kind and so very generous of advice and inspiration. He cheered us up and gave us hope when we were struggling with our work. We all loved him and are in awe of his beautiful water colours and gouache paintings.  Thank you for everything.""
""I want to let you know that the workshop with Ken Howard in Santorini was simply the best workshop I have ever attended.  I was deeply inspired and impressed by Ken.  The group was a pleasure.  I hope this workshop will be repeated again."  "
""Our group is led by Professor Claudio Sillero....his decades of experience in this region and his hardy colleagues, guarantee sightings of wolves  They do not disappoint." "Next we climb up and across the Sanetti Plateau through unmatched beauty in every direction.  Small klipspringer, antelopes and hyrax, ( a pint-sized relative of the elephant), dot the hillsides.  our camp site is magnificent!  It is surrounded by towering basalt formations the locals call 'the soldiers.'  ....Can any place be more perfect?" "Our successful adventure is coming to a close, but we have been fortunate to site 30 wolves in 11 different packs, which equates to 10% of all the wolves living in the Bale Mountains National Park." "