Indian Tiger Safari with Tiger Specialist Stephen Mills MA (Oxon) MFA IAWF
18th - 27th March 2019

A unique opportunity offering the very best chances of seeing tigers in the wild in India

Ranthambore National Park, India
Special all day safari permits gives you the best chance of seeing tigers
Your own private naturalist & tiger expert
4 persons per jeep
Charming environmentally sensitive safari lodge
1st class train direct to the park from Delhi
Limited to 5 – 6 guests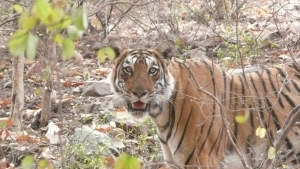 Indian Tiger Safari with Tiger Specialist Stephen Mills MA (Oxon) MFA IAWF
To make an enquiry please call
or
complete our enquiry form
Ranthambore Park, Rajasthan, India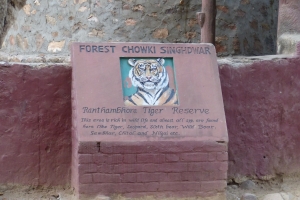 Ranthambore National Park is currently offering an exceptional window of opportunity of a limited number of special all day unrestricted safari permits (0600-1830 hours) and half day unrestricted safari permits (0600 – 1200 hours) across 5 of its premium zones.  This means that once those vehicles with the regular zone-controlled permits depart the park at 0930 hours you will be in the park with a greatly reduced number of other jeeps until 1500 hours.  This arrangement is not available anywhere else in India.
Once the private reserve of the Maharaja of Jaipur, Ranthambore came under the Project Tiger scheme in 1972. It has 10 zones for wildlife viewing.  Ranthambore is wildlife rich and a very beautiful park with mixed terrain of dry deciduous forests, rocky hills, open valleys with lakes and a natural escarpment. Dotted throughout the park are remnants of its past including old defensive walls, wells, fountains, mosques and hunting lodges, now overgrown with pipal trees they blend into the natural landscape.
It is not uncommon to see tigers freely roaming amongst the ruins – a photographers dream. Towering above the park is the impressive Fort. Ranthambore is very close to a major railway town, making it easily accessible and busier than most other parks, but this should not detract from the excellent tiger sightings we fully expect you to have because of the special arrangements we are able to provide you with.
As well as tigers there is a good chance of seeing leopard, sloth bear, jackal, Blue bull, Sambar, Spotted deer, Chinkara, Rhesus Macaque, Common Langur, crocodile and many more mammals, Indian Scops Owl, Brown Fish Owl, Spotted Owlet, Jungle Nightjar, Osprey, Crested Serpent-Eagle and many more bird species.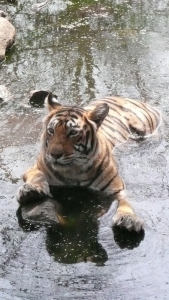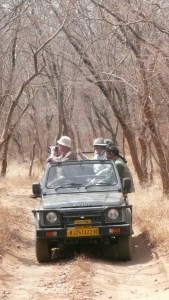 In March 2018, this special arrangement greatly facilitated Stephen Mills' party seeing 19 individual tigers (35 actual sightings) plus 15 mammal species and 110 bird species. Furthermore we have excellent contacts ensuring that you have the same jeeps and knowledgeable naturalists each day, plus we limit the number of guests per vehicle to 4, so everyone has an outside seat and plenty of room. All these special arrangements we are able to provide you with mean that you have the very best chance of seeing tigers in India and quality tiger sightings.
The train from Delhi directly to Ranthambore adds another positive dimension to this safari, as does an overnight in the fabulous Rajput homestay near Jaipur on departure. The safari lodge we use in Ranthambore is a wildlife haven with 30 acres of forest, grassland and waterholes, 6km of walking trails, a resident naturalist and camera traps showing you the nocturnal visitors. It is not uncommon to see jackals, jungle cats, hyenas, desert fox, and crocodiles within the grasslands and around the property and tigers and leopards have been caught on camera.  It is also a bird watcher's paradise.
Stephen Mills – your private naturalist & tiger specialist
Stephen Mills MA (Oxon) MFA IAWF is a professional naturalist, wildlife researcher, acclaimed wildlife film-maker and author.  He is particularly known for his field work on tigers in India and Nepal and has been the BBC's 'tiger expert' for many years.  Stephen has been filming, observing and studying tigers in India for almost 30 years and knows the parks intimately. He wrote the BBC film Tiger Crisis, which helped to bring to international attention the rise in poaching for trade in tiger parts and is author of the BBC book 'Tiger', which documents some of the tigers of Kanha & Bandhavgarh National Parks. As a writer, producer and cameraman, Stephen has made 35 films for TV, including Land of The Tiger, Man-Eater: To Be or Not To Be.  He will share with you all his knowledge and experience of tigers.  He is former chairman of the International Association of Wildlife Film-makers. As well as tigers, wild dogs, leopards and sloth bears are always high on his agenda and he is a very competent birder. Stephen's trip in March 2018 was the best tiger trip ever – they saw 6 tigers almost every day, they saw a tiger with a kill, tiger cubs and the ruins in the park are beautiful and offered amazing photographs with a tiger in a shrine.  'The whole trip was fantastic and as good as it gets. The all day permits give you time to really explore the park. We must return again in March 2019. '   
March is normally dry and hot (30°C), which increases your chances of seeing tigers at waterholes. Stephen is an excellent safari host – friendly, knowledgeable and very funny. He has been hosting tiger safaris to India and Nepal for us for almost 25 years and every guest has seen a tiger with him.
Safari summary
18 March     
Depart London Heathrow.
19 March      
Arrive Delhi . Lunch in Delhi. Afternoon train to Ranthambore – 1st class AC carriage.Transfer to the safari lodge.   
20 – 25 March         
6 full day unrestricted safaris in premium zones 0600 – 1830 hours. You'll take breakfasts will with you and lunches will either be brought out to you and  collected at one of the gates or taken at the lodge. Comfort breaks are taken inside the park.
26 March         
Half day unrestricted safari in the premium zones 0600–1200 hours. Return to the lodge for lunch before departing for Jaipur (160kms/3-4 hours drive).
Dinner and overnight at the Rajout homestay which is located in a peaceful setting                                overlooking the Aravali Hills. 
27 March       
Morning flight Jaipur to Mumbai.  Afternoon flight Mumbai to London Heathrow.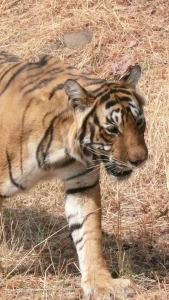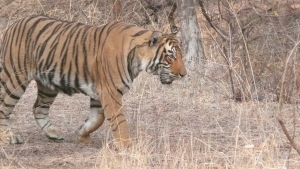 All inclusive price per person:             £8,995.00
Single room supplement:                     £   600.00
Number of guests:                                          5-6
Images courtesy of Liz Scott, Martin Beach & Sarvin Warden
Indian Tiger Safari with Tiger Specialist Stephen Mills MA (Oxon) MFA IAWF
To make an enquiry please call
or
complete our enquiry form
Other Trips
Past Trips