Okavango Delta with Jonathan & Angie Scott
6th - 16th June 2010


Join two of the world's most acclaimed wildlife photographers and naturalists in the spectacular Okavango Delta in Botswana.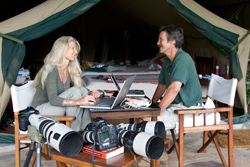 Join Big Cat Diary presenter Jonathan Scott and his wife Angie, also an award winning wildlife photographer, on this exclusive safari in the magnificent Okavango Delta in Botswana.  The Okavango is teaming with wildlife making it a wildlife enthusiasts and photographers paradise.  'I have lived and worked in the Okavango Delta and it rivals the Masai Mara as the best place to view wildlife in Africa' Jonathan Scott. Renowned for large herds of elephants and magnificent big cats, The Delta is one of the last strong holds of wild dogs and home to a prolific number of bird species. In June the Delta should be in flood, when it becomes a labyrinth of lily-filled lagoons and streams. The light is particularly good for dawn and dusk photography and daytime temperatures are at their coolest.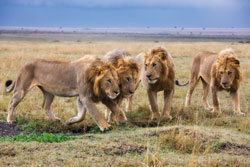 Taken by Angie Scott
The emphasis of this safari is to capture the magic of the Okavango Delta from dawn to dusk.  This special safari is suitable for all wildlife enthusiasts irrespective of your photographic experience or interest in wildlife photography. Jonathan and Angie Scott have handpicked this safari and chosen camps they know and personally adore. They will be with you throughout making sure you have a fantastic and rewarding trip, helping you translate your experiences in to great and memorable photographs.  They will be working with you in the field and back at the camps on a one to one basis, helping you improve and refine your photographic skills. Workshop sessions will include understanding digital photography, how to achieve creative images and composition, as well as processing and marketing tips.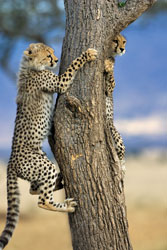 Taken by Angie Scott
You will be staying at Jonathan & Angie Scott's favourite camps in The Delta.  Chief's Camp is the flagship property of Sanctuary Lodges with 12 luxury bush pavilions. Chief's is a 'dry camp' and is located on the largest island in The Delta in an exclusive concession of the Moremi Game Reserve. The reserve has the highest density of wildlife and some of the best game viewing in the Delta.  It is one of the last strong holds of wild dogs, there are several prides of lions, and a thriving permanent cheetah population, as well as leopards, elephants and red lechwe. White and black rhinos were re-introduced in to the reserve in 2001 and 2003 respectively. Jao is very special and epitomises the beauty of the Delta and is particular good for lions. It offers ultimate luxury and supreme quality.
Jao is a 'wet' camp and is particularly good for for lions as well as red lechwe, leopard, zebra and elephant, wildebeest, hippo and crocodile.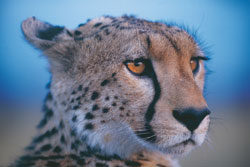 Taken by Angie Scott
Abu Camp is a 'wet camp' located in an ancient riverine forest on a nearby private concession area.  It's a small luxury tented camp over looking a lagoon and we will have exclusive use of this camp for your last three days in The Delta. Few bush camps have achieved such worldwide acclaim as Abu – it offers the extraordinary privilege of being part of an African elephant herd and the magical experience of riding and walking with the herd through the bush. 'I have never forgotten the time I spent filming at Abu's Camp. To be able to walk with elephants was one of the most emotional and exciting experiences of my life.' Jonathan Scott. Randall Moore pioneered Africa's first elephant back safaris 20 years ago and Abu camp is named after a magnificent tusker he rescued from an American zoo as part of his mission to return captive elephants to Africa. The current herd of 12 elephants are all either rescued from zoos in the USA or orphans from the Kruger National Park.  The male elephants at Abu form a significant part of Dr Kate Evans' research in to the social behaviour and ecological needs of elephants and the basis of her aims to implement a realistic conservation programme in Botswana.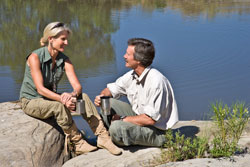 Safari activities will include walking and riding with elephants, 4WD game drives, mokoro (traditional dug-out canoes) trips and night drives. Some time will also be spent with Dr Evan's research team gaining a personal insight in to their work and projects.
A professional safari co-ordinator from the UK will be travelling with you throughout, quietly working in the background and assisting Jonathan & Angie Scott and ensuring everything operates smoothly and you are taken great care of. All water safari options and mokoro trips are dependent on flood levels.
Safari summary:
6 June                    Fly London to Johannesburg and on to the Okavango Delta.
7, 8, 9 June            Chief's Camp
10, 11 June            Jao Camp
12, 13, 14 June      Abu Camp
15 June                  Fly to Johannesburg
16 June                  Arrive London
Just 8 – 12 guests will be joining Jonathan & Angie Scott
Price per person                                                                                    £10,725.00
Single occupancy supplement                                                                £     900.00
Wildlife & photographic hosts
Other Trips
Past Trips