African Wildlife Painting in The Serengeti with Hazel Soan
1st - 12th September 2019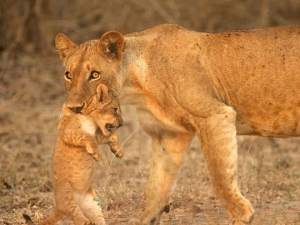 Join Hazel Soan, renowned wildlife artist, on a 9 night safari in a remote area of the northern Serengeti. The small private camp is located overlooking the famous Mara River that thousands of wildebeest cross on their annual migration in pursuit of better grass. At this time of year there should be large herds of wildebeest and zebra amassed on the plains waiting to cross the Mara River, along with plenty of lions, hyenas, cheetahs, leopards, elephants, giraffe and jackals. This is a fantastic opportunity to be in one of the best wildlife places on earth with a professional and experienced wildlife artist who will help capture the action as it unfolds before you.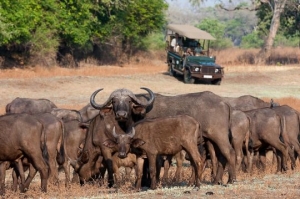 'The Serengeti is the largest intact ecosystem left on earth. Its true boundaries are defined not by lines on maps but by the seasonal movement of millions of wildebeest, zebras and gazelles. They circle the great grass plains and thorn thickets East of Lake Victoria, following the rain and feeding on the succession of plants it nourishes. Nowhere else can you observe in such tranquillity the daily activities of such a variety and number of mammals – predators and prey. So many animals, so much behaviour to interpret: this is why, of all the wonderful places in the world where I've been privileged to work, the Serengeti remains my favourite'. Stephen Mills, naturalist & BBC film-maker and writer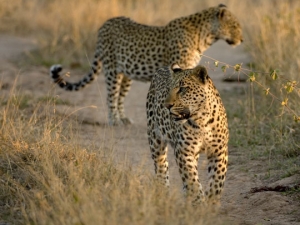 Your eco-friendly luxury bush camp is located on a private concession in the remote northern part of The Serengeti National Park and on the banks of the famous Mara River. It is very close to the border with the Masai Mara in Kenya. The camp has 12 luxury ensuite tents, a mess tent and lounge bar. Each tent has a terrace overlooking the plains. There are very few camps in this remote northerly area of the Serengeti so the plains and game will be yours to observe and paint. The camp is the first in the East Africa to have some electric vehicles, which will be perfect for painting wildlife up close.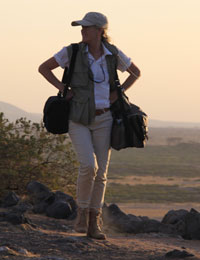 Hazel Soan is an experienced wildlife artist and excellent teacher.  Her paintings reflect her love of wild Africa and capture the dust and heat of the plains and wildlife in action. Her portraits are a splash of colour and brilliantly portray the emotions of the moment.  This is a tutorial painting holiday and Hazel will encourage and help you paint the action from the safari vehicles, with demonstrations or workshops back in camp. Hazel will be working in watercolour. The painting safari is best suited to intermediate students.
Hazel Soan is a versatile artist. Click here to see more.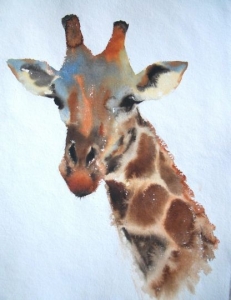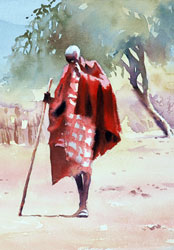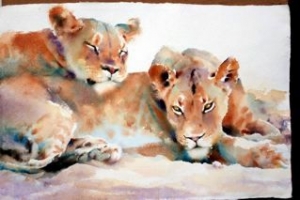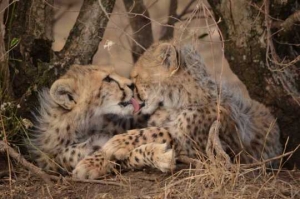 Painting whilst on safari
There will be two game drives each day. On the early morning drive capture the spectacular colour transformations as dawn begins to break and the sun rises above the horizon. There is normally plenty of game on the plains in the mornings.  In times of great activity you may only have time to do a quick sketch or take pictures to work on later, but in quieter moment you'll be able to paint the slow pace of life  – sleeping lions and grazing herds of buffalo, or the intimacy of a family of elephants or a cheetah sitting on a mound keeping watch.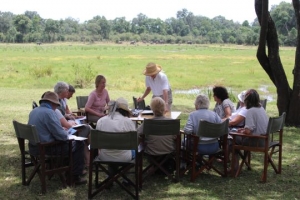 When the heat starts to build and the animal head for shade you will do the same and return to camp. This provides time to paint from your tent or down by the Mara River and for Hazel Soan to give tutorial sessions and group demonstrations.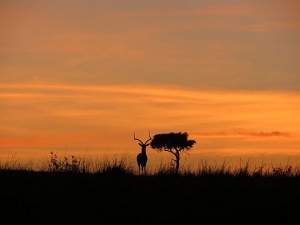 The late afternoon drive offers a different perspective and mood on the plains. There is an air of anticipation about the nights' hunting as dusk approaches and the sun finally sets below the horizon.
Practical details:
Flights are to Kilimanjaro. The first night is spent in Arusha before taking the safari flight to the northern Serengeti. Luggage in excess of the safari flight limit will travel to the camp by road. You will be well looked after and have everything organised for you by an accompanying travel escort.
Number of students:  8- 12
Price per person:  £7,795.00                               
Single supplement: £600.00
Fully inclusive price except for drinks. 
We have been the official organiser and tailor-making painting holidays on behalf of

  magazine since 1990. These are professional organised painting holidays offering the exclusive opportunity to paint alongside well known artists. 
Professional artists
Other Trips
Past Trips

What the experts & clients say
""Thank you Lucy for giving us such a wonderful time. I so appreciated your expertise and your personality. I learned so much and very much appreciated my time painting with you. Eileen's support was wonderful and made everything go so smoothly from the moment we left Heathrow until our return.  I enjoyed meeting everyone and sharing such special times together, both arty and spiritual. This was a trip of a lifetime and I'll never forget it."  "
"" Thank you for organising the extra flights and accommodation etc... The trip was a success for me. Eileen was the most thoughtful and hard working attendant/guide - she tended to our every needs - nothing was too much bother to her. Lachlan Goudie was such a gentleman. He was enthusiastic, kind and so very generous of advice and inspiration. He cheered us up and gave us hope when we were struggling with our work. We all loved him and are in awe of his beautiful water colours and gouache paintings.  Thank you for everything.""
""Our group is led by Professor Claudio Sillero....his decades of experience in this region and his hardy colleagues, guarantee sightings of wolves  They do not disappoint." "Next we climb up and across the Sanetti Plateau through unmatched beauty in every direction.  Small klipspringer, antelopes and hyrax, ( a pint-sized relative of the elephant), dot the hillsides.  our camp site is magnificent!  It is surrounded by towering basalt formations the locals call 'the soldiers.'  ....Can any place be more perfect?" "Our successful adventure is coming to a close, but we have been fortunate to site 30 wolves in 11 different packs, which equates to 10% of all the wolves living in the Bale Mountains National Park." "