African Wildlife Painting Safari with Hazel Soan
31st October - 11th November 2020

Hazel Soan is well known for her wildlife paintings and love of Africa. She has chosen to return to Zambia because its diversity and profusion of wildlife is perfect for a dedicated painting safari.
Travel to Kafue National Park by road with no weight-restricted safari flights
Water and land based game viewing
Painting & sketching out on the plains, in the bush and from the river
Workshop tutorials and demonstrations and further painting back at the lodge
9 nights small intimate safari lodge on the River Kafue
This painting safari is in Kafue National Park, which is Zambia's largest park but less well known. The combination of water and land based wildlife viewing available here is particularly appealing because you will be able to paint and sketch wildlife from different perspectives.  In addition the park is easily accessed by road from Lusaka eliminating a weight-restrictive safari flight, which is always a concern for artists. The road journey also immerses you gently in to the country and the sights you pass are always interesting.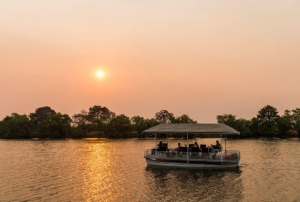 Kafue is classic wildlife country. Boat trips on the River Kafue and its tributaries enable you to paint hippo and crocodile up close and looking up to wildlife on the river banks. The riverine forests are full of birdlife and in the more open woodland areas there is a good chance of seeing leopard.
The swamp areas allow for easy viewing of waterbuck, kudu, impala, puku, sable antelope and leopard and on the open savannah you'll see red lechwes, oribis and roan antelope, as well as other grazers including buffalo, zebra and wildebeest and where there is prey there are always predators. Kafue has wild dogs, lion, cheetah and hyena. Herds of elephants can be found in areas of denser vegetation.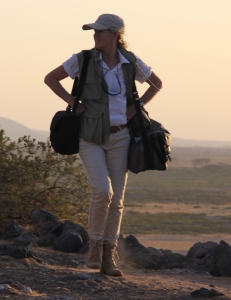 Hazel Soan is an experienced wildlife artist and excellent tutor.  Her paintings reflect her love of Africa and capture the mood and action in the bush and on the plains. Hazel also loves the opportunity to add a splash of colour and portraits of the local people provide this.  Hazel Soan will be working and teaching in watercolour.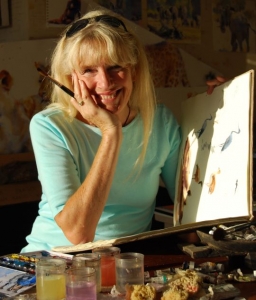 Painting on safari with Hazel Soan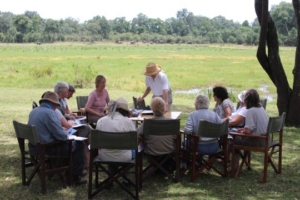 Hazel Soan will encourage and help you paint wildlife from the safari vehicles and when on the river. Game drives will be tailored specifically to artists' needs and finding the best places to paint the wildlife each day. There will be times of great activity when you may only have time to do a quick sketch or take pictures to work on later, and quieter moments when you'll be able to paint the slow pace of life – perhaps sleeping lions or grazing herds of gazelles.
You'll be painting from early morning until sunset, with the hottest part of the day back at the lodge and time permitting this is when Hazel Soan will give group workshop tutorials and demonstrations.
Wildlife paintings by Hazel Soan
Practical details
Flights are from London Heathrow to Lusaka. It is approximately a four hour drive to Kafue. Your safari lodge is centrally located providing the opportunity to explore the park's different habitats and great diversity of species. The lodge is located on the banks of the Kafue River, so you can experience both water and land-based wildlife viewing. The lodge has lovely dining area, an observation lounge, swimming pool and 14 chalets and tents. In addition to spacious safari vehicles, the lodge has its own motorised boat. Everything is organised for you by an accompanying travel escort from the UK, who will also ensure everyone is well taken care of.
Your safari lodge on the banks of the Kafue River
Summary itinerary:
31 Oct       Evening flight from London Heathrow.
1 Nov         Afternoon arrival in Lusaka.  Drive to your safari lodge.
2 – 9 Nov   Eight full days painting the wildlife in Kafue.
                 Water and land-based wildlife viewing.
10 Nov       Return to Lusaka. Evening flight to London.
11 Nov       Late morning arrive in London Heathrow.
Number of students:  8- 12
Medium: Watercolour
Suitability: Intermediate students
Price per person:  £7,695.00                                             Single supplement:  £450.00
Price includes: Scheduled international flights, road transfers, 9 nights safari lodge, all meals, park fees, safari activities, art tutor and UK travel escort
We have been the official organiser and tailor-making painting holidays on behalf of

  magazine since 1990. These are professional organised painting holidays offering the exclusive opportunity to paint alongside well known artists. 
Other Trips
Past Trips

What the experts & clients say
"I love working with Spencer Scott because I can be confident that, wherever we go, the Company will have secured the best available accommodation, services and back-up. This frees me to concentrate on what I enjoy most, which is finding really special wildlife experiences to share with our clients"
"I've done lots of trips tour guiding for Spencer Scott Travel (Cuba, Peru, South Africa, Botswana, Uganda) and they have all been of the highest order, well planned, great itineraries, excellent support and clients always totally satisfied. They are a total pleasure to work for and I have loads of great memories to treasure as a result. Check them out if you want something special."
"Thank you for all the organisation which gave us such wonderful and thrilling days in The Mara - a truly memorable experience.  We were so lucky all our sightings - the best view of leopard I have ever had.  The bonus was that beautiful black rhino - fighting fit and so close.  Of course, Simon's expert and enthusiastic guidance ensured the maximum benefit."