Paint in Granada with Tom Coates
17th - 26th April 2010


Tom Coates, a leading figurative painter of international acclaim, has chosen to paint in Granada, drawing on inspiration from John Singer Sargent and Joaquin Sorolla. This painting holiday will focus on the colours, architecture and life in Granada and the Sierra Nevada Mountains. Time will be spent painting in The Alhambra, capturing the passion of flamenco and amongst troglodyte dwellings.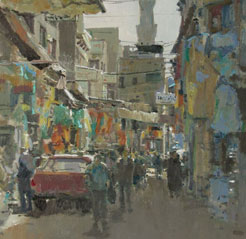 Granada has much to offer painters. Built on several hills there are fantastic panoramic views of the snow-capped Sierra Nevada Mountains, the terracotta-tiled roofs of the Albayzín quarter and of course the magnificent Alhambra Palace with its wonderful Moorish architecture, delicate mosaics and lush gardens. Granada lies on the River Darro and its Albayzín district is a fascinating mix of dilapidated white houses and immaculate carmenes; prosperous town houses. It's steep, twisting streets, cobbled alleyways and secret corners capture perfectly the charm of Granada. Flamenco is very much a part of life in Granada, and there will be an opportunity to paint at a dance school and in the gypsy caves on Sacromonte hill. It is normally warm enough to work comfortably outdoors in April and at this time of the year the light is particularly good and the almond trees should be in blossom, so a day will be spent painting in the troglodyte villages in the Sierra Neveda Mountains.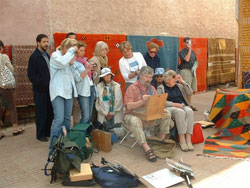 TOM COATES is a highly respected figurative painter and a leading member of the NEAC. He regularly exhibits abroad and at the RA Summer Exhibition and Mall Galleries in London. Tom will be working on his own paintings and will encourage students to learn by example and to work alongside him. He will give some demonstrations and personal guidance when appropriate. Tom will be working in watercolours but students may choose to work in any medium. This is a 'masterclass' style-painting holiday that is most suitable for intermediate and experienced students who are happy working independently. Tom Coates will be accompanied by his wife, Mary Jackson, who is also an accomplished painter and will provide additional guidance. You will be travelling with two excellent professional painters and in a supportive group environment.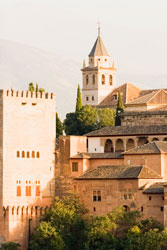 Bespoke arrangements include flights are on British Airways, private transfers, excellent accommodation and dinners as well as an accompanying programme co-ordinater, who takes care of everything for you. The hotel is a charming 15-roomed property located in the heart of Granada, at the foot of the Albayzín neighbourhood, alongside the Darro River and ½ km from the Alhambra Palace, providing plenty of subject matter within walking distance. The focus for the evenings is on dinner with a very sociable and fun atmosphere.
Just 10 – 16 students will be joining Tom Coates.
The price per person is: £2,695 fully inclusive except for lunches
Single occupancy supplement: £300
Other Trips
Past Trips