Paint the Cinque Terre with Hazel Soan
2nd - 9th June 2016

Painting holiday in Italy with popular artist Hazel Soan
The Cinque Terre's vibrant colours inspired Paul Klee
Paint the dramatic coastline along the Italian Riviera
Instructional painting holiday for all students
Excellent 4 star hotel accommodation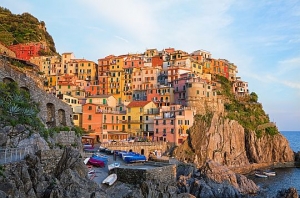 Where is the Cinque Terre?
Cinque Terre is a string of five villages clinging to the hillside along the beautifully rugged Italian Riviera. It is quite unique and designated a UNESECO World Heritage Site. The five villages are Monterosso al Mare, Vernazza, Corniglia, Manarola and Riomaggiore. Their colourful houses cling to steep cliffs that plunge in to the deep blue water have inspired many artists and poets including Paul Klee, D H Lawrence, Shelley & Byron. Manarola's cluster of pink, brown, yellow and light green houses and Vernazza's picturesque harbour particularly appeal to Hazel Soan. All the villages have retained much of their original charm by resisting development and restricting their access. They remain accessible only by boat, train or hazardous narrow roads.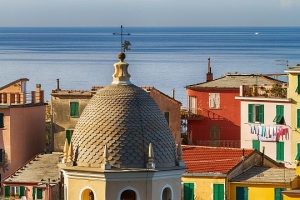 Painting in Italy
You will be based just along the coast in the attractive town of Portovenere, from where the ferries depart for the Cinque Terre. Portovenere is located on a rocky promontory and is as equally paintable as the Cinque Terre, with a busy harbour lined with pastel coloured buildings and views across to the Island of Palmaira. You will be staying in the luxury Grand Hotel Portovenere, which is superbly located overlooking the harbour and with fine views out to sea.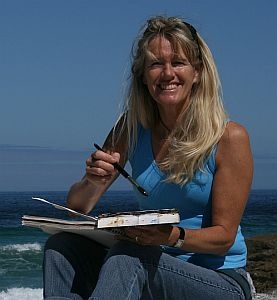 Your Painting Holiday Host – Artist Hazel Soan
Hazel Soan is a talented, versatile and popular artist, as well as an informative and inspirational teacher. Her enthusiasm and energy is infectious and her ability to draw out the best in students is quite remarkable. Hazel featured in the Watercolour Challenge TV series and has published many instructional books including Watercolour Rainbow and Watercolour Landscape Techniques.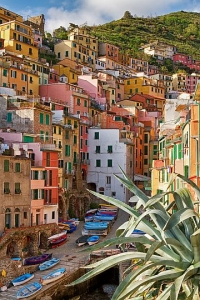 Painting Holiday Programme
This is an instructional painting holiday suitable for intermediate students, confident beginners and experienced students seeking a refresher workshop. The location is perfect for painting seascapes and for using a really colourful palette and inspiring a more abstract style. Hazel Soan will be working with you every day – providing inspiration, encouragement and helping you select appropriate subjects to paint. Hazel will illustrate a wide range of the topics with talks and demonstrations. She will help you work through the challenges of painting en plein air as they happen. Three days will be spent painting in different Cinque Terre villages. Hazel will be working in watercolour but students may choose to work in any medium.
Paint the Cinque Terre Trip Details:
Price per person: £2,995.00
Single occupancy supplement: £500.00
Number of students: 12 – 14
Price includes: flights, hotel, breakfast and dinner daily, three return ferry tickets, art tutor and travel escort.
This painting holiday is offered in association with The Artist & Leisure Painter magazines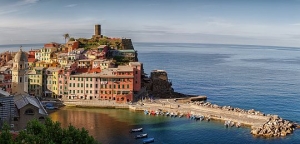 Professional artists
Other Trips
Past Trips

What the experts & clients say
"" Thank you for organising the extra flights and accommodation etc... The trip was a success for me. Eileen was the most thoughtful and hard working attendant/guide - she tended to our every needs - nothing was too much bother to her. Lachlan Goudie was such a gentleman. He was enthusiastic, kind and so very generous of advice and inspiration. He cheered us up and gave us hope when we were struggling with our work. We all loved him and are in awe of his beautiful water colours and gouache paintings.  Thank you for everything.""
"I've done lots of trips tour guiding for Spencer Scott Travel (Cuba, Peru, South Africa, Botswana, Uganda) and they have all been of the highest order, well planned, great itineraries, excellent support and clients always totally satisfied. They are a total pleasure to work for and I have loads of great memories to treasure as a result. Check them out if you want something special."
""We had so many different experiences, the accommodation was all excellent and very varied.  Our viewing of the wildlife was exceptional, and we all managed to complete several paintings and sketches of animals, birds and landscapes.  As always, Hazel was an inspiring teacher." "