Essaouira, Morocco with Ken Howard OBE, RA
10th - 17th March 2013

A rare chance to paint alongside one of our leading Royal Academicians in the small coastal town of Essaouira.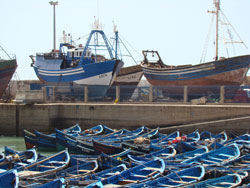 Ken Howard's work is outstanding and is recognised throughout the world for being exceptional.  He has had numerous one-man exhibitions worldwide and his paintings are in many public collections, as well as widely published books and DVD's. He has been an elected member of the RA since 1992 and was awarded the OBE in 2010. His autobiography Light & Dark was published in 2011 and provides a wonderful insight into the lovely person Ken is, the interesting life he has lived and his passion for painting. Ken paints every day and loves to be inspired by new subject matter at home and abroad. He has hosted painting holidays for us since the 1990's to India, Cuba, Yemen, Istanbul, Venice, Provence and Santorini.  He is delighted to be returning to Morocco because it offers the chance to capture an exotic and rich culture, distinctive architecture, and fabulous colours without having to travel to far flung parts of the world. Essaouira will be a new location for Ken, and its colourful old town and traditional fishing harbour greatly appeal, as does its compactness, friendliness and easy walking! Every day will be spent painting in Essaouira. Ken will be working in oils and this holiday provides the rare opportunity and experience of working alongside, learning and drawing inspiration from a truly great artist. There will be plenty of encouragement given and lots of painting done, and Ken will give some informative talks and presentations on how he works, but the informal style of this holiday will not include tuition, demonstrations or critics. Evening meals provide the opportunity to get to know Ken who is a convivial and entertaining host. To learn more about Ken Howard OBE RA click here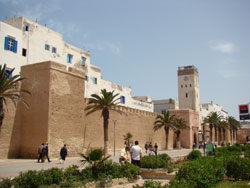 Essaouira is a picturesque walled town on the Atlantic coast south of Marrakech. It offers an intoxicating mix of exotic Arab architecture and Mediterranean-style white-washed houses with blue shutters, with the hustle and bustle of a traditional fishing village and the romanticism of nomadic life. The range of painting subjects includes sun-drenched avenues lined with palm trees, dabbled sunlit squares, meandering alleyways, secretive doorways, defensive ramparts and bastions, elegant minarets, elaborate mosaics, dramatic seascapes, windswept beaches, aromatic and colourful souks, woman clothed in floating jellabas, donkeys laddened with goods, old men repairing fishing nets and seagulls circling the fishing harbour and much more. In March the weather is normally calm and pleasantly warm – ideal for painting.
Accommodation is in a modern luxury hotel overlooking the beach and within 5 minutes walk of the old town and fishing harbour. Direct scheduled flights on British Airways, breakfasts and dinners are included. Everything is organised for you and taken care of by an accompanying travel escort from the UK, enabling you and Ken to paint every day without any other concerns.
This holiday is most suitable for intermediate and experienced painters working in any medium. There are places for 12 students each week.
Cost per person: £2,150.00 per week
Single room supplement: £240.00 per week
This painting holiday is arranged in association with The Artist Magazine
Images by Dora Howard
Other Trips
Past Trips

What the experts & clients say
"I have had the good fortune to work with Liz Drake at Spencer Scott Travel taking small groups on safari to East Africa and India. All aspects of the journey are handled in a most personal, thorough and sensitive way, and all the arrangements are organised with admirable attention to detail. I have always boarded the plane from London knowing we were all going to have the holiday of a lifetime."
"I've done lots of trips tour guiding for Spencer Scott Travel (Cuba, Peru, South Africa, Botswana, Uganda) and they have all been of the highest order, well planned, great itineraries, excellent support and clients always totally satisfied. They are a total pleasure to work for and I have loads of great memories to treasure as a result. Check them out if you want something special."
""Just wanted to drop you a quick line to say how very much I enjoyed painting with Pete in Havana.  I loved it all, the City, the painting, the company, the Mojito's and the food, and it was great to have Jacqueline there organising us all. Many thanks and I hope to take part again next year.""