Instructional painting holiday in Essaouria with Glyn Macey
8th - 18th October 2016

Painting holiday for beginners and intermediate students in Essaouria, Morocco.
Special Glyn Macey workshops – learn to paint and improve your skills with guidance from a talented young artist.
Paint in Morocco – varied exotic landscapes, from a picturesque fishing town to colourful souks and dramatic seascapes.
Stay in a luxurious modern hotel.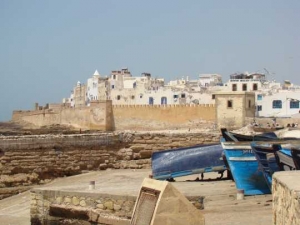 Painting Holiday for Beginners – Hosted by Glyn Macey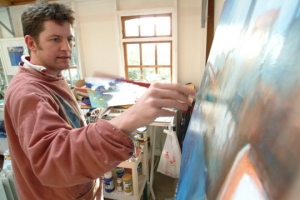 This special painting workshop in Morocco with Glyn Macey promises to be a unique opportunity for both beginner to intermediate level painters to improve their skills and learn from a professional artist.
Glyn Macey brings a new vibrancy to the British art scene. Using acrylic, mixed media and an array of mark making techniques he endeavours to capture the underlying essence of the landscape, the essence that shapes the landscape and the people who live in it. Glyn encourages painters of all abilities to try something new with their work and to have lots of fun doing it. His talent and popularity is taking him in to partnerships with and commissions for the National Trust and RNLI. A Brush with the Landscapes (DVD) follows Glyn painting at 100 of the most beautiful NT landscapes in the country.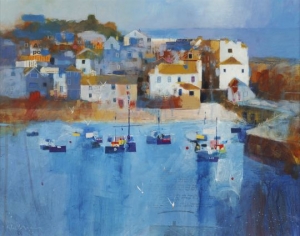 Structure of Glyn's Painting Workshop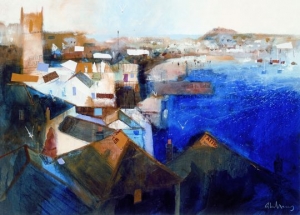 Each day in Morocco will start with a demonstration and teaching session explaining the day's topic. Students will then be encouraged to produce their own work during the day at various locations in Essaouria, using the techniques discussed. Glyn has structured the days so that they work in order and each lesson follows on from the last to give a full, rounded course. Over the course of the 10 days in Morocco students will learn the fundamental basics of composition, tone, colour and movement and how to bring them all together for finished works, as well as how to add elements to create spark and energy. Glyn will be on hand at all times to assist and advice where necessary, and there will be Q&A sessions for individual requirements.
'Glyn Macey is a fabulous teacher and communicator – by far the best one I have been with and he is pleasant, friendly and helpful at all times' Jane Langley, Collioure 2012.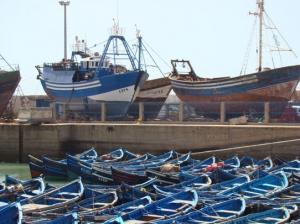 Painting in Morocco – Exotic and Varied Landscapes of Essaouira
Essaouira is a picturesque walled town on the Atlantic coast south of Marrakech. It offers an intoxicating mix of exotic Arab architecture and Mediterranean-style white-washed houses with blue shutters, with the hustle and bustle of a traditional fishing village and the romanticism of nomadic life. The colours and vibrancy of life have made Essaouira a favourite painting location for many leading artists including Ken Howard, Tom Coates and Jenny Wheatley. The range of painting subjects includes sun-drenched avenues lined with palm trees, dabbled sunlit squares, meandering alleyways, secretive doorways, defensive ramparts and bastions, elegant minarets, elaborate mosaics, dramatic seascapes, windswept beaches, aromatic and colourful souks, woman clothed in floating jellabas, donkeys laden with goods, old men repairing fishing nets and seagulls circling the fishing harbour and much more. In October the weather is normally very calm and pleasantly warm – ideal for painting. Accommodation is in a modern luxury hotel overlooking the beach and within 5 minutes' walk of the old town and fishing harbour.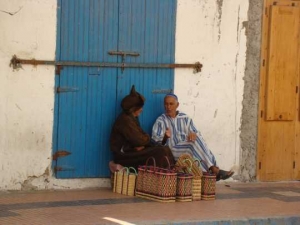 Paint in Essaouira, Morocco Trip Details
Price per person: £2,295 / US $3,550
Single supplement: £325 / US $500
Number of students: 10 – 14
Price includes: Flights, hotel, breakfasts and dinners, art tutor & travel escort
This holiday is offered in association with Leisure Painter and The Artist Magazines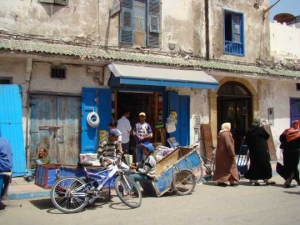 Professional artists
Other Trips
Past Trips

What the experts & clients say
""I wanted to say thank you so much for everything.  It was the most wonderful holiday and the memories of which will stay with me a lifetime.  It was clear to me that a lot of  work went on behind the scenes by both yourself [Liz Drake and Spencer Scott Travel], and Simon [King]  to make this holiday the very very best one could wish for and so very special so thank you both so very very much."  "
"I love working with Spencer Scott because I can be confident that, wherever we go, the Company will have secured the best available accommodation, services and back-up. This frees me to concentrate on what I enjoy most, which is finding really special wildlife experiences to share with our clients"
"" Thank you for organising the extra flights and accommodation etc... The trip was a success for me. Eileen was the most thoughtful and hard working attendant/guide - she tended to our every needs - nothing was too much bother to her. Lachlan Goudie was such a gentleman. He was enthusiastic, kind and so very generous of advice and inspiration. He cheered us up and gave us hope when we were struggling with our work. We all loved him and are in awe of his beautiful water colours and gouache paintings.  Thank you for everything.""