Instructional painting holiday in Essaouria with Glyn Macey
8th - 18th October 2016

Painting holiday for beginners and intermediate students in Essaouria, Morocco.
Special Glyn Macey workshops – learn to paint and improve your skills with guidance from a talented young artist.
Paint in Morocco – varied exotic landscapes, from a picturesque fishing town to colourful souks and dramatic seascapes.
Stay in a luxurious modern hotel.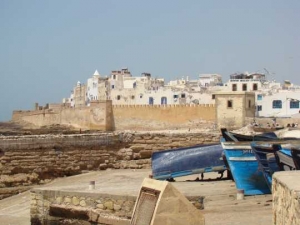 Painting Holiday for Beginners – Hosted by Glyn Macey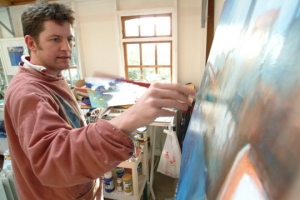 This special painting workshop in Morocco with Glyn Macey promises to be a unique opportunity for both beginner to intermediate level painters to improve their skills and learn from a professional artist.
Glyn Macey brings a new vibrancy to the British art scene. Using acrylic, mixed media and an array of mark making techniques he endeavours to capture the underlying essence of the landscape, the essence that shapes the landscape and the people who live in it. Glyn encourages painters of all abilities to try something new with their work and to have lots of fun doing it. His talent and popularity is taking him in to partnerships with and commissions for the National Trust and RNLI. A Brush with the Landscapes (DVD) follows Glyn painting at 100 of the most beautiful NT landscapes in the country.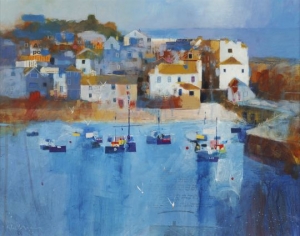 Structure of Glyn's Painting Workshop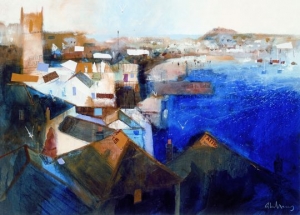 Each day in Morocco will start with a demonstration and teaching session explaining the day's topic. Students will then be encouraged to produce their own work during the day at various locations in Essaouria, using the techniques discussed. Glyn has structured the days so that they work in order and each lesson follows on from the last to give a full, rounded course. Over the course of the 10 days in Morocco students will learn the fundamental basics of composition, tone, colour and movement and how to bring them all together for finished works, as well as how to add elements to create spark and energy. Glyn will be on hand at all times to assist and advice where necessary, and there will be Q&A sessions for individual requirements.
'Glyn Macey is a fabulous teacher and communicator – by far the best one I have been with and he is pleasant, friendly and helpful at all times' Jane Langley, Collioure 2012.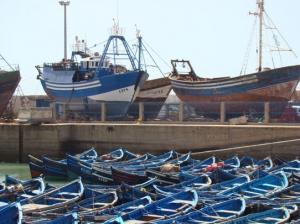 Painting in Morocco – Exotic and Varied Landscapes of Essaouira
Essaouira is a picturesque walled town on the Atlantic coast south of Marrakech. It offers an intoxicating mix of exotic Arab architecture and Mediterranean-style white-washed houses with blue shutters, with the hustle and bustle of a traditional fishing village and the romanticism of nomadic life. The colours and vibrancy of life have made Essaouira a favourite painting location for many leading artists including Ken Howard, Tom Coates and Jenny Wheatley. The range of painting subjects includes sun-drenched avenues lined with palm trees, dabbled sunlit squares, meandering alleyways, secretive doorways, defensive ramparts and bastions, elegant minarets, elaborate mosaics, dramatic seascapes, windswept beaches, aromatic and colourful souks, woman clothed in floating jellabas, donkeys laden with goods, old men repairing fishing nets and seagulls circling the fishing harbour and much more. In October the weather is normally very calm and pleasantly warm – ideal for painting. Accommodation is in a modern luxury hotel overlooking the beach and within 5 minutes' walk of the old town and fishing harbour.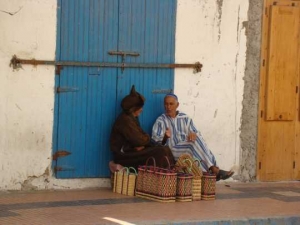 Paint in Essaouira, Morocco Trip Details
Price per person: £2,295 / US $3,550
Single supplement: £325 / US $500
Number of students: 10 – 14
Price includes: Flights, hotel, breakfasts and dinners, art tutor & travel escort
This holiday is offered in association with Leisure Painter and The Artist Magazines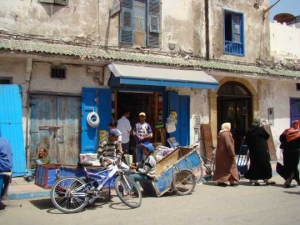 Professional artists
Other Trips
Past Trips

What the experts & clients say
"I've done lots of trips tour guiding for Spencer Scott Travel (Cuba, Peru, South Africa, Botswana, Uganda) and they have all been of the highest order, well planned, great itineraries, excellent support and clients always totally satisfied. They are a total pleasure to work for and I have loads of great memories to treasure as a result. Check them out if you want something special."
""Our group is led by Professor Claudio Sillero....his decades of experience in this region and his hardy colleagues, guarantee sightings of wolves  They do not disappoint." "Next we climb up and across the Sanetti Plateau through unmatched beauty in every direction.  Small klipspringer, antelopes and hyrax, ( a pint-sized relative of the elephant), dot the hillsides.  our camp site is magnificent!  It is surrounded by towering basalt formations the locals call 'the soldiers.'  ....Can any place be more perfect?" "Our successful adventure is coming to a close, but we have been fortunate to site 30 wolves in 11 different packs, which equates to 10% of all the wolves living in the Bale Mountains National Park." "
"Thank you for all the organisation which gave us such wonderful and thrilling days in The Mara - a truly memorable experience.  We were so lucky all our sightings - the best view of leopard I have ever had.  The bonus was that beautiful black rhino - fighting fit and so close.  Of course, Simon's expert and enthusiastic guidance ensured the maximum benefit."