Paint in Assisi with Hazel Soan
25th April - 4th May 2015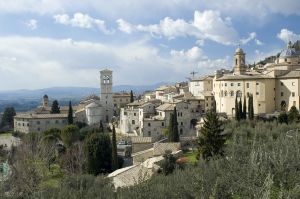 Assisi is well known as a pilgrimage site because of it patron saint and St Francis Basilica, but the wealth of medieval and Renaissance architecture within its walled centre is what makes it an excellent base for a painting holiday.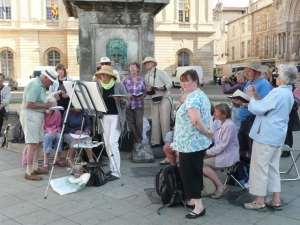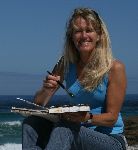 Hazel Soan is a talented and versatile artist. She is also an excellent teacher and her painting holidays are extremely popular. Hazel has personally chosen Assisi and hopes it will appeal to those who enjoy a classical painting environment and staying in just one location.    Hazel Soan will be working with you every day – providing inspiration, encouragement and helping you select appropriate subjects to paint. She will illustrate a wide range of the topics with talks and demonstrations. Hazel will be working in watercolour. Students may choose to work in any medium.
Painting itinerary
25 April   Meet Hazel Soan & Vanessa Fagan at London Heathrow Terminal 5. Fy to Rome 1050-1420 hours.  Private coach transfer to Assisi (approx. 1 – 2 hours). You will be staying in a 4 star hotel conveniently located just 300 meters from the famous Basilica di San Francesco.  The hotel has a terrace overlooking the Umbrian countryside that is ideal to paint from.
26 April – 3 May Eight days painting with Hazel Soan in Assisi.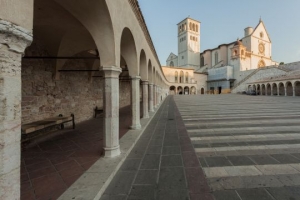 The small town of Assisi (pop. 3000) is one of the Christian world's most important pilgrimage sites. Even though it is always busy with sightseers, it is difficult not to be charmed by the tranquility of the town and its medieval and Renaissance architecture. Staying 9 nights in Assisi you will be able to choose quieter times to paint the most popular sites and discover its depth and peace.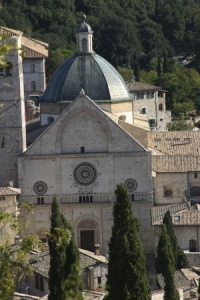 The range of painting subjects is excellent.  The main piazza has a lovely fountain, there are houses painted with beautiful frescoes and the six Corinthian columns of the Temple di Minerva is one of the best preserved Roman facades in Italy.   There are cobbled winding streets leading up to the mediaeval castle with glimpses of fine views across the Umbrian countryside. On a Monday there is a local produce market in Assisi.  Assisi is hilly but there is a very good public minibus service and of course there are always taxis for anyone who finds the climb too much (other traffic is restricted to certain times of the day and access is limited to a couple of hours).
4 May   Return transfer to Rome.  Fly to London 1515-1650 hours.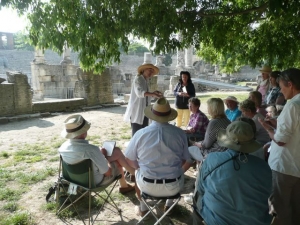 Price per person:         £2,495.00       Single room supplement:   £  275.00
Price includes :       flights, hotel accommodation, all meals except lunches, guest artist
                                           and travel escort from the UK
Number of painters:  10 – 14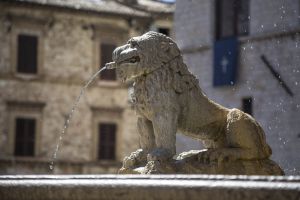 Professional artists
Other Trips
Past Trips

What the experts & clients say
"I have had the good fortune to work with Liz Drake at Spencer Scott Travel taking small groups on safari to East Africa and India. All aspects of the journey are handled in a most personal, thorough and sensitive way, and all the arrangements are organised with admirable attention to detail. I have always boarded the plane from London knowing we were all going to have the holiday of a lifetime."
""Thank you Lucy for giving us such a wonderful time. I so appreciated your expertise and your personality. I learned so much and very much appreciated my time painting with you. Eileen's support was wonderful and made everything go so smoothly from the moment we left Heathrow until our return.  I enjoyed meeting everyone and sharing such special times together, both arty and spiritual. This was a trip of a lifetime and I'll never forget it."  "
""Our group is led by Professor Claudio Sillero....his decades of experience in this region and his hardy colleagues, guarantee sightings of wolves  They do not disappoint." "Next we climb up and across the Sanetti Plateau through unmatched beauty in every direction.  Small klipspringer, antelopes and hyrax, ( a pint-sized relative of the elephant), dot the hillsides.  our camp site is magnificent!  It is surrounded by towering basalt formations the locals call 'the soldiers.'  ....Can any place be more perfect?" "Our successful adventure is coming to a close, but we have been fortunate to site 30 wolves in 11 different packs, which equates to 10% of all the wolves living in the Bale Mountains National Park." "