Paint in the Holy Land with Lucy Willis
25th February - 6th March 2019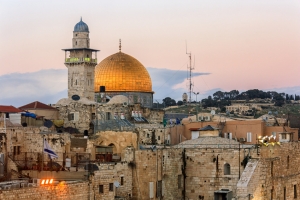 There is no other place on earth with such a rich and diverse cultural, historical and religious make-up as in the walled Old City of Jerusalem. Here Judaism, Christianity and Islam meet, and their individual identities are visually represented in different architectural and dress styles. For artists this holds special appeal. Lucy Willis will help you capture the essence of Jerusalem and the light as it moves across the city from dawn to dusk.
A watercolour painting holiday for 8 – 12 students

8 full days painting in the Old City
Boutique hotel accommodation in the Jewish Quarter of the Old City
Fully inclusive price except for lunches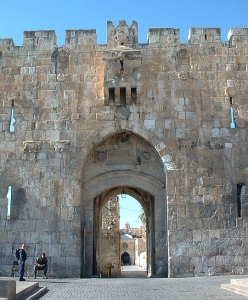 There are four distinctive quarters within the 1km² of The Old City. The Christian Quarter is characterised by ancient silver domed and the sacred Church of the Holy Sepulchre. The Armenian Quarter is home to a small community who have retained a strong sense of cultural identity, with the ornate Armenian Cathedral and citadel its focal points. An air of religious learning and serenity permeates the Jewish Quarter as pilgrims flock to the single most sacred site in Judaism – The Western Wall. In contrast, the thriving Muslim Quarter is the liveliest part of the Old City with colourful souks. The call of the muezzin brings worshippers scurrying down the lanes towards the vast walled Temple Mount with its majestic golden Dome of the Rock.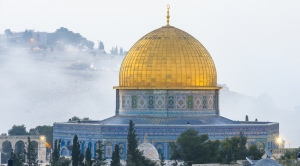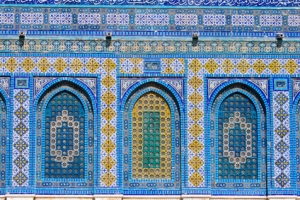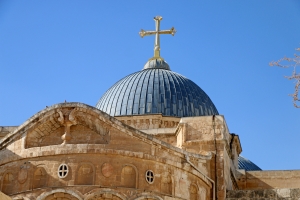 As well as this eclectic mix of impressive sacred buildings, there are old houses, soft white-washed walls, narrow cobbled alleyways, arches and gates. Bougainvillea creeping over soft white-washed walls adds a splash of colour as do the streets cafes and bazaars.  Adjacent to the Old City is the archaeological site of the City of David and Mount of Olives with the tranquil and shady Garden of Gethsemane. The hotel is located within the very safe Jewish Quarter of the Old City, so all these sites are within walking distance. This special boutique 'house' has 51 rooms, a comfortable lobby lounge, an attractive central courtyard and a restaurant. A local guide will be with you most days helping you discover the hidden non-touristic places in this fascinating city.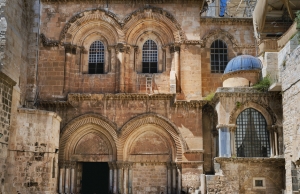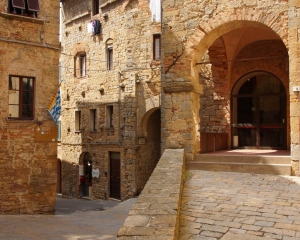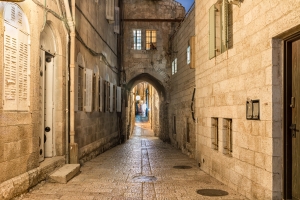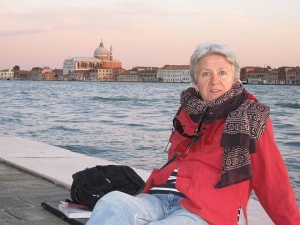 Lucy Willis is a professional artist renowned for her ability to capture light and atmosphere as illustrated in her books; 'Light in Watercolour' and 'Travels in Watercolour'.  Every day will be spent painting alongside Lucy Willis or working independently. Most days will be spent painting the fabulous architecture and people in the Old City and capturing the light as it moves across the city.
Lucy loves to travel and has hosted many painting holidays for us to exciting destinations including China, Syria (before the troubles), Bhuj in India, Morocco, Sicily, Malta, Egypt, Tunisia. She is very conscientious host and will endeavour to help broaden you your palette and  improve your skills on this painting holiday.
Discover more about Lucy Willis and see more of her work.
EXHIBITION
Lucy Willis is a participating artist of Somerset Open Studios 15 – 30 September 2018  
Works by Lucy Willis
Transport will be provided on one day to paint in the nearby Arab village of Abu Ghosh with its 12th century Crusader castle. Lucy Willis will help select suitable subjects to paint and provide individual guidance when appropriate.  Demonstrations and group critique sessions will help you improve and broaden your scope. Lucy will be working in watercolours but all mediums are welcome. 
8 – 12 intermediate and experienced students
Price per person in a twin:                                                                                  £3,375.00
Single room supplement:                                                                                     £   625.00
Price includes: direct flights from London Heathrow, 9 night's accommodation, breakfast and dinners, host artist, travel escort from the UK and a local guide most days.
This holiday is offered to you in association with 

 magazine.
Professional artists
Other Trips
Past Trips
What the experts & clients say
""Our group is led by Professor Claudio Sillero....his decades of experience in this region and his hardy colleagues, guarantee sightings of wolves  They do not disappoint." "Next we climb up and across the Sanetti Plateau through unmatched beauty in every direction.  Small klipspringer, antelopes and hyrax, ( a pint-sized relative of the elephant), dot the hillsides.  our camp site is magnificent!  It is surrounded by towering basalt formations the locals call 'the soldiers.'  ....Can any place be more perfect?" "Our successful adventure is coming to a close, but we have been fortunate to site 30 wolves in 11 different packs, which equates to 10% of all the wolves living in the Bale Mountains National Park." "
""I want to let you know that the workshop with Ken Howard in Santorini was simply the best workshop I have ever attended.  I was deeply inspired and impressed by Ken.  The group was a pleasure.  I hope this workshop will be repeated again."  "
"" Thank you for organising the extra flights and accommodation etc... The trip was a success for me. Eileen was the most thoughtful and hard working attendant/guide - she tended to our every needs - nothing was too much bother to her. Lachlan Goudie was such a gentleman. He was enthusiastic, kind and so very generous of advice and inspiration. He cheered us up and gave us hope when we were struggling with our work. We all loved him and are in awe of his beautiful water colours and gouache paintings.  Thank you for everything.""