Paint in Tuscany with Richard Pikesley RWS, PPNEAC
10th - 19th May 2020


  magazine painting holiday
Capture the romantic Tuscan countryside with its rolling hills and mediaeval fortified hilltop villages, Benedictine Monasteries nestling amongst elegant cypress trees and the fabulous Renaissance towns of Pienza and Siena.
This painting holiday is based south of Siena in the beautiful Orcia Valley. It commences with three nights the very special Sant'Anna Benedictine Monastery where The English Patient was filmed, which has been lovingly restored by the Catholic Church to provide simple accommodation. Two days will be spent painting the idyllic rolling hills and cypress trees around the monastery.
The next 6 nights will be spent in the walled hilltop town of Pienza. Originally a small fortified village, it was transformed by Pope Pius II in the 1460's in to a compact town known by the Tuscans as 'La Perla di Rinascimento'; The Pearl of Renaissance. There is plenty to paint in Pienza including wonderful panoramic views stretching across the Orcia Valley from the town's walls and the gardens of Palazzo Piccolomini, as well as the  cathedral, papal palace and town hall in the village square. Everywhere is within walking distance of your hotel, which is a beautifully restored monastery with a cloistered courtyard.
Richard Pikesley RWS, PPNEAC is a leading figurative painter who incorporates abstract elements in his work. Richard is a very engaging and approachable guest artist who willingly offers demonstrations, talks and guidance on an informal and ad hoc basis. He is a great believer in students learning by watching each other work, so is very happy to paint with an audience. Richard will be working in oil, watercolour & mixed media.
Painting Programme
May is perfect for plein air painting in Tuscany – the light is good, the colours are fresh and there are fewer visitors. Every day will be spent painting and making the most of the best light from dawn to dusk. There will be transport provided so you can paint in the nearby villages of Monticchiello, Montalcino or Montepulicano and the fabulous Renaissance city of Siena. A visit to the famous pink brick Abbey of Monte Oliveto Maggiore is also possible.
This is a free-style painting holiday and you will be encouraged to develop your own style and work independently as well as alongside Richard Pikesley. This painting holiday is ideal for intermediate and experienced students. An accompanying escort will take care of all the arrangements and be looking after everyone.
Itinerary summary
10 May    Afternoon flight from London Heathrow to Pisa.  Dinner and overnight at Sant'Anna Monastery
11 & 12 May    Two full days painting the Tuscan landscapes and monastery
13 May    Short transfer to Pienza (30 mins).  Full day painting in Pienza. Dinner in the hotel.
14 – 18 May  Five full days painting mainly in Pienza.  One day will be spent painting in nearby villages and another in Siena. Dinners in the hotel.
19 May   Afternoon flight to London Heathrow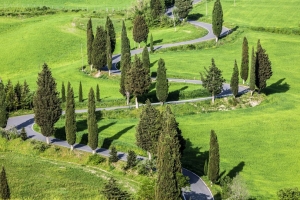 This painting holiday is offered exclusive in association with the

  magazine
Dates: 10 – 19 May 2020
Number of Students: 8 – 12
Price per person: GBP3495
Single room supplement: GBP250
Price includes : flights from London Heathow, 9 night's accommodation, breakfast and dinners daily, visit to Siena and surrounding villages, host artist and travel escort from the UK.
We have been the official organiser and tailor-making painting holidays on behalf of

  magazine since 1990. These are professional organised painting holidays offering the exclusive opportunity to paint alongside well known artists. 
Other Trips
Past Trips