Painting & Sketching in Sicily with Lachlan Goudie ROI
11th - 18th April 2020

Springtime & Easter in Syracuse

Sicily is known as the island of lemons and is stunning in springtime with ripening citrus fruits, hillsides blossoming with wildflowers and the sweet fragrance of oregano and mint. The light is particularly good as it reflects off the wonderful architecture and turquoise sea, and temperatures around 18°C make it a perfect time of year for artists. Easter is celebrated on Sicily with colourful processions steeped in folklore and religion.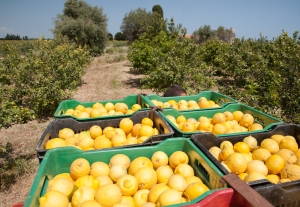 Paint with Celebrity Painting Challenge judge – Lachlan Goudie

Visit the island of lemons in Springtime and over Easter

Stay in an intimate boutique hotel on the Island of Ortygia, Syracuse

Six full days painting and sketching

Number of students 8 – 12

Ideal for intermediate & more experienced students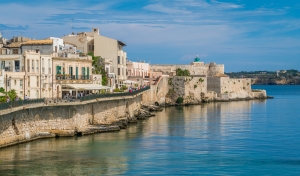 Syracuse and the Island of Ortygia are situated on the east coast of Sicily. The Island of Ortygia is linked to the mainland by a causeway which divides the harbour. Its location, compactness and rich history make it a perfect painting base. The tangled maze of streets and alleyways are a living museum of its succession of epochs – Greek, Norman, Aragon and Baroque.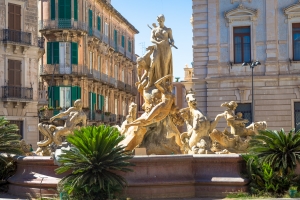 The elegant Piazza Archimedes has a 20th century fountain and the medieval palaces and Baroque architecture in the Piazza del Duomo make it Italy's most beautiful piazza. On the waterfront is the 1000-year old natural freshwater spring – Fontana Aretusa, surrounded by papyrus plants. Ortygia is considered the cradle of Greek civilisation in Italy and here you'll find the ruins of the 6th century BC Temple of Apollo and a magnificent Greek theatre.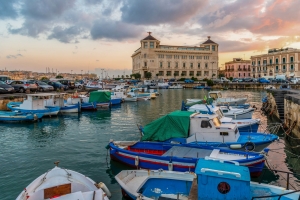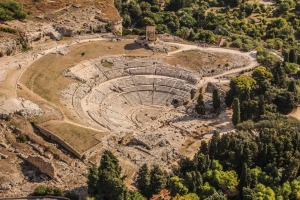 Accommodation is provided in a small boutique hotel on the waterfront promenade that runs along the old sea wall of the Island of Ortygia. The hotel has been tastefully renovated to reflect its humble origins as two fishermen's dwellings. It has a restaurant, 26 bedrooms and roof terraces that are perfect for painting the sunrise and sunset from.Our hotel is an intimate and cheerful place to stay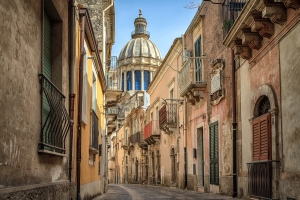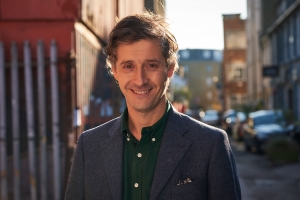 Lachlan Goudie ROI is a very attentive, supportive and encouraging host artist. Lachlan will be sketching and painting in gouache and watercolour and he will encourage you to also work with a sketch book, as well as painting. He will assist students with an organic approach of techniques on an individual basis and in informal group tutorials. Lachlan's work has evolved from a figurative tradition of Scottish painting and incorporates portraiture, still life and landscape painting, with drama and colour underpinning his paintings. He is a highly respected artist and has made several TV programmes about Scottish Art and Sketching in The Holy Land. He is also one of the judges on the Celebrity Painting Challenge. He won the R.S.P prize, the Norman MacFarlane prize and the ROI Oil Painters award for young artists. He regularly exhibits at major exhibitions in London, Scotland and New York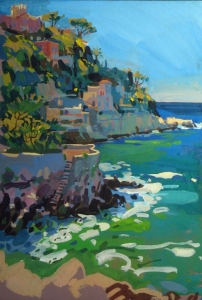 The painting programme 
This painting holiday is ideal for intermediate and more experienced students. Transport is not provided on the Island of Ortygia so students must be able to carry their own painting equipment and to walk the 2-3 km to the Neapolis Parco Archeologico in Syracuse. One day will be spent painting the Sicilian landscape and beguiling Baroque town of Ragusa. A travel escort will accompany you throughout and will be taking care of all the arrangements.
To see more of Lachlan's work visit his website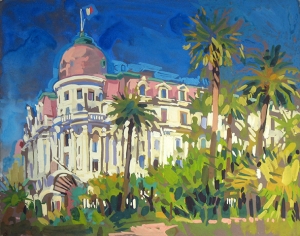 Practical details
Number of students:     8 – 12
Price per person:         £2,295.00
Single room supplement: £ 200.00
Price includes: Flights from London Gatwick on BA, 7 nights hotel accommodation, breakfast and dinners daily, visit to Ragusa, host artist and travel escort from the UK.
We have been the official organiser and tailor-making painting holidays on behalf of

  magazine since 1990. These are professional organised painting holidays offering the exclusive opportunity to paint alongside well known artists. 
Professional artists
Other Trips
Past Trips