Paint in Santorini with Ken Howard
13th - 20th May 2012


A rare opportunity to work alongside probably the UK's most famous artist in the stunning location of Oía – a traditional white village perched on the rim of the Santorini caldera.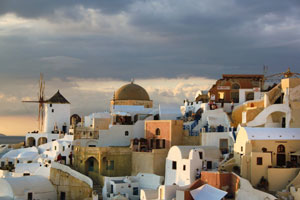 We are delighted to be working with Ken Howard again and providing this exclusive opportunity to work alongside one of our leading Royal Academicians and greatest artists of today. In the 1990's Ken hosted painting holidays for us and The Artist magazine to India, Cuba, Yemen, Provence, Morocco, Istanbul and of course Venice. They were hugely successful and enjoyable and many of you will have fond memories from those trips.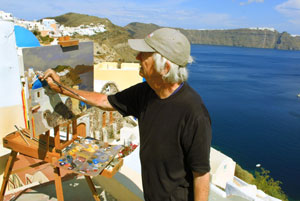 In the last couple of years Ken has chosen to paint on the beautiful Greek island of Santorini and in particular in the northern caldera village of Oía. It has become one of his favoured locations and he personally ranks alongside Venice for inspirational painting!
Most days will be spent painting in Oía, which is as famous for its sunsets as it is for its white and pastel-coloured houses clinging to the cliff face and perched on the rim of the caldera and its skaftá cave houses and domed churches. A marble pathway skirts the edge of the caldera and staircases lead down to Arméni and the nearby harbour of Ammoúdi with its floating pumice stones and red pebble beach.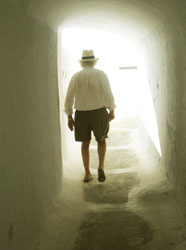 On two days there will be a coach at your disposal to paint in other locations on Santorini. Ken will be with you every day and you may choose to paint alongside him or independently. In addition to demonstrations and group critique sessions Ken will endeavour to offer individual guidance and help with selecting good subject matter.
Santorini and in particular Oía are very special and the hotels are intimate, exclusive and expensive, befitting such a special opportunity to work with Ken Howard OBE, RA. There are places for 12 students to join Ken each week.
To learn more about Ken Howard OBE RA click here
| | |
| --- | --- |
| Number of students per week: | 12 |
| Price per person :        | £2,750.00 |
| Single room supplement: | £700.00 |
This painting holiday is arranged in association with The Artist Magazine
Images by Dora Howard
Professional artists
Other Trips
Past Trips