Paint in Syria with Lucy Willis
8th - 22nd May 2010


Join one of the UK's most talented and well travelled artists on the 'The Road to Damascus' - to the Cradle of Civilisation & land of a Thousand and One Nights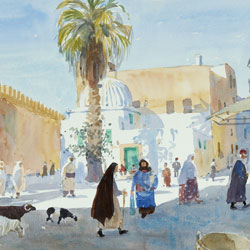 As one of the oldest civilisations in the world, home to the Biblical rivers Euphrates and Orontes and the birthplace of the alphabet, SYRIA is a must for painters seeking new and inspiring material and a sublime cultural experience.
On this unique painting holiday you will be spending quality painting time in the oldest inhabited citadels of Damascus and Aleppo, which have an abundance of compelling sights and sustain the romantic notion of The Orient. Travelling between theses two cities you'll spend some time in Hama; famous for its norias – the largest wooden waterwheels in the world and for its proximity to traditional 'beehive' villages.
LUCY WILLIS is renowned for her ability to capture light and atmosphere, as portrayed in her latest book Travels in Watercolour (Harper Collins & Batsford).  She is an artist who travels the world in pursuit of unique subjects and Syria has long been on her wish list. Lucy will be working alongside you and will provide impromptu demonstrations when appropriate.  She works spontaneously – savouring the moment as you first experience it.  Individual guidance will be offered when necessary but students who are comfortable working on their own and learning by example will be best suited to this free-style of painting holiday.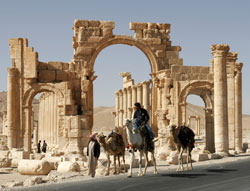 Bespoke arrangements
Everything is included (except some lunches) and organised for you by an accompanying programme co-ordinator from the UK, providing you with peace of mind and enabling you and Lucy to concentrate solely on painting.
In Damascus and Aleppo you will be staying in small charming hotels in the citadels themselves, so that the best painting subjects are literally on your doorstep.  Scheduled flights are in to Damascus and out of Aleppo minimising the amount of time spent travelling.
Just 10 – 14 people will be joining Lucy Willis.
The price is £2,895 per person fully inclusive (except for some lunches).
Single room supplement is £500.
Other Trips
Past Trips

What the experts & clients say
"Thank you for all the organisation which gave us such wonderful and thrilling days in The Mara - a truly memorable experience.  We were so lucky all our sightings - the best view of leopard I have ever had.  The bonus was that beautiful black rhino - fighting fit and so close.  Of course, Simon's expert and enthusiastic guidance ensured the maximum benefit."
"I've done lots of trips tour guiding for Spencer Scott Travel (Cuba, Peru, South Africa, Botswana, Uganda) and they have all been of the highest order, well planned, great itineraries, excellent support and clients always totally satisfied. They are a total pleasure to work for and I have loads of great memories to treasure as a result. Check them out if you want something special."
"I have had the good fortune to work with Liz Drake at Spencer Scott Travel taking small groups on safari to East Africa and India. All aspects of the journey are handled in a most personal, thorough and sensitive way, and all the arrangements are organised with admirable attention to detail. I have always boarded the plane from London knowing we were all going to have the holiday of a lifetime."