Sketching & Painting in Petra with Lachlan Goudie ROI
8th - 16th April 2019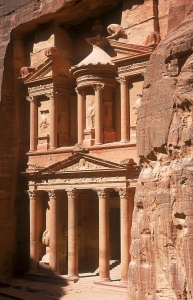 One of the most spectacular sights in the world and the highlight of this painting and sketching holiday to Jordan is the ancient Nabataean city of Petra. This remarkable city was carved out of the red sandstone in the 6 century BC and the beautiful rose-red colours and craftsmanship have inspired writers and painters over the centuries. The winding and narrow entrance (Bab as-Siq) with its towering striated 200m walls eventually leads you to The Treasury (Al Khazneh) with its magnificent façade. As you continue on towards the centre of the city you pass through the Street of Facades with over 40 tombs and houses and then to the majestic Theatre, which in the time of the Romans could seat 8500 people. The Royal Tombs, The High Place of Sacrifice (Al-Madbah) and the Monastery (Al-Deir) are other impressive ruins in Petra. You will have 3 full days to paint and sketch in Petra and capture the changing hues in the sandstone as the sun moves across the city and the local Bedouin people.
3 full days painting and sketching in rose-red Petra. one of The Seven Wonders of The World
3 days painting and sketching in Madaba, Mount Nebo and Herod's Castle of Machaerus
Sketch the Crusader Castles of Karak and Shobak
Individual tuition and informal group tutorial sessions
Fully inclusive price except for lunches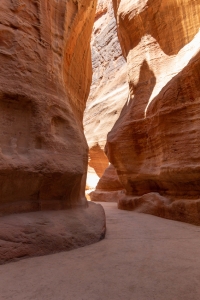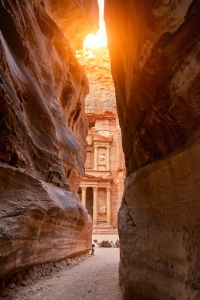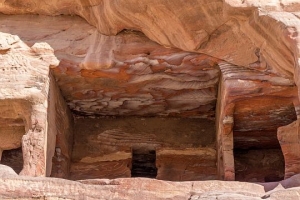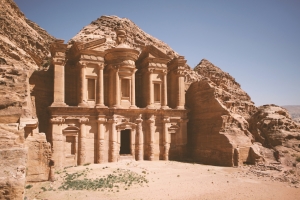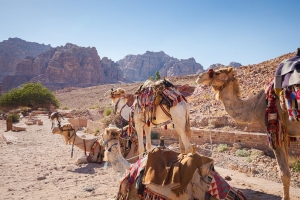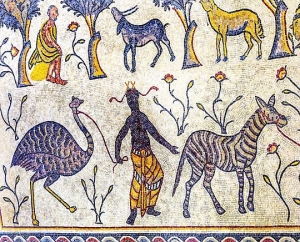 This holiday commences with 3 full days painting in the compact and bustling little town of Madaba, famous for its superb Byzantine era mosaics of the Holy Land, old houses, mosques and the Greek Orthodox churches. You'll be able to sketch the spectacular landscapes from two nearby Biblical sites – Herod's Castle of Machaerus where John the Baptist was beheaded and Mount Nebo where Moses looked out over The Promised Land. The well preserved Roman city of Jerash with its colonnade of pillars, temples and theatres is also within easy reach of Madaba. On the day when you drive on the King's Highway to Petra there will be an opportunity to sketch and paint the Crusader Castles at Karak and Shobak.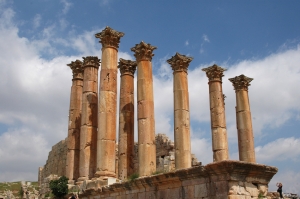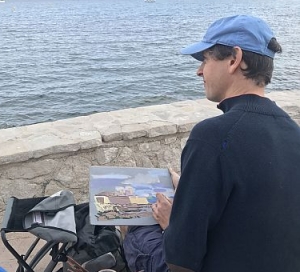 Lachlan Goudie's work has evolved from a figurative tradition of Scottish painting and incorporates portraiture, still life and landscape painting, with drama and colour underpinning his paintings. He has won numerous accolades including the R.S.P prize at the Royal Glasgow Institute of Fine Arts, the Norman MacFarlane prize at the Royal Scottish Academy and the ROI Oil Painters award for young artists. He regularly exhibits at major exhibitions in London, Scotland and New York. Lachlan is a captivating TV presenter and one of the most positive and encouraging artists to paint with.   Lachlan has chosen Jordan after enjoying his time spent in Jerusalem and the Holy Land filming his last BBC 2 TV series 'Sketching in The Holy Land' (aired Easter 2018).  Click here for more information about Lachlan Goudie 



The painting programme 
Lachlan will encourage you to work with a sketch book as well as painting. He will assist students with an organic approach of techniques, and is very happy to show individuals how to resolve problems and will give informal group tutorials some evenings. Lachlan will be sketching and painting in gouache and watercolour but all media are welcome. There will be transport everyday but to access the best locations and to explore Petra fully you will need to be sure-footed and able to comfortably walk a couple of miles. This painting holiday is ideal for intermediate and more experienced students.  
Travel & hotel arrangements
Flights are direct from London Heathrow. Your hotels are close to the entrance of Petra and in the centre of Madaba. There will be a local guide, as well as a travel escort from the UK, to ensure you are well looked after and undertstand the historical importance of the sites you will visit. April is normally a perfect time for painting en plein air in Jordan, with temperatures of 10-25°c.
Price per person: £3,995.00
Single room supplement:  £550.00
Number of students:    8 – 12
This holiday is organised in association with  the artist magazine, which we have been working with since 1990 and who offer overseas painting holidays with handpicked well known professional artists.
This holiday is offered to you in association with 

 magazine.
Professional artists
Other Trips
Past Trips

What the experts & clients say
""Our group is led by Professor Claudio Sillero....his decades of experience in this region and his hardy colleagues, guarantee sightings of wolves  They do not disappoint." "Next we climb up and across the Sanetti Plateau through unmatched beauty in every direction.  Small klipspringer, antelopes and hyrax, ( a pint-sized relative of the elephant), dot the hillsides.  our camp site is magnificent!  It is surrounded by towering basalt formations the locals call 'the soldiers.'  ....Can any place be more perfect?" "Our successful adventure is coming to a close, but we have been fortunate to site 30 wolves in 11 different packs, which equates to 10% of all the wolves living in the Bale Mountains National Park." "
"I've done lots of trips tour guiding for Spencer Scott Travel (Cuba, Peru, South Africa, Botswana, Uganda) and they have all been of the highest order, well planned, great itineraries, excellent support and clients always totally satisfied. They are a total pleasure to work for and I have loads of great memories to treasure as a result. Check them out if you want something special."
""I want to let you know that the workshop with Ken Howard in Santorini was simply the best workshop I have ever attended.  I was deeply inspired and impressed by Ken.  The group was a pleasure.  I hope this workshop will be repeated again."  "