Paint Iceland's Natural Landscapes with Richard Pikesley RWS NEAC
12th - 20th May 2019

Iceland's landscapes, seascapes and skies are dramatic and on a scale that takes your breath away. This is a wonderful opportunity to capture the immensity, intensity and atmosphere of Iceland's natural phenomena on the Tröllaskagi Peninsular with the assistance of a very experienced guest artist.
The unpolluted air means there is a clarity of light and May sees the onset of spring with warmer temperatures and longer days as the period of the Midnight sun approaches. There will still be plenty of snow in the mountains and spring flowers and sheep in the lower meadows. You can expect dramatic cloud formations  and moody skies interspersed with clear skies and bright sunshine.  
Paint Iceland's Natural Landscapes with Richard Pikesley RWS NEAC
To make an enquiry please call
or
complete our enquiry form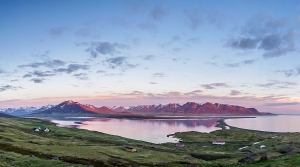 You'll be based in Siglufjörður on the Tröllaskagi Peninsular on Iceland's north coast. This is known as the Troll Country and is an area of deep fjords where mountains drop sheer in the sea and snow-capped peaks all year around, and big seas and endless skies. It is sparsely populated with small fishing villages of brightly painted wooden houses and churches.
Spectacular skies in Siglufjörður in May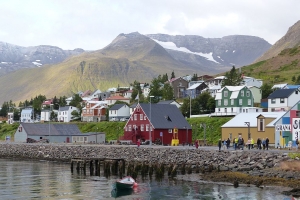 Siglufjörður is located near the tip of a beautiful fjord and is Iceland's most northerly town. It is less than 25 miles from the Arctic Circle and was Iceland's fishing (herring) capital from 1905-1965. It has since become a quiet and quaint fishing village with a population of just 1182. Until 2010 when the Hedinsfjörður Tunnel was built it remained very isolated and it was not until 2015 when a hotel opened that visitors started to discover the beautiful fjords in this remote area. Its fishing industry remains at the heart of the community, although on a much smaller scale. There are lots of colourfully painted wooden houses, a church and a working harbour with traditional fishing boats and yachts and a fish factory.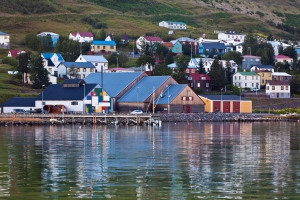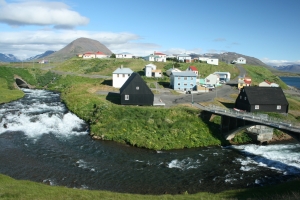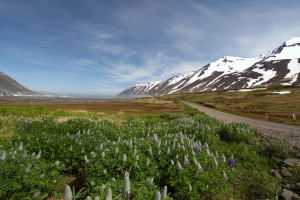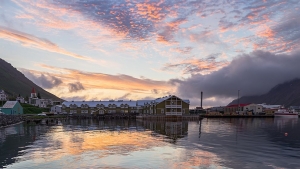 The hotel is located on the water's edge with great views across the fjord and of the harbour, a good restaurant, small lounge with fire, meeting room with day light (indoor studio) and a large outdoor hot tub!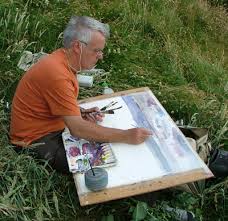 Richard Pikesley RWS NEAC is a leading figurative painter who incorporates abstract elements in his work. He is well known for his seascapes and beach scenes. Richard Pikesley is a very engaging and approachable guest artist.
Painting with Richard in Iceland
To reflect the mix of subjects around the town and harbour and the wilder subjects beyond, Iceland lends itself to working on bigger boards and canvases and on more varied sizes.  To help you, Richard will provide some group teaching and demonstrations and pre-trip worksheets, as well as individual guidance on ad hoc basis. He is a great believer in students learning by watching each other work, so is very happy to paint with an audience and to talk about it. This will be a semi-structured painting holiday ideal for intermediate and experienced students.
 Click here to read an interview with  Richard and see more of his work..
Paintings by Richard Pikesley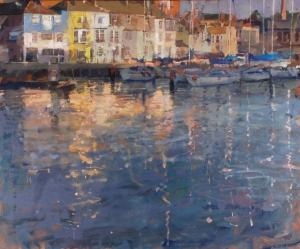 EXHIBITIONS
Richard has a solo exhibition at The Jerram Gallery, Sherbourne 22 September – 10 October 2018  
He is also an exhibiting artist in the British Plein Air Painters' exhibition, The Menier Galley, Southwark Street, London 16 – 20 October 2018
PRACTICAL DETAILS
Scheduled flights to Akureyri via Reykjavik, 4 star hotel accommodation and all meals are included. Painting will mostly be in Siglujörður with transport on a couple of days to explore the area and paint the evening skies. The local bus can be used to visit other fishing villages along the coast. An accompanying travel escort will be looking after you and all the arrangements.
PRICE:                       
Per person in a twin room:   GBP 4,495.00                                                               
Single room supplement:     GBP    700.00                                                               
Number of students:                         8 – 12      
This holiday is offered to you in association with 

 magazine.
Paint Iceland's Natural Landscapes with Richard Pikesley RWS NEAC
To make an enquiry please call
or
complete our enquiry form
Professional artists
Other Trips
Past Trips

What the experts & clients say
""Thank you Lucy for giving us such a wonderful time. I so appreciated your expertise and your personality. I learned so much and very much appreciated my time painting with you. Eileen's support was wonderful and made everything go so smoothly from the moment we left Heathrow until our return.  I enjoyed meeting everyone and sharing such special times together, both arty and spiritual. This was a trip of a lifetime and I'll never forget it."  "
""I wanted to say thank you so much for everything.  It was the most wonderful holiday and the memories of which will stay with me a lifetime.  It was clear to me that a lot of  work went on behind the scenes by both yourself [Liz Drake and Spencer Scott Travel], and Simon [King]  to make this holiday the very very best one could wish for and so very special so thank you both so very very much."  "
"" Thank you for organising the extra flights and accommodation etc... The trip was a success for me. Eileen was the most thoughtful and hard working attendant/guide - she tended to our every needs - nothing was too much bother to her. Lachlan Goudie was such a gentleman. He was enthusiastic, kind and so very generous of advice and inspiration. He cheered us up and gave us hope when we were struggling with our work. We all loved him and are in awe of his beautiful water colours and gouache paintings.  Thank you for everything.""