Paint Landscapes in the Atlas Mountains, Morocco with Lachlan Goudie ROI
27th April - 5th May 2018

Capture the Berber culture in the Ouirgane and Ourika Valleys and magnificent views of Mount Toubkal – the highest mountain in North Africa

A free-style painting holiday ideal for intermediate and advanced students working in mixed media
Capture the Berber culture in the Ouirgane and Ourika Valleys
Paint the magnificent views of Mount Toubkal
Snow capped peaks, cherry and apple blossom and the rich red earth are the colours in the Atlas Mountains in spring time 
Stay in a traditional Riad, mountain inn and real Kasbah
Enjoy the first evening in Marrakech's medina and lively D'Jemaa el Fna square 
Paint Landscapes in the Atlas Mountains, Morocco with Lachlan Goudie ROI
To make an enquiry please call
or
complete our enquiry form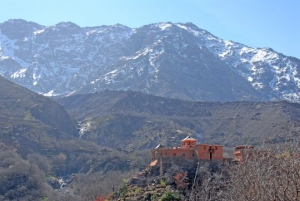 The Atlas Mountains are the Alps of North Africa and Mt Toubkal, the highest peak (4167m) provides a dramatic skyline. Kasbahs perch on ridges and Berber villages cling to the hillsides and nestle in the valleys.  Spring brings out the cherry and apple blossom and the snows begin to melt filling the streams and bringing a freshness to the juniper forests. The rich red-brown soil provides a fabulous contrast.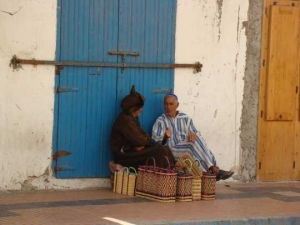 The Berbers have a rich culture and life in the mountains has changed little for the past century. Many people still adorn the traditional brown hooded jellabah and mules are the only form of transport.
Your first night is in a traditional Riad in Marrakech's medina, close to the lively D'Jemaa el Fna square.
The following morning it's off to the foothills of the Atlas Mountains for three days painting in the Ouirgane Valley (1400m). You'll stay in a small mountain inn that has a pretty rose garden and distant views of the mountains. Then you'll move to the neighbouring Ourika Valley, which leads up to Mt Toubkal.
You'll stay in a real Kasbah (1800m), formerly the summer residence of the local ruler, for a truly unique experience and the most magnificent views of Mt Toubkal from sunrise to sunset. The next five days will be spent painting from its terraces and tower, in the mountain village and along the trekking routes. Mules will transport your equipment in both valleys, but you will be expected to walk to the different painting locations.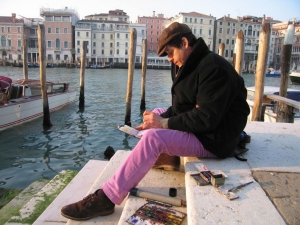 Lachlan Goudie's work has evolved from a figurative tradition of Scottish painting and incorporates portraiture, still life and landscape painting, with drama and colour underpinning his paintings. The Atlas Mountains will provide an exciting and varied subject matter. He has won numerous accolades including the R.S.P prize at the Royal Glasgow Institute of Fine Arts, the Norman MacFarlane prize at the Royal Scottish Academy and the ROI Oil Painters award for young artists. He regularly exhibits at major exhibitions in London, Scotland and New York. Lachlan is a captivating TV presenter and one of the most positive and encouraging artists to paint with.
The painting programme
Lachlan will encourage you to paint from sunrise to sunset each day. He will assist students with an organic approach of techniques, and is very happy to show individuals how to resolve problems and where appropriate he will do a demonstration. There will not be group demonstrations or critiques. Lachlan will be sketching and working in gouache and watercolour but all media are welcome. This painting holiday is ideal for intermediate and more experienced students, wishing to return with a colourful and exciting portfolio.
Travel & hotel arrangements
Flights are from London Gatwick to Marrakech. Accommodation is in a traditional Riad and Kasbah, and simple mountain inn. All meals are included.  An accompany travel escort will looking after your interests and taking care of all the practical arrangements.
To fully participate in this painting holiday you must be able and willing to walk on mountain tracks, so a good level of fitness is required. Please also note that you will be walking at a reasonably high altitude (up to 2000m).
Price per person: £3,295.00
Single room supplement:  £700.00
Number of students:    6 – 10
This holiday is operated on behalf of The Artist magazine, which has been offering overseas painting holidays since 1990 with renowned tutors.
Paint Landscapes in the Atlas Mountains, Morocco with Lachlan Goudie ROI
To make an enquiry please call
or
complete our enquiry form
Professional artists
Other Trips
Past Trips

What the experts & clients say
"I've done lots of trips tour guiding for Spencer Scott Travel (Cuba, Peru, South Africa, Botswana, Uganda) and they have all been of the highest order, well planned, great itineraries, excellent support and clients always totally satisfied. They are a total pleasure to work for and I have loads of great memories to treasure as a result. Check them out if you want something special."
""Our group is led by Professor Claudio Sillero....his decades of experience in this region and his hardy colleagues, guarantee sightings of wolves  They do not disappoint." "Next we climb up and across the Sanetti Plateau through unmatched beauty in every direction.  Small klipspringer, antelopes and hyrax, ( a pint-sized relative of the elephant), dot the hillsides.  our camp site is magnificent!  It is surrounded by towering basalt formations the locals call 'the soldiers.'  ....Can any place be more perfect?" "Our successful adventure is coming to a close, but we have been fortunate to site 30 wolves in 11 different packs, which equates to 10% of all the wolves living in the Bale Mountains National Park." "
""Ken was so kind, helpful and enormously interesting to be with. I know I have gained a great deal from the experience of some of his incredible wisdom and insight and having the privilege of working alongside such a great artist""