Sahara & Sea en plein air with Hazel Soan
15th - 25th March 2014

Painting people, architecture and landscapes from the Sahara to the Sea in Tunisia with one of our most popular and successful artists.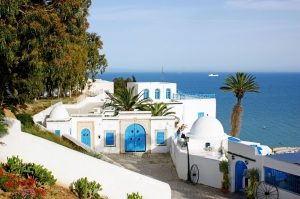 Lying across the Mediterranean is an exotic land that has long appealed to artists including Paul Klee and Auguste Macke. The enchanting blue and white town of Sidi Bou Said is set high above the deep blue-green waters of the Mediterranean just along the coast from the ancient Phoenician ruins of Carthage founded in 814 BC. The architecture is Andalusian in style with a mix of white angles and curves, and blue window grills and criss-crossed fretwork.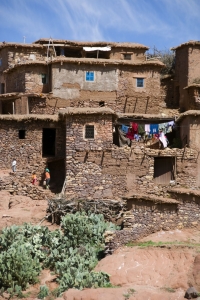 Venture a short distance inland in to the Sahel – an area of arid desert plains and mountains that border the Sahara, and one is immersed in to a world straight out of 'A Thousand and One Nights'.  Kairouan is an important holy city and the oldest Arabian town in North Africa.  Here you will find Berber people wearing traditional dress and one of the most authentic medinas. It's Great Mosque is a wonderful example of desert architecture. Close by are mountain villages where time has stood still and contact with the outside world remains minimal. Sidi Bou Said and Kairouan are full of wonderful surprises and will inspire you and broaden your scope.
PAINTING PROGRAMME:  
15 – 18 March Sidi Bou Said with a visit to Carthage
19 – 25 March Kairouan with a visit to a traditional Berber village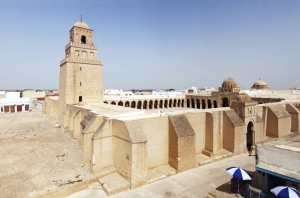 HAZEL SOAN is a hugely talented and popular artist. She featured in the Watercolour Challenge TV series and has published many instructional books including , Watercolour Landscape Techniques, African Watercolours. Hazel is a versatile and marvellous tutor catering for all abilities. Her enthusiasm and energy is infectious. She will be working alongside you every day and will help you select suitable painting subjects and provide guidance on how best to capture the colour and spirit of Sidi Bou Said and Kairouan through group demonstrations.  Hazel will be working in watercolour, but all mediums are welcome. Find out more about Hazel Soan.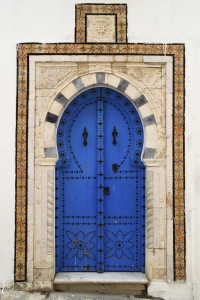 PRACTICALITIES
Our holidays are designed to enable you to paint without      any  worries and with the maximum level of comfort, care and attention to detail. You will be looked after by an accompanying travel director. Accommodation is in very comfortable and characterful hotels located in the heart of Sidi Bou Said and Kairouan. Direct scheduled flights and all meals are included except lunches.
     PRICE PER PERSON :         £2,395
     SINGLE SUPPLEMENT :     £    250
     NUMBER OF STUDENTS :   12 – 15

This holiday is offered in association with the The Artist & Leisure Painter magazines who we have been working offering overseas painting holidays with since 1990 with renowned artists and professional tutors.
Professional artists
Other Trips
Past Trips

What the experts & clients say
"I have had the good fortune to work with Liz Drake at Spencer Scott Travel taking small groups on safari to East Africa and India. All aspects of the journey are handled in a most personal, thorough and sensitive way, and all the arrangements are organised with admirable attention to detail. I have always boarded the plane from London knowing we were all going to have the holiday of a lifetime."
""Our group is led by Professor Claudio Sillero....his decades of experience in this region and his hardy colleagues, guarantee sightings of wolves  They do not disappoint." "Next we climb up and across the Sanetti Plateau through unmatched beauty in every direction.  Small klipspringer, antelopes and hyrax, ( a pint-sized relative of the elephant), dot the hillsides.  our camp site is magnificent!  It is surrounded by towering basalt formations the locals call 'the soldiers.'  ....Can any place be more perfect?" "Our successful adventure is coming to a close, but we have been fortunate to site 30 wolves in 11 different packs, which equates to 10% of all the wolves living in the Bale Mountains National Park." "
""Ken was so kind, helpful and enormously interesting to be with. I know I have gained a great deal from the experience of some of his incredible wisdom and insight and having the privilege of working alongside such a great artist""