Out of Africa: Wildlife painting with Hazel Soan
4th - 17th October 2014

Hazel Soan invites you to join her on a dream painting holiday to Africa's greatest plains and to paint the 'Big Five' from authentic 'Out of Africa' style tented camps and safari vehicles.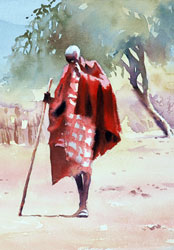 'The Serengeti is the largest intact ecosystem left on earth. Its true boundaries are defined not by lines on maps but by the seasonal movement of millions of wildebeest, zebras and gazelles. They circle the great grass plains and thorn thickets East of Lake Victoria, following the rain and feeding on the succession of plants it nourishes. Nowhere else can you observe in such tranquillity the daily activities of such a variety and number of mammals – predators and prey.'
Wildlife naturalist Stephen Mills. Tarangire is famous for its prolific elephant herds and immense baobab trees and is at its best in October when the dry earthy colours are bathed in a glorious light. It is also the height of dry season when large herds of game are attracted to the permanent waters of the Tarangire River. The Ngorongoro Crater has the largest concentration of animals in Africa – more than 30,000 mammals.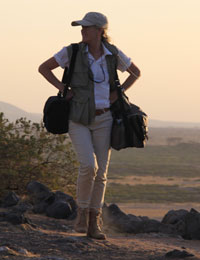 With so much wildlife, there is the real chance of painting lion, zebra, giraffe and even possibly cheetah, leopard, black rhino as well as large herds of elephant and buffalo in their natural environment – wildlife painting doesn't get better than this. The Ngorongoro Conservation Area is Maasai country where portraits of herdsmen will add a colourful and human perspective to your Out of Africa portfolio. HAZEL SOAN is a hugely talented and popular artist. She featured in the Watercolour Challenge TV series and has published many instructional books including Watercolours en Plein Air, Watercolour Rainbow, African Watercolours, Watercolour Landscape Techniques. Hazel is an excellent teacher providing individual guidance and group demonstrations.  She has a natural ability to inspire students of all abilities.  Her wildlife paintings are full of vibrancy encapsulating her love of everything African – a passion that is infectious. Every day will be spent painting on game drives and back at the camps.Find out more about
Hazel Soan
.
£5,795.00 per person
£200.00 single supplement
Fully inclusive price: Flights, 11 nights safari camps, 1 night hotel, all meals, safari vehicles, park fees, art tutor and programme co-ordinator
Summary itinerary
| | |
| --- | --- |
| 4 October | Fly London Heathrow to Kilimanjaro. Overnight in a hotel. |
| 5 October | Meet your local safari driver/guides and transfer to a private tented camp in Tarangire National Park (approximately 2-3 hours). Lunch and a welcome briefing from Hazel, explaining how you will be working each day. Later in the afternoon enjoy your first game drive. |
| 6, 7 & 8 October | Three full days painting from the camp and in different locations in Tarangire. |
| 9 October | Drive from Tarangire to our tented camp in the heart of the Serengeti National Park near the Serenora River (6 -7 hours) with picnic lunch. |
| 10, 11, 12 & 13 October | Four full day's wildlife painting in the Serengeti National Park. |
| 14 October | Drive across the plains and in to the Ngorongoro Conservation area (2-3 hours) to our next 'Out of Africa' bush camp. Lunch in the camp followed by an afternoon of painting. It is hoped a Maasai model will sit for you. Time permitting visit a Maasai village or Olduvai Gorge, where Mary Leakey discovered the fossil remains of the 1.8 million year old skull Australopithecus boisei in 1959. |
| 15 October | Drive to Ngorongoro Crater (approx. 1 hour) for a full day's wildlife painting in the Crater. Picnic lunch in a private area of the Crater enabling you to paint insitu for several hours. |
| 16 October | Return to Arusha (approx. 4 hours).  Depart Kilimanjaro. |
| 17 October | Arrive London Heathrow. |
This holiday is offered in association with the The Artist & Leisure Painter magazines who we have been working offering overseas painting holidays with since 1990 with renowned artists and professional tutors.
Professional artists
Other Trips
Past Trips

What the experts & clients say
"I love working with Spencer Scott because I can be confident that, wherever we go, the Company will have secured the best available accommodation, services and back-up. This frees me to concentrate on what I enjoy most, which is finding really special wildlife experiences to share with our clients"
""Our group is led by Professor Claudio Sillero....his decades of experience in this region and his hardy colleagues, guarantee sightings of wolves  They do not disappoint." "Next we climb up and across the Sanetti Plateau through unmatched beauty in every direction.  Small klipspringer, antelopes and hyrax, ( a pint-sized relative of the elephant), dot the hillsides.  our camp site is magnificent!  It is surrounded by towering basalt formations the locals call 'the soldiers.'  ....Can any place be more perfect?" "Our successful adventure is coming to a close, but we have been fortunate to site 30 wolves in 11 different packs, which equates to 10% of all the wolves living in the Bale Mountains National Park." "
""I wanted to say thank you so much for everything.  It was the most wonderful holiday and the memories of which will stay with me a lifetime.  It was clear to me that a lot of  work went on behind the scenes by both yourself [Liz Drake and Spencer Scott Travel], and Simon [King]  to make this holiday the very very best one could wish for and so very special so thank you both so very very much."  "