Paint the Gardens and Palaces of Tivoli with Hazel Soan
16th - 24th May 2014

The dreamily romantic gardens and palaces of Tivoli and Ninfa will be perfect for Hazel Soan to demonstrate the use of colour and the properties of pigment.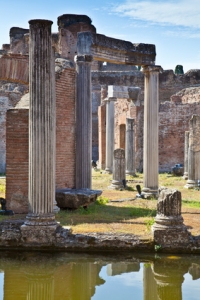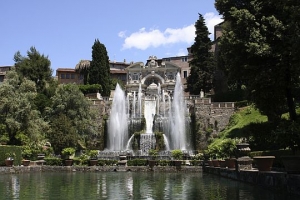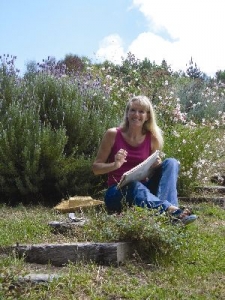 HAZEL SOAN is a hugely talented and popular artist. She featured in the Watercolour Challenge TV series and has published many instructional books including , Watercolour Landscape Techniques, African Watercolours. Hazel is a versatile painter and an exceptional teacher catering for all abilities. Her enthusiasm and energy is infectious and her ability to draw out the best in students is quite remarkable.  Every day will be spent working hard and painting with Hazel, who will provide lots of guidance on the most suitable painting subjects and tuition on how best to capture the colour and spirit of the gardens in Tivoli and Ninfa in the form of instructional demonstrations, informative group critique sessions and come individual assistance when required.  You will mainly be working together as a group but you may also choose to work independently. Hazel will be working in watercolour. Find out more about Hazel Soan.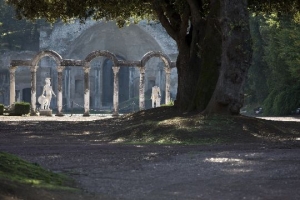 The magnificent palaces and gardens of the villas d'Este and Adriana in Tivoli and of nearby Villa Aldobrandini are fine examples of the lavishness of ancient Rome and the splendour of Renaissance gardens. Fountains, statues, columns and palaces will provide definition and variety, and the nearby mediaeval town of Palestrina is always a delight to paint.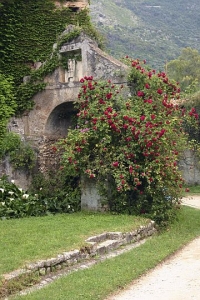 The glorious Giardino Di Ninfa with its crumbling ruins will be one of the highlights of the trip. It is most famous for its roses, which are typically a blaze of colour and heavily scented in late May.
Practicalities
Scheduled flights are from London to Rome. Accommodation is in a very comfortable 4 star hotel in Tivoli for the whole holiday enabling you to settle into a painting routine without the inconvenience of moving locations. A private coach will be used every day to visit different locations and gardens in and around Tivoli.  Everything is included except for lunches and an accompanying escort will assist Hazel and be looking after you.
Programme synopsis
16 May   Fly London to Rome. Transfer to Tivoli.
17 May   Painting in the gardens at Villa D'Este
18 May   Painting in the Giardino di Ninfa
19 May   Painting in Villa Adriana
20 May   Painting in the medieval town of Palestrina
21 May   Painting at the Temple of Vesta and later at Villa Gregoriana or  Villa Adriana
22 May   Painting in the Villa Aldobrandini in nearby Frascati
23 May   Painting in the Tivoli in the garden of choice.
24 May   Fly Rome to London.
Price :  £2,195.00 / US$3,500.00 per person                  Single room supplement : £200 / US$320
12 – 16 students      
All mediums and abilities welcome.    
Places are always quickly snapped up on Hazel's painting holidays, so register yours as soon as possible

This holiday is offered in association with the The Artist & Leisure Painter magazines who we have been working offering overseas painting holidays with since 1990 with renowned artists and professional tutors.
Professional artists
Other Trips
Past Trips

What the experts & clients say
""I want to let you know that the workshop with Ken Howard in Santorini was simply the best workshop I have ever attended.  I was deeply inspired and impressed by Ken.  The group was a pleasure.  I hope this workshop will be repeated again."  "
"Thank you for all the organisation which gave us such wonderful and thrilling days in The Mara - a truly memorable experience.  We were so lucky all our sightings - the best view of leopard I have ever had.  The bonus was that beautiful black rhino - fighting fit and so close.  Of course, Simon's expert and enthusiastic guidance ensured the maximum benefit."
""Our group is led by Professor Claudio Sillero....his decades of experience in this region and his hardy colleagues, guarantee sightings of wolves  They do not disappoint." "Next we climb up and across the Sanetti Plateau through unmatched beauty in every direction.  Small klipspringer, antelopes and hyrax, ( a pint-sized relative of the elephant), dot the hillsides.  our camp site is magnificent!  It is surrounded by towering basalt formations the locals call 'the soldiers.'  ....Can any place be more perfect?" "Our successful adventure is coming to a close, but we have been fortunate to site 30 wolves in 11 different packs, which equates to 10% of all the wolves living in the Bale Mountains National Park." "