Paint on L'Ile de Ré, France with Haidee-Jo Summers ROI
8th - 16th June 2018

Free-style oil painting holiday ideal for intermediate students
Discover the Ile de Ré – one of France's best kept secrets
Capture the special light and island life in your paintings
Seven full days painting with up and coming figurative artist Haidee-Jo Summers
Painting time will be interspersed with some tuition and demonstrations
Intimate painting holiday for 8 – 12 students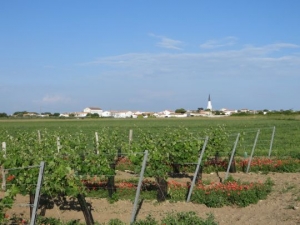 L'Ile de Ré is a beautiful island just off the French coast near La Rochelle. It is one of France's best kept secrets and a true 'pearl of the Atlantic'. As soon as you cross the bridge to L'Ile de Ré the air changes and it becomes clearer, brighter and luminous. Haidee-Jo Summers has chosen to paint on L'Ile de Ré because the sea, sailing boats and harbours really appeal to her, as its unique inspiration and hidden secrets have appealed to many discerning artists, novelists and film directors over the years.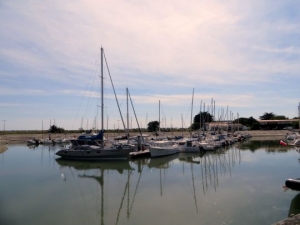 Life on the island lives to the rhythm of the tides. It is a 30km long strip of low lying land offering far reaching views, photogenic villages, old ports, salt marshes, sand dunes and long white sandy beaches. There are charming fishing ports like Saint-Martin-de-Ré, and the foreshore is a hive of activity. At low tide children search for periwinkles, sponges and starfish, whilst at high tide the local fishermen can be found crabbing and shrimping. L'Ile de Ré is also well known for its oyster beds. In the far north of the island is the superb beach at La Conche des Baleines, in the northwest the wild Côte Sauvage and in the southwest the dunes at Le Bois Plage and La Couarde.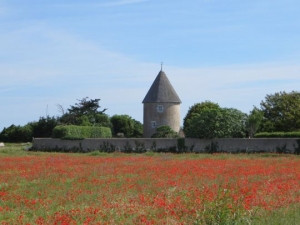 Inland are Charente vineyards, poppy and potato fields, and woodlands, which are a paradise for birds and butterflies. Lighthouses, church spires and bell towers dominate the skyline. Each of the ten villages on L'Ile de Ré has its own local market and different atmosphere.
The 17th century fortified town of Saint-Martin-de-Ré is the historical and commercial capital of Ile de Ré. It was designated a World Heritage Site in 2008 for its authenticity, integrity and conservation of its star-shaped ramparts designed by Vauban. Saint-Martin-de-Ré will be your base on the island. Its magnificent harbour will provide an endless source of painting subjects, as will its narrow cobbled lanes, wells, half-timbered houses and bell tower. The flower-filled streets, red-tiled roofs and blue and green shutters and doorways are extremely paintable. The public bus service will be used to paint in other towns, villages, beaches and along stretches of the 100km coastline.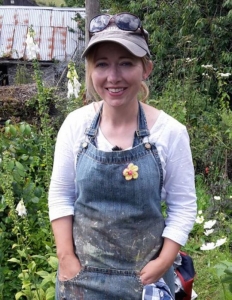 Haidee-Jo will be working in oils, but all media are welcome. She will explain at the beginning of the holiday how she plans to structure each day but there will be a mixture of tuition, demonstrations and painting time. You may choose to work alongside Haidee-Jo or independently. This semi free-style painting holiday is most suitable for intermediate and advanced students working in oils. The local bus will be used to visit different parts of the island.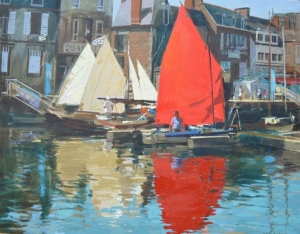 Price per person:            £3,295.00
Single supplement:        £   565.00
Number of students:          8 – 12
Fully inclusive of flights, accommodation, meals (except lunches), travel escort and guest artist.
More paintings by Haidee-JO Summers below
This holiday is operated on behalf of The Artist magazine, which has been offering overseas painting holidays since 1990 with renowned tutors.
More Paintings by Haidee-Jo Summers
Professional artists
Other Trips
Past Trips