Wildlife Painting in the Masai Mara with Hazel Soan
26th September - 7th October 2015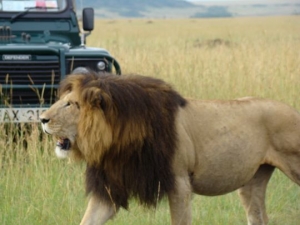 Life on the plains is very conducive to a wildlife and portrait painting safari……… 
The sunrise is a magical moment to capture in itself, and the plains are normally teeming with wildlife in the early morning. There will of course be times of great activity as well as periods when you simply sit and wait to see what natural drama might happen next, but The Mara is one of the most scenically beautiful places on earth, so there is always something to paint or draw.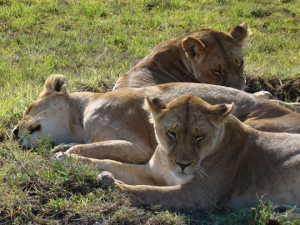 As soon as the heat starts to build up, the animals head for the shade and it's time to return to camp. Then they'll be several hours spent back in camp, providing ample painting time and enabling Hazel to give group demonstrations and any individual help.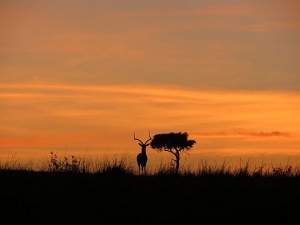 The late afternoon game drive provides another chance of encountering wildlife up close. As dusk approaches The Mara takes on a different mood, often with dramatic cloud formations and fabulous sunsets with acacia trees and strolling wildlife silhouetted on the horizon – perfect painting subjects.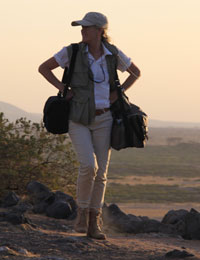 Hazel Soan's wildlife and African portrait paintings capture the magic and atmosphere of life here.  You can almost hear the conversations of the people and smell the dust of the African soil and hear the pounding feet of the warthogs and the gentle breathing of the lions. Hazel is a very talented artist and she will help translate your safari experiences into wonderful paintings. You will be working alongside an extremely dedicated, supportive and helpful teacher. Hazel will be working in watercolour but all mediums are welcome.
Painting itinerary
26 September    20.00 depart London Heathrow with Hazel Soan and Vanessa Fagan
27 September   0630 hours arrive Nairobi. Fly to Little Governor's Camp in the Masai Mara Game Reserve. Your painting equipment and excess luggage will travel by road arriving in camp later in the evening. Little Governor's is a luxury tented camp overlooking a large waterhole that is frequented by a diverse variety of game. The camp is located on the banks of the Mara River close to the Musiara Marsh, which is one of the hottest spots for main game action in The Mara, and the location for filming 'African Cats' and 'Big Cat Diary'.  IN the afternoon Hazel Soan will explain how she will be working with you on this safari.  Around 1600 hours you'll head out for your first game drive. As the temperature drops the plains, once again, become a hive of activity.
28 September – 3 October      Six full days wildlife painting with Hazel Soan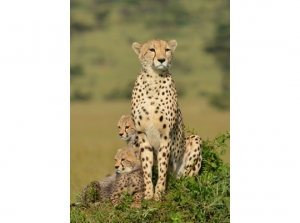 The Masai Mara is undoubtedly one of the finest reserves in Kenya and probably East Africa, due to the phenomenal diversity of species that can be seen in large numbers, providing an unrivalled wildlife spectacle and truly rewarding painting experience. The savannah is rich in all life with elephant, buffalo, wildebeest, zebra, gazelles, hyenas, and hippo and, sometimes even the rare black rhino. Lion and cheetah sightings are almost guaranteed and even the elusive leopard can be found more frequently than elsewhere. The Mara is 'Big Cat Diary' country and Little Governor's Camp is in the heart of the Marsh Pride of Lions territory.
4 October      Morning flight to Nairobi.  Transfer to Karen Blixen Cottages, formerly her coffee farm. The colonial style en-suite cottages are set in the tranquil gardens discreetly tucked away from popular coffee garden café, bar, restaurant and shop.  The cottages are just along the road from Karen Blixen's more modest house, now a museum dedicated to her life (1914 – 1931) 'I had a farm in Africa, at the foot of the Ngong Hills'.  Spend the afternoon painting in the gardens.
5 October      Full day painting at Karen Blixen Cottages.  It is hoped that a model will sit for you. In the afternoon there is a coach at your disposal for anyone wishing to visit the Karen Blixen Museum,  the Utamaduni craft shops,  the Daphne Sheldrick Elephant Orphanage or the Langata Giraffe Centre.
6 October      Final day painting in the gardens.  Depart Nairobi at 2345 hours.
7 October      Arrive London Heathrow 0645 hours
Price per person :    £7,495.00 (subject to airfares purchased in November 2014)
Single room supplement:    £   750.00
Price includes: flights, luxury tented camp and hotel, safari's and park fees, all meals except lunches in Nairobi, guest artist and travel escort from the UK.
Number of students :    10 – 14
Little Governor's Camp, Masai Mara 
Professional artists
Other Trips
Past Trips

What the experts & clients say
"I love working with Spencer Scott because I can be confident that, wherever we go, the Company will have secured the best available accommodation, services and back-up. This frees me to concentrate on what I enjoy most, which is finding really special wildlife experiences to share with our clients"
""I want to let you know that the workshop with Ken Howard in Santorini was simply the best workshop I have ever attended.  I was deeply inspired and impressed by Ken.  The group was a pleasure.  I hope this workshop will be repeated again."  "
"" Thank you for organising the extra flights and accommodation etc... The trip was a success for me. Eileen was the most thoughtful and hard working attendant/guide - she tended to our every needs - nothing was too much bother to her. Lachlan Goudie was such a gentleman. He was enthusiastic, kind and so very generous of advice and inspiration. He cheered us up and gave us hope when we were struggling with our work. We all loved him and are in awe of his beautiful water colours and gouache paintings.  Thank you for everything.""