African Painting Safari with Hazel Soan
2nd - 13th September 2018

Tutorial watercolour painting safari ideal for intermediate students
Eight full day's wildlife painting in the Masai Mara, Kenya
Capture the wildebeest migration, lots of predator action and hopefully a crossing on the Mara River
Stay in a luxury tented camp overlooking a waterhole and on the banks of the Mara River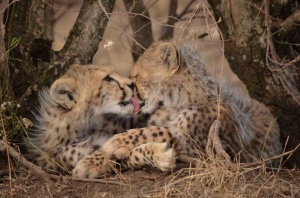 The Masai Mara is one of the most beautiful and wildlife rich areas in East Africa. It is also one of Hazel Soan's most favourite safari locations. The Masai Mara shares its ecosystem with the Serengeti in Tanzania and in September the wildebeest migration should be at its peak. This along with the phenomenal diversity of species ensures a truly rewarding painting experience. Lion, elephant, buffalo, giraffe, zebra, gazelles, hyenas, and hippo are found in volumes. Cheetah sightings are almost guaranteed and even the elusive leopard can be found more frequently than elsewhere. The unrivalled wildlife spectacle of a wildebeest stampede and crossing is hoped for. You'll stay in a luxury tented camp on the banks of The Mara River that is perfectly positioned to capture the wildebeest migration and life on the plains as portrayed in the Big Cat Diaries.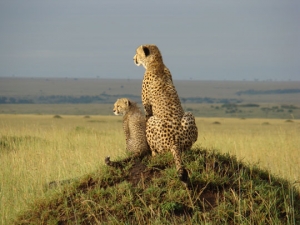 Your painting safari
On your first afternoon Hazel Soan will explain how she will be working with you on this safari. Life on the plains is very conducive to a structured painting format. Capture the spectacular colour transformations as dawn begins to break and the sun rises above the horizon. The plains are normally teeming with wildlife in the early morning.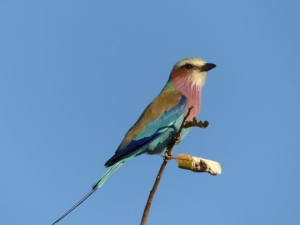 There will be times of great activity when you may only have time to capture the drama on camera or in a quick sketch to work on later in camp, as well as calmer periods providing time to paint sleeping lions, slowly grazing herds of zebra, wildebeest, elephant and buffalo, or gracious giraffes strolling by or a cheetah elegantly poised on a mound or a beautiful Lilac-breasted roller on a branch. There is always something to paint or draw in The Mara.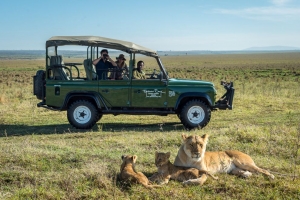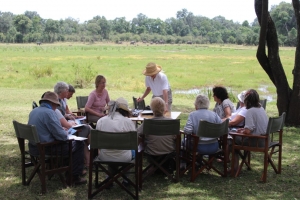 As soon as the heat starts to build up, the animals head for the shade and it's time to do the same. This provides time to paint from your tent or by the camps waterhole and for Hazel Soan to give tutorial sessions and group demonstrations.
Late afternoon head back out on to the plains to see if any predators have started to hunt or the wildebeest are stampeding for a river crossing. As dusk approaches The Mara takes on a different mood, often with dramatic cloud formations and fabulous sunsets with acacia trees and strolling wildlife silhouetted on the horizon – perfect painting subjects.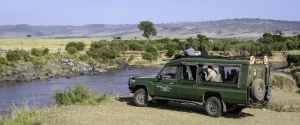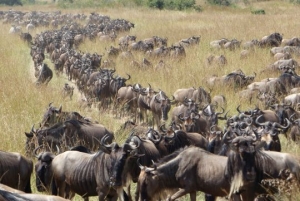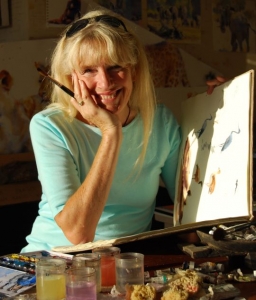 Hazel Soan is an experienced wildlife artist and excellent teacher. Her paintings reflect her love of wild Africa and capture the dust and heat of the plains and wildlife in action. Her portraits are a splash of colour and brilliantly portray the emotions of the moment. This is a tutorial painting holiday and Hazel will encourage and help you paint the action from the safari vehicles and illustrate a wide range of the topics with talks, demonstrations and tutorial workshops back in camp. Hazel will be working in watercolour.
Hazel's wildlife paintings
Travel details
Flights are included to and from Nairobi without the need to overnight in Nairobi. Private planes will be used to and from the Masai Mara without the need to transfer across Nairobi on arrival. Your painting equipment and excess luggage will travel to the camp by road arriving the same day. Everything is organised for you by an accompanying travel director.
Accommodation is at Little Governor's Camp –  a luxury tented camp.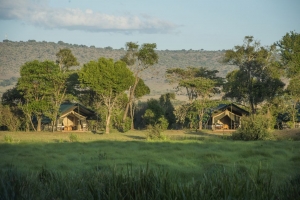 It is located on the banks of the Mara River close to Musiara Marsh, which is one of The Mara's top hot spots for predator action, and was the location used for filming 'African Cats' and much of 'Big Cat Diary'.
On your final day there will be time to do a little gift shopping in Nairobi before visiting the Daphne Sheldrick Elephant Orphanage.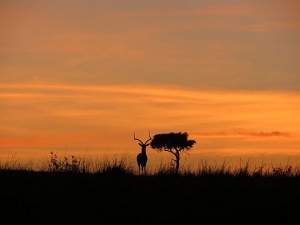 Price per person:               £9,795.00
Single room supplement:   £1,125.00
Number of students :              10 – 14
This holiday is operated on behalf of The Artist magazine, which has been offering overseas painting holidays since 1990 with renowned tutors.
Professional artists
Other Trips
Past Trips

What the experts & clients say
""Our group is led by Professor Claudio Sillero....his decades of experience in this region and his hardy colleagues, guarantee sightings of wolves  They do not disappoint." "Next we climb up and across the Sanetti Plateau through unmatched beauty in every direction.  Small klipspringer, antelopes and hyrax, ( a pint-sized relative of the elephant), dot the hillsides.  our camp site is magnificent!  It is surrounded by towering basalt formations the locals call 'the soldiers.'  ....Can any place be more perfect?" "Our successful adventure is coming to a close, but we have been fortunate to site 30 wolves in 11 different packs, which equates to 10% of all the wolves living in the Bale Mountains National Park." "
""Ken was so kind, helpful and enormously interesting to be with. I know I have gained a great deal from the experience of some of his incredible wisdom and insight and having the privilege of working alongside such a great artist""
"I've done lots of trips tour guiding for Spencer Scott Travel (Cuba, Peru, South Africa, Botswana, Uganda) and they have all been of the highest order, well planned, great itineraries, excellent support and clients always totally satisfied. They are a total pleasure to work for and I have loads of great memories to treasure as a result. Check them out if you want something special."