Painting in The Peloponnese with Hazel Soan
3rd - 13th May 2018

An exceptional watercolour painting holiday to a remote part of Greece and staying in very special places

Tutorial watercolour painting holiday
1 night in Athens and 9 nights in Monemvassia
Sketch the ancient Acropolis in Athens & remote villages in The Peloponnese
Capture the special atmosphere of Monemvassia's Kástro
Paint the wild Mani Peninsular and Aphrodite's Isle
Landscapes, architecture, seascapes, sunsets and sunrises ……
Ideal for intermediate and confident beginner students
10 – 14 students
THE PELOPONNESE & MONEMVASSIA
Everything about The Peloponnese is special. It is a mountainous peninsular, linked to the mainland by the Corinth Canal, and studded with medieval castles and monasteries. Tucked away in the valleys and hanging precipitously from the mountainsides are hundreds of villages and many of Greece's most famous ancient sites including Epidaurus & Mycenae.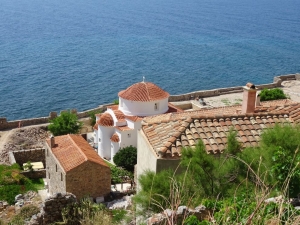 Monemvassía is a Byzantine Kástro (fortified castle) perched on a rock in the Aegean Sea on the easternmost tip of the Peloponnese. It is connected by a 400m causeway to the mainland and is known as 'the Gibraltar' of Greece. Once you step through the West Gate, Monemvassía's only entrance, you enter The Kástro (old town). The main street is lined with ancient houses and leads into Platía Damíou, with the Church of Christ in Chains and the local museum. From the southern ramparts are extensive views out to sea.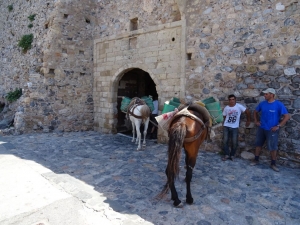 Monemvassía is a maze of winding cobbled lanes that climb up to the Akropolis (citadel) and Agia Sofia,from where there are fine views over the roofs of the Kástro. Many of the former dwellings have been converted into restaurants, shops and hotel accommodation, including the Malvazia Hotel. You'll find that the traditional Greek hospitality hasn't been eroded in the Peloponnese by too many tourists and once the sunsets you'll have this peaceful haven more or less to yourselves.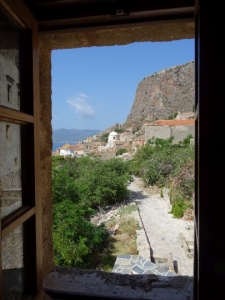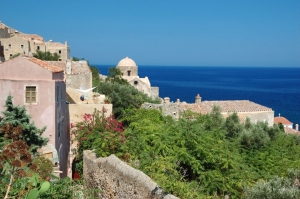 HAZEL SOAN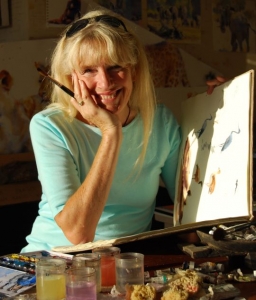 Hazel is a very talented and versatile artist. She is a hugely popular guest artist because of the relentless enthusiasm and energy she puts in to helping you improve your techniques and overcome obstacles. Hazel will be working alongside you every day and will help you select suitable painting subjects and provide invaluable group demonstrations. Hazel Soan is well known as one of the professional artists featured in the Watercolour Challenge TV series and through her many instructional books including, Watercolour Rainbow, Watercolour Landscape Techniques, African Watercolours. Hazel will be working in watercolour, but all mediums are welcome.
PAINTING PROGRAMME
We hope you will be able to do some small sketches whilst visiting the Acropolis in Athens and then you will have 8 full days painting in the Peloponnese.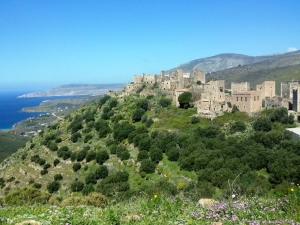 Most days will be spent painting Monemvassia, but there will also be a day trip to the wild Mani peninsular and to the nearby Kythera; Aphrodite's Isle, to vary the subject matter.
PRACTICAL DETAILS
Direct scheduled flights to Athens. The first night will be spent in Athens and the following morning there will be a visit to The Acropolis before driving to the Peloponnese. Accommodation in Monemvassia is at the Traditional Hotel Malvazia. The hotel is formed of three renovated buildings inside the Kástro. The Traditional Hotel consists of 15 bedrooms all of which reflect the special atmosphere of ancient Monemvassia, with stone floors and walls. There are terraces with splendid views out to sea, a sitting room, breakfast room and popular bar.
Dinners are included in local restaurants. An accompanying travel escort will be looking after you and all the arrangements.
PRICE:  fully inclusive except for lunches                       
Per person in a twin room:      GBP 3,795.00
Single room supplement:        GBP 450.00
Number of students:                10 – 14
This holiday is operated on behalf of The Artist magazine, which has been offering overseas painting holidays since 1990 with renowned tutors.
Professional artists
Other Trips
Past Trips
What the experts & clients say
""Ken was so kind, helpful and enormously interesting to be with. I know I have gained a great deal from the experience of some of his incredible wisdom and insight and having the privilege of working alongside such a great artist""
"I've done lots of trips tour guiding for Spencer Scott Travel (Cuba, Peru, South Africa, Botswana, Uganda) and they have all been of the highest order, well planned, great itineraries, excellent support and clients always totally satisfied. They are a total pleasure to work for and I have loads of great memories to treasure as a result. Check them out if you want something special."
"I love working with Spencer Scott because I can be confident that, wherever we go, the Company will have secured the best available accommodation, services and back-up. This frees me to concentrate on what I enjoy most, which is finding really special wildlife experiences to share with our clients"